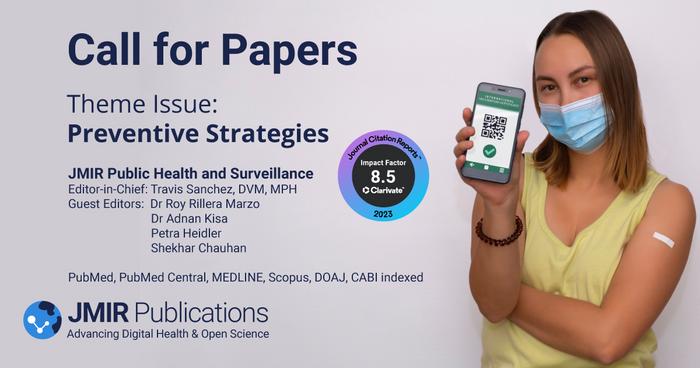 JMIR Public Health and Surveillance Editor-in-Chief: Travis Sanchez and guest editors Dr. Roy Rillera Marzo, Dr. Adnan Kisa, Petra Heidler and Shekhar Chauhan welcome submissions to a special theme issue examining "Scaling Up Effective Public Health Interventions for Long-Term Population Health Benefits."
This special issue aligns with the journal's commitment to advancing knowledge in public health and disease prevention. It provides an opportunity to showcase cutting-edge research in preventive strategies, with an emphasis on scalability and long-term health benefits.
By focusing on this topic, the journal invites contributions to continue the global discussion on improving health outcomes through evidence-based preventive measures, strengthening its role as a leading platform in the field of public health.
We invite submissions on a variety of topics of interest for this collection, including but not limited to:
The impact of digital health interventions on chronic disease prevention
Scaling up mental health interventions in schools
Effectiveness of community-based lifestyle intervention programs
The role of vaccination in preventing infectious diseases
Health policy and legislation for tobacco and alcohol control
The potential of telemedicine in scaling up health interventions
Cost-effectiveness of preventive strategies in health care
Nutritional interventions for chronic disease prevention
The role of physical activity in preventive health
Social marketing strategies for health promotion
Preventive strategies in workplace for occupational health
Health literacy and its role in disease prevention
Environmental interventions for public health
Maternal and child health: preventive approaches
The impact of urban planning on public health
School-based interventions for adolescent health
The role of primary care in disease prevention
Health insurance policies and preventive care
The role of pharmacists in public health and prevention
Integrating mental health in primary care: preventive approaches
This special issue, focusing on scalable preventive strategies, offers a timely and significant contribution to the scientific literature. The aim is to stimulate further research and discussion, leading to the development and implementation of effective, scalable preventive strategies.
The deadline for submissions is May 31, 2024. All accepted manuscripts will be published as part of the JMIR Public Health and Surveillance special issue titled "Scaling Up Effective Public Health Interventions for Long-term Population Health Benefits."
To learn more please visit: https://publichealth.jmir.org/announcements/407
###
About JMIR Publications
JMIR Publications is a leading, born-digital, open access publisher of 30+ academic journals and other innovative scientific communication products that focus on the intersection of health and technology. Its flagship journal, the Journal of Medical Internet Research, is the leading digital health journal globally in content breadth and visibility, and it is the largest journal in the medical informatics field.
To learn more about JMIR Publications, please visit https://www.JMIRPublications.com or connect with us via Twitter, LinkedIn, YouTube, Facebook, and Instagram.
Head office: 130 Queens Quay East, Unit 1100, Toronto, ON, M5A 0P6 Canada
Media contact: communications@JMIR.org
---