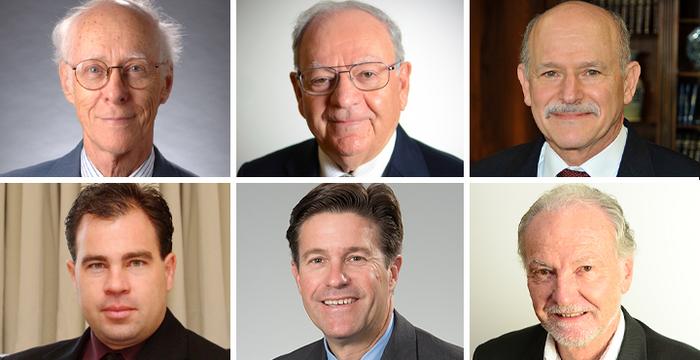 BATON ROUGE – Five Pennington Biomedical Research Center faculty members and one adjunct professor rank among the most cited researchers in the world, according to the Google Scholar Citations database.
The database shows 5,882 scholars across the world have an h-index at or above 100. The h-index is a gauge of productivity and the impact of published papers. The index takes into account the researcher's total number of papers and how many times each was cited by other scholars. An h-index over 100 means that at least 100 of the scholar's papers have been cited more than 100 times.
"There is an elite level of research taking place right here in Baton Rouge that is getting noticed worldwide," said Dr. John Kirwan, Pennington Biomedical Executive Director. "Our scientists and their research helped to build Pennington Biomedical into a global leader in nutrition and obesity research, and the Google Scholar Citation database is one tangible way for people to note the impact this research is having across all science disciplines. We congratulate our six researchers for once again being ranked among the top scholars being cited."
When a paper is frequently cited, it indicates that other scientists are using those results to test and prove new theories, which provide fresh discoveries. This process is how research serves as the basis for continuously advancing science and improving health.
Claude Bouchard, Ph.D., LSU Boyd Professor Emeritus and formerly the John W. Barton, Sr. Endowed Chair in Genetics and Nutrition, has the center's highest h-index at 188, according to Google Scholar Citations, which places him among the top 200 most cited researchers worldwide. His research centered on the genetics and consequences of obesity and the health benefits of exercise. His papers have been cited 166,460 times. Dr. Bouchard co-authored a paper published in the Journal of the American Medical Association in 1995, titled "Physical Activity and Public Health: A Recommendation from the Centers for Disease Control and Prevention and the American College of Sports Medicine," which has been cited more than 12,000 times.
Steven Heymsfield, M.D., Professor and Director, Metabolism and Body Composition Laboratory, has an h-index of 165, which places him among the top 500 most cited researchers worldwide. His papers have been cited 119,358 times. His paper "Epidemiology of sarcopenia among the elderly in New Mexico," which described how muscle mass decreases with age, has been cited more than 4,800 times.
George Bray, M.D., LSU Boyd Professor Emeritus and Pennington Biomedical's first executive director, has an h-index of 149. His papers have been cited 118,072 times. His most highly cited paper, "A Simple Efficient Liquid Scintillator for Counting Aqueous Solutions in a Liquid Scintillation Counter," was published in 1960 by the journal Analytical Biochemistry. The paper has been cited nearly 10,000 times. Another paper, "Effects on blood pressure of reduced dietary sodium and the Dietary Approaches to Stop Hypertension (DASH) diet," has been cited more than 7,000 times.
Eric Ravussin, Ph.D., Director, Nutrition Obesity Research Center; Douglas L. Gordon Chair in Diabetes and Metabolism; and LSU Boyd Professor, has an h-index of 144. His papers have been cited 76,305 times. His most cited paper, "Leptin levels in human and rodent: measurement of plasma leptin and ob RNA in obese and weight-reduced subjects," published in Nature medicine, has been cited more than 4,800 times.
Peter Katzmarzyk, Ph.D., Associate Executive Director for Population and Public Health Sciences; Professor; and Marie Edana Corcoran Endowed Chair in Pediatric Obesity and Diabetes, has an h-index of 127. His papers have been cited 76,042 times. His paper, "Effect of Physical Inactivity on Major Non-Communicable Diseases Worldwide: An Analysis of Burden of Disease and Life Expectancy," published in 2012 by the journal Lancet, has been cited more than 10,000 times.
Carl "Chip" Lavie, M.D., adjunct professor at LSU and Pennington Biomedical, and Professor of Medicine at the John Ochsner Heart and Vascular Institute, Ochsner Clinical School, the University of Queensland School of Medicine in New Orleans, has an h-index of 130. His papers have been cited close to 145,000 times. Dr. Lavie's research focuses on exercise, physical activity and fitness, obesity and the obesity paradox, cardiac rehab and many other areas of Preventive Cardiology. Among his most highly cited papers are "Effectiveness-based Guidelines for the Prevention of Cardiovascular Diseases in Women - 2011 Update: A Guideline of the American Heart Association" published in 2011 JACC, has been cited more than 2,900 times.
For the complete list of highly cited scholars with an h-index of 100 or higher, visit https://www.webometrics.info/en/hlargerthan100.
About the Pennington Biomedical Research Center
The Pennington Biomedical Research Center is at the forefront of medical discovery as it relates to understanding the triggers of obesity, diabetes, cardiovascular disease, cancer and dementia. The Center architected the national "Obecity, USA" awareness and advocacy campaign to help solve the obesity epidemic by 2040. The Center conducts basic, clinical, and population research, and is affiliated with LSU.
The research enterprise at Pennington Biomedical includes over 480 employees within a network of 40 clinics and research laboratories, and 13 highly specialized core service facilities. Its scientists and physician/scientists are supported by research trainees, lab technicians, nurses, dietitians, and other support personnel. Pennington Biomedical a state-of-the-art research facility on a 222-acre campus in Baton Rouge.
For more information, see www.pbrc.edu.
---