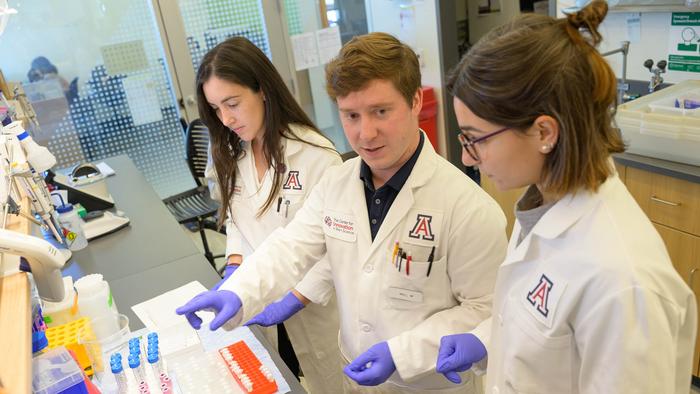 A prestigious National Institute on Aging training grant to develop a future workforce of research scientists in the field of Alzheimer's disease and related dementias was awarded to researchers at the Center for Innovation in Brain Science at the University of Arizona Health Sciences.
Roberta Diaz Brinton, PhD, Regents Professor and director of the Center for Innovation in Brain Science, is principal investigator on Translational Research in Alzheimer's Disease and Related Dementias, or TRADD, a five-year, $1.4 million grant that supports an innovative problem-based learning experience. The predoctoral training program brings together students from diverse areas of study to address the need for highly trained, cross-disciplinary research scientists in Alzheimer's disease research.
"Alzheimer's is a highly complex disease," said Brinton, who is a member of the university's BIO5 Institute. "Through this training program, we will continue to train the next generation of Alzheimer's researchers to address one of the world's most intractable health challenges through innovative team science and patient-inspired approaches."
The recent award is a five-year renewal of the center's 2018 predoctoral National Institutes of Health TRADD training grant, which successfully trained 15 graduate students pursuing doctoral and dual medical and doctoral degrees.
Co-principal investigator Kathleen Rodgers, PhD, is a professor of pharmacology at the College of Medicine – Tucson and associate director of translational neurosciences for the Center for Innovation in Brain Science. She has recruited experts across each domain of translation to educate students in diverse areas including big data analytics, brain imaging, clinical trial design, Food and Drug Administration regulation, and biotech commercialization. Brinton leads "Consideration of Ethics and Leadership at the Rate of Change in the 21st century," which is relevant to ethical considerations when conducting translational research and professional development.
The TRADD program is part of the Center for Innovation in Brain Science's unique training model, which includes three National Institutes of Health-funded training programs that integrate undergraduate and graduate student and early-career faculty development. Collectively, the three NIH-funded training programs deliver a continuum of mentorship and experiential learning in team science, focused on Alzheimer's and other neurodegenerative diseases.
Alzheimer's disease is a devastating neurodegenerative disorder characterized by a gradual loss of memory and cognitive function. An estimated 6.5 million Americans aged 65 and older are affected by Alzheimer's, and this number is projected to increase to 12.7 million by 2050, according to the Alzheimer's Association. Despite decades of research efforts, there is no cure for the disease.
Translational Research in Alzheimer's Disease and Related Dementias (TRADD) is supported in part by the National Institute on Aging, a division of the National Institutes of Health, under award no. 1T32AG082631.
---