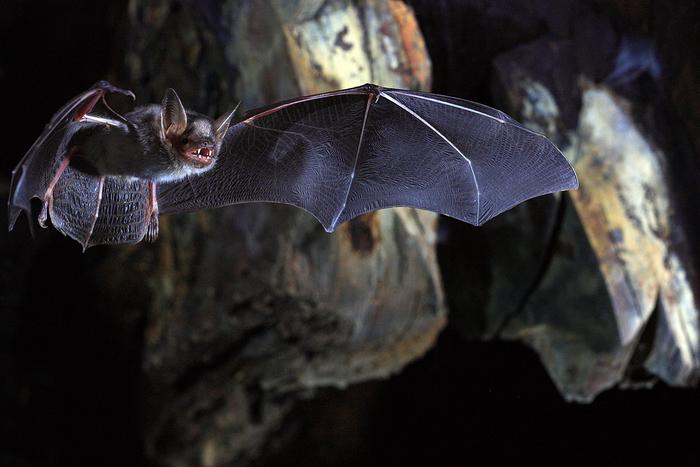 University College Dublin: Do bats hold the secret to health and longevity? A team led by Professor Emma Teeling, Full Professor of Zoology at University College Dublin (UCD), has won a prestigious European Research Council (ERC) Synergy grant of almost €12 million, to explore this fascinating question.
The ERC Synergy grants support ambitious researchers to join forces and pool different skills, knowledge and resources to push the frontiers of our knowledge and address some of the world's most formidable problems.
Professor Teeling has pioneered global research into the development of bats as new models for healthy ageing and disease tolerance. She will lead the groundbreaking Synergy project 'BATPROTECT', involving a team of 22 researchers - including leading experts from Germany and Singapore. The project is expected to achieve a step-change in our understanding of bats' extended healthspan and disease resistance.
Professor Teeling said: "We have just been given the most extraordinary opportunity to finally harness the amazing adaptations of bats and provide new ways to slow down human ageing and disease resistance. This ERC Synergy grant has enabled us to unite the fields of bat biology, virology, immunology, genomics and gerontology, across Europe and Asia, in order to achieve our goals.
We are thrilled and excited to work together and uncover how we can live longer, healthier lives by learning from bats. I would like to thank the Irish Research Council and Science Foundation Ireland for initially funding this research and Enterprise Ireland for their support."
About the BATPROTECT project
The challenges posed by ageing and infectious diseases in our societies come with significant medical, financial, and emotional burdens. While previous research has struggled to offer solutions to increase human health span and protect against the harmful effects of infections, bats - the only flying mammals - have naturally addressed both of these problems.
Even though bats serve as hosts for numerous dangerous viruses, they usually don't show symptoms of viral infections thanks to their unique immune system adaptations. Bats also have exceptional longevity and show little-to-no signs of any age related diseases. The main objective of BATPROTECT is to make significant advancements in our understanding of the specific genetic and biochemical factors within bats that are responsible for their ability to live longer, healthier lives and resist diseases. Uncovering these molecular mechanisms could open up new possibilities for improving human health and disease outcomes.
The project brings together world-leading researchers in bat biology, genomics, immunology, and gerontology. The team's experts include Professor Linfa Wang, Duke-NUS Medical School, Singapore, Professor Michael Hiller, Senckenberg Research Institute, Germany, and Professor Björn Schumacher, Institute for Genome Stability in Ageing and Disease, CECAD Research Centre, Germany.
Ultimately, this research will deepen our knowledge of how bats manage to stay healthy and resist diseases, potentially paving the way for future therapeutics.
37 research groups across Europe were announced as recipients of 2023 ERC Synergy grants - with a total value of €359 million - to tackle complex scientific questions. Recipients include fellow UCD researcher Dr Claire Harnett, whose project 'ROTTnROCK' will advance knowledge of volcanic processes to help predict and mitigate the hazards of unexpected eruptions. This brings UCD's total of current ERC Synergy grants to three.
UCD Interim Vice-President for Research, Innovation and Impact, Professor Helen Roche said: "We are immensely proud of Professor Teeling and Dr Harnett in their achievement. UCD is ranked number one in Ireland and 23rd among higher education institutions in Europe for Horizon Europe funding. These awards really exemplify the excellence of our outstanding researchers, who are building important international collaborations to address global challenges. I congratulate the winners and look forward to following their exciting work."
Iliana Ivanova, ERC Commissioner for Innovation, Research, Culture, Education and Youth, said: "Some scientific questions are too complex to be addressed by researchers working on their own. Challenges such as climate change or ageing span research disciplines and call for diverse methods, skills and resources. This is why the European Research Council today awarded 37 Synergy Grants, empowering small groups of top researchers working across disciplines to tackle serious problems. I wish them success in this important work."
ERC President Professor Maria Leptin said: "Congratulations to all the winners! The selected projects are shining examples of audacious scientific thinking, and I eagerly await the outcomes of these collaborative endeavours. I am also happy to see some European researchers teaming up with peers across several continents. Together, they are well-equipped to tackle the substantial scientific questions that our world is yearning to find answers to."
The ERC Synergy Grant scheme is part of the EU's research and innovation programme, Horizon Europe. Applicants submitted 395 proposals in this call. The 37 winning projects involve 135 researchers who will carry out their projects at 114 universities and research centres in 19 countries across Europe and beyond.
---