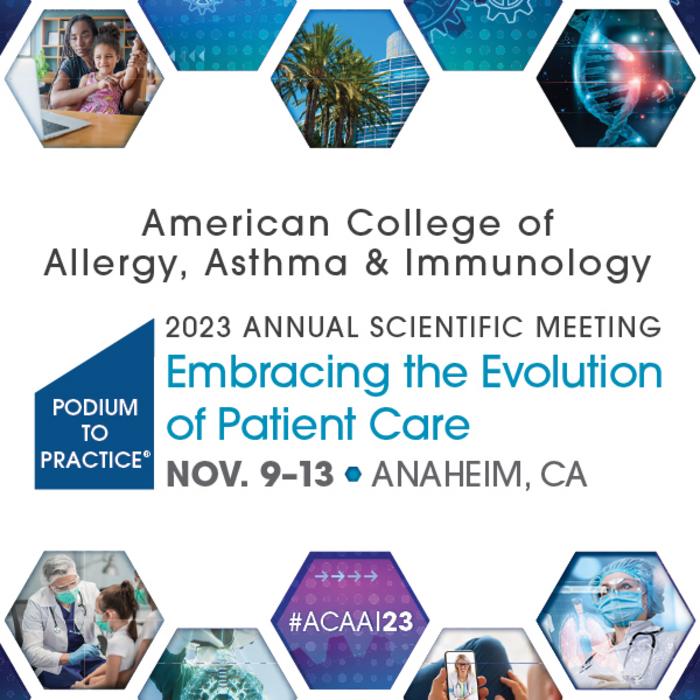 ANAHEIM, Calif. (Nov. 9, 2023) – Beginning in 2021, The Allergists' Foundation, the philanthropic arm of the American College of Allergy, Asthma and Immunology, began funding community grant projects that address challenges faced by community practicing allergists.
Grants are awarded in the following two categories:
Planning/exploratory projects (up to $10,000 for 12 months) to address issues that have not been fully explored, for which data needs to be gathered.
Implementation grants (up to $25,000 for 12-24 months) for projects in which preliminary data has been gathered and initial planning has taken place. These grants help take the work to the "next level."
This year, six grantees are presenting on their work at the ACAAI National Scientific Meeting in Anaheim, Calif. The awards are made possible thanks to generous donations from College members, and support by GSK.
"We have awarded nearly $100,000 in grants each year to support innovative means for addressing challenges faced by community practicing allergists, including health disparities in underserved communities, says allergist David Engler, MD, FACAAI, 2023 president of The Allergists' Foundation. "These projects exemplify the creativity and resourcefulness of the College's membership and have the potential to make an important difference in our efforts to improve the care for allergy and asthma in every community."
An introduction to each project presented at this year's meeting is given below:
P230
EASING THE CONVERSATION: CANNABIS EDUCATION FOR ALLERGISTS
Introduction: Dissemination of knowledge about cannabis in the medical setting has lagged- behind increasing legalization and cannabis use. There is an unmet need to determine the level of cannabis knowledge of allergists, and whether allergists address potential cannabis allergy in their patients. To address both topics cannabis educational modules and intake questions were developed.
P195
ADOLESCENTS DEMONSTRATE IMPROVED COMFORT WITH SELF-MANAGEMENT OF FOOD ALLERGIES WITH IMPLEMENTATION OF TAILORED EDUCATION VISIT
Introduction: Adolescents with food allergies have an increased risk of anaphylaxis and fatal reactions secondary to food allergen exposure. Previous studies have shown that adolescents are less likely to carry their epinephrine auto-injector and engage in risk-taking behaviors. There is limited literature on transitions of care guidelines for teens with food allergies, and it is unknown if a dedicated transitions of care education visit would improve outcomes for these patients.
P288
ASTHMA AND ATOPIC DERMATITIS-RELATED OUTCOMES IN URBAN CHILDREN
Introduction: Atopic Dermatitis (AD) affects 13% of children and is highly co-morbid with asthma. Disease management in urban children can be challenging due to poverty, decreased access to care and urban stressors. Our goal was to examine asthma and AD outcomes in children with both conditions.
P010
PATIENT PERSPECTIVES ON PENICILLIN ALLERGY EVALUATION DURING PREGNANCY: A QUALITATIVE STUDY
Introduction: Prenatal penicillin testing is often not completed, despite it being part of guideline-concordant obstetrics care. We conducted qualitative interviews eliciting patient perspectives to improve testing uptake and patient experience.
P183
NATIONAL NEEDS ASSESSMENT FOR AN INFANT AND TODDLER FOOD ALLERGY CURRICULUM FOR PEDIATRIC RESIDENTS
Introduction: The prevalence of pediatric food allergies is increasing. 6% of children ages 0 to 2 years have food allergies. The need for community practicing allergists managing infant/toddler food allergies is increasing, yet fewer residents pursue allergy/immunology fellowship. Pediatric residents are frontline providers for children with food allergies, but little is known about their educational experiences with infant/toddler food allergies and exposure to the field of allergy/immunology.
P259
A QUALITY IMPROVEMENT INITIATIVE INCREASING FORMAL EVALUATIONS OF UNCONFIRMED PENICILLIN ALLERGIES IN A PEDIATRIC HOSPITAL
Introduction: Penicillin (PCN) allergy is the most common drug allergy, but less than 10% of children are confirmed to have true IgE-mediated reactions. Despite recommendations for formal testing, children with unconfirmed PCN allergy labels are infrequently evaluated. The SMART aim of this initiative was to increase the number of formal PCN allergy evaluations (completed telemedicine and in-person testing) from 4 per month to 20 per month by June 2023.
For more information about allergies and asthma, or to find an allergist in your area, visit AllergyandAsthmaRelief.org. The ACAAI Annual Scientific Meeting is Nov. 9-13. For more news and research from the ACAAI Scientific Meeting, go to our newsroom and follow the conversation on X/Twitter #ACAAI23.
About ACAAI
The American College of Allergy, Asthma & Immunology (ACAAI) is a professional medical organization of more than 6,000 allergists-immunologists and allied health professionals, headquartered in Arlington Heights, Ill. Founded in 1942, the College fosters a culture of collaboration and congeniality in which its members work together and with others toward the common goals of patient care, education, advocacy, and research. ACAAI allergists are board-certified physicians trained to diagnose allergies and asthma, administer immunotherapy, and provide patients with the best treatment outcomes. For more information and to find relief, visit AllergyandAsthmaRelief.org. Join us on Facebook, Pinterest, Instagram and X/Twitter.
---
Journal
Annals of Allergy Asthma & Immunology
Article Title
EASING THE CONVERSATION: CANNABIS EDUCATION FOR ALLERGISTS
Article Publication Date
9-Nov-2023