Feature Story | 6-Nov-2023
Media Tip: Argonne tool helps map out where to develop clean energy infrastructure
DOE/Argonne National Laboratory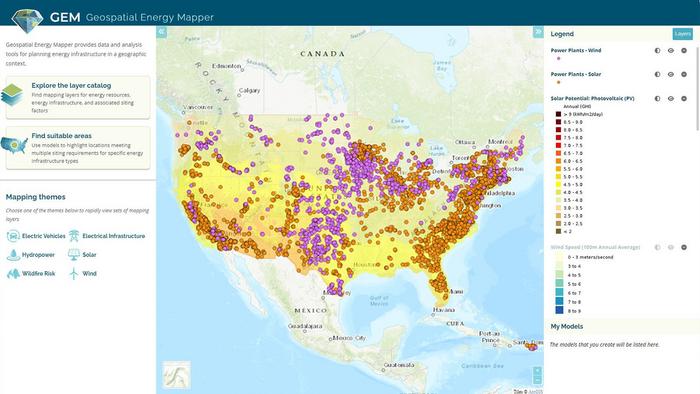 The Geospatial Energy Mapper (GEM) from the U.S. Department of Energy's Argonne National Laboratory is an interactive online mapping tool with an extensive catalog of mapping data for energy planning. It can help identify areas across the country that are suitable for wind, solar and other clean energy infrastructure projects.
Argonne National Laboratory seeks solutions to pressing national problems in science and technology. The nation's first national laboratory, Argonne conducts leading-edge basic and applied scientific research in virtually every scientific discipline. Argonne researchers work closely with researchers from hundreds of companies, universities, and federal, state and municipal agencies to help them solve their specific problems, advance America's scientific leadership and prepare the nation for a better future. With employees from more than 60 nations, Argonne is managed by UChicago Argonne, LLC for the U.S. Department of Energy's Office of Science.
The U.S. Department of Energy's Office of Science is the single largest supporter of basic research in the physical sciences in the United States and is working to address some of the most pressing challenges of our time. For more information, visit https://​ener​gy​.gov/​s​c​ience.
Disclaimer: AAAS and EurekAlert! are not responsible for the accuracy of news releases posted to EurekAlert! by contributing institutions or for the use of any information through the EurekAlert system.