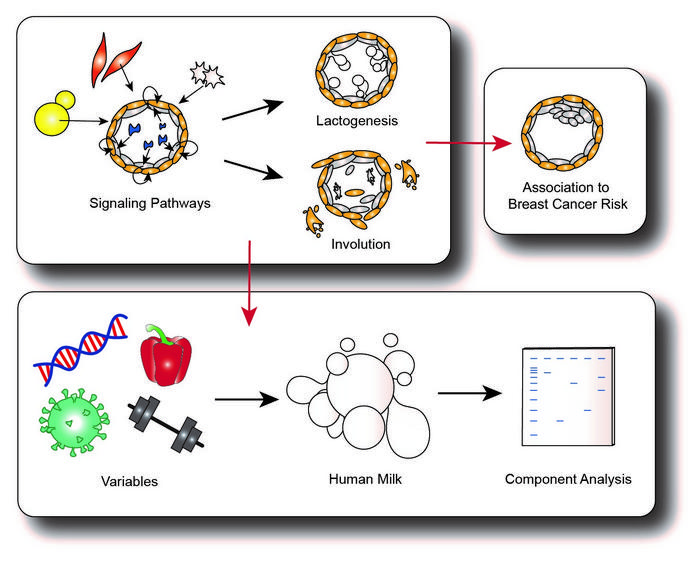 The 3D human breast organoid model represents state-of-the-art technology that "floats" patient-derived or stem cell-derived human breast tissue in a gel-like substance known as the matrix. The model improves the reproduction of native human breast tissue in a laboratory setting and allows researchers to study the cellular and molecular character of human breast tissue at various stages of development.
In a review paper published by the KeAi journal Reproduction and Breeding, a team of researchers describe current mammary organoid research and potential studies that could be done using 3D breast organoid models.
"Many studies used mouse mammary glands to study the human mammary gland, but the mouse mammary gland is very different from human mammary glands in various aspects, such as development and chemical signaling pathways," shares Jenny Lee, lead author of the paper. "Hence, human breast organoid models are needed to further understand the human mammary gland, including processes associated with lactation."
Previous studies have found that human breast organoid models form structures characteristic of human breast tissue, maintain various mammary gland cell subtypes, express important breast tissue protein markers, and respond to hormone or drug treatments. For instance, a study by Qu et al. revealed that the introduction of lactation medium induced the expression of milk proteins within these organoids. Sumbal et al. further extended these findings, demonstrating that lactation medium not only induced potential milk production in breast organoids but also established that the withdrawal of lactation medium could trigger involution-like activity.
"By using 3D breast organoids, we can delve deeper into the intricate cellular and molecular processes of lactogenesis, the post-pregnancy transformation of milk-secreting cell specialization and milk production, as well as involution—the regression of the lactating mammary gland to its pre-pregnancy state," says Lee.
The authors believe that breast organoids may even contribute to refining human milk formula to cater to specific nutritional requirements, ensuring the healthy growth of infants.
###
Contact the author:Jenny Lee, The University of California Los Angeles, College of Letters and Science, CA, 90048, USA, jennyflee@ucla.edu, www.linkedin.com/in/jennyforestlee
The publisher KeAi was established by Elsevier and China Science Publishing & Media Ltd to unfold quality research globally. In 2013, our focus shifted to open access publishing. We now proudly publish more than 100 world-class, open access, English language journals, spanning all scientific disciplines. Many of these are titles we publish in partnership with prestigious societies and academic institutions, such as the National Natural Science Foundation of China (NSFC).
---
Journal
Reproduction and Breeding
Method of Research
Commentary/editorial
Subject of Research
Human tissue samples
Article Title
Human breast organoid models for lactation research.
COI Statement
The authors declare that they have no known competing financial interests or personal relationships that could have appeared to influence the work reported in this paper.