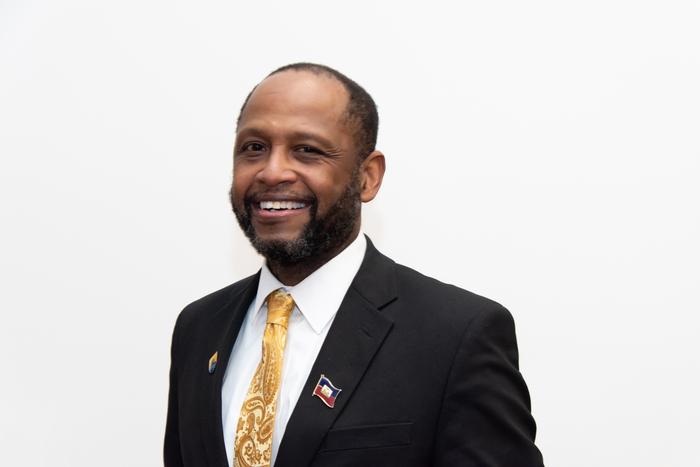 NEW ORLEANS, LOUISIANA – Ochsner Health is thrilled to announce that Yvens Laborde, MD, has been named chief community medical officer for the medical system. In this new role, Dr. Laborde is driving Ochsner's comprehensive community strategy to promote health equity and further align initiatives under Healthy State, a collaborative effort with government, non-profit and business organizations to promote health and wellness in Louisiana.
Dr. Laborde will deepen his work with Ochsner's community outreach and community health partners to develop and implement programs focused on improving health and wellness in local communities. He will also develop programs to train and educate students and healthcare professionals on the principles and practices of health equity and social drivers of health and wellness.
The new community medical officer role comes a year after the formation of the 38-member Healthy State Advisory Board and furthers the collective Healthy State mission of creating healthier, happier and more productive communities, with health equity at the forefront of these efforts. Together, Healthy State members from every sector bring resources to underserved communities; better understand the impact of health and social conditions; utilize data, technology and innovation to improve outcomes; and invest in Louisiana's economic growth and workforce.
"It's an ambitious plan, but with the right people, partners and drive, we are confident we will profoundly improve the well-being of the communities we serve through the lens of health equity," said Dr. Leonardo Seoane, chief academic officer and executive vice president for Ochsner Health, and executive champion for Healthy State. "Since the beginning of these efforts, Dr. Laborde has been a key partner, and this new role will further our work together and build on the momentum toward creating better health and wellness for the communities we collectively serve."
Dr. Laborde's History at Ochsner
Dr. Laborde has been instrumental in Ochsner's community and global health efforts since joining the health system in 1995 as an internal medicine physician. Most recently, he served as the medical director of global and community health and led local, regional and global efforts focused on improving health outcomes around the world. He served as physician advisor during Hurricane Ida emergency response efforts; supported the Community Health Needs Assessment; led humanitarian relief efforts following devastating natural events in Haiti, Dominican Republic and Bahamas; and orchestrated outreach during the COVID-19 pandemic to reinforce equitable vaccine and testing in the community.
Prior to his most recent role, Dr. Laborde served in various leadership positions, including section head of General Internal Medicine. He served as regional medical director of Ochsner Medical Center – West Bank Campus, where he played a major role in developing Ochsner's growth and presence. He served as medical director of Ochsner's Equitable Vaccine and Testing Program and was co-director of Community Engagement for Ochsner Xavier Institute of Health Equity and Research (OXIHER). He was also the first elected Black physician on the Ochsner Board of Directors and served for two terms after Hurricane Katrina.
Dr. Laborde will continue his position as adjunct professor for The University of Queensland Ochsner Doctor of Medicine (MD) Program. As a faculty member, Dr. Laborde oversees the Medicine of Social Global Health course and rotation and leads medical students through community health outreach efforts.
"At Ochsner, we are committed to providing high-quality, patient-centered care to achieve optimal health and wellbeing for all our patients, and to working collaboratively and respectfully with our external and internal partners to achieve these goals," Dr. Laborde said. "I will work to fulfill the vision to inspire healthier lives and build stronger communities by applying innovative, science-driven solutions to create a culture inclusivity and health excellence."
Alignment with Healthy State and Community Health
In 2020, Ochsner shared the commitment to join state and local partners in a concerted effort to improve the health and wellness of Louisiana and the Gulf South, acting as a critical catalyst for the Healthy State effort. Last year, Louisiana's Healthy State announced the formation of its Advisory Board, a coalition of 35 statewide organizations representing 100,000 employees, educating 200,000 students and caring for 4.6 million community members' lives – all working together through a common vision to better Louisiana.
Since then, the partners celebrated collective action and accomplishments including:
$1.35 billion in federal funding to expand broadband access and eliminate the digital divide connecting communities to devices and services vital for social resources and telemedicine.
The National Institutes of Health (NIH) award of $16.5 million grant to Ochsner, Tulane University and community partner RH Impact to launch the Southern Center for Maternal Health Equity to address Louisiana's high maternal mortality rate.
The announcement of the Xavier-Ochsner College of Medicine, set to increase physician diversity and drive excellence in medicine.
Ochsner's extension of a partnership with The University of Queensland to continue to train medical students within the UQ-Ochsner Doctor of Medicine Program.
The establishment of the St. Tammany Health System/Ochsner Family Medicine Residency Program.
Continuation of the Ochsner Scholar program for aspiring nurses and physicians, which is accepting 100 nurses and 10 physicians in the next cohort.
The launch of Discovery Schools' statewide hybrid virtual program for 5th to 8th grade students – Discovery Fusian Health Sciences Academy.
Ochsner Education Outreach celebrated 23 Kenner Discovery students in a culmination ceremony for completing their 10-week internships at Ochsner Medical Center – Kenner. Eighteen of the students completed their Medical Assistant certification, and four of them were hired as Medical Assistants at OMC-Kenner.
Through the Ready Set Read program at Discovery Schools, Ochsner volunteers helped realize a 97% success rate in students reading at or above grade level in one year.
The second annual The Big Health Event, a health expo held by The Urban League of Louisiana and sponsored by Ochsner, in Baton Rouge. The event featured STEM classes for families, healthy cooking demonstrations, free public health screenings and more.
Louisiana legislation mandating comprehensive smoking cessation coverage including individual and group counseling and pharmacotherapy by all payors, as well as a smoking cessation program that helped nearly 100,000 community members quit.
###
Ochsner Health is an integrated healthcare system with a mission to Serve, Heal, Lead, Educate and Innovate. Celebrating more than 80 years of service, it leads nationally in cancer care, cardiology, neurosciences, liver and kidney transplants and pediatrics, among other areas. Ochsner is consistently named both the top hospital and top children's hospital in Louisiana by U.S. News & World Report. The not-for-profit organization is inspiring healthier lives and stronger communities through its Healthy State initiative, a bold and collaborative plan to realize a healthier Louisiana. Its focus is on preventing diseases and providing patient-centered care that is accessible, affordable, convenient and effective. Ochsner Health pioneers new treatments, deploys emerging technologies and performs groundbreaking research, including 4,000 patients enrolled in 685 clinical studies in 2022. It has more than 37,000 employees and over 4,700 employed and affiliated physicians in over 90 medical specialties and subspecialties. It operates 46 hospitals and more than 370 health and urgent care centers across Louisiana, Mississippi, Alabama and the Gulf South; and its cutting-edge Connected Health digital medicine program is caring for patients beyond its walls. In 2022, Ochsner Health treated more than 1.4 million people from every state and 62 countries. As Louisiana's top healthcare educator of physicians, Ochsner Health and its partners educate thousands of healthcare professionals annually. To learn more, visit https://www.ochsner.org/.
---
Method of Research
News article
Subject of Research
Not applicable