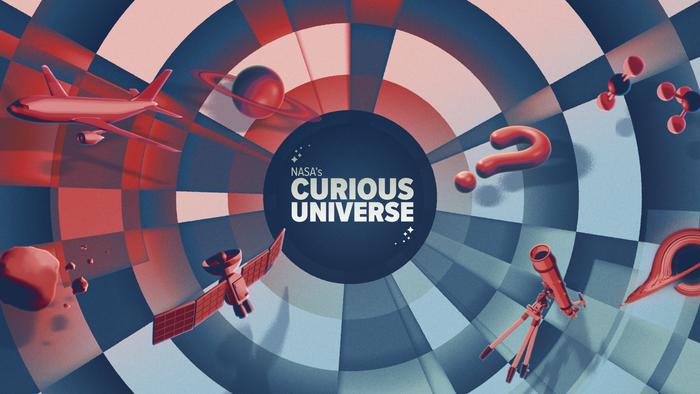 NASA's short-form, narrative podcast, NASA's Curious Universe, returns for its sixth season Nov. 7. This season will bring listeners on new "wild and wonderful" adventures from the farthest reaches of the cosmos to right here on planet Earth.
In season six, listeners will meet researchers who are using sounds from the Sun to learn crucial details about our star, explore the "dark side" of the universe with scientists who study dark matter and dark energy, and get a behind-the-scenes look at the first NASA mission to deliver an asteroid sample to Earth.

Listen to the first episode "Welcome to the Dark Side"

The trailer for season six of NASA's Curious Universe launched Oct. 31, and new episodes will be published every Tuesday morning through Dec. 19.
In each episode, host Dr. Padi Boyd, a NASA astrophysicist, brings listeners on a unique, sound-rich journey through our solar system and beyond. She is joined by a lineup of expert interviewees such as scientists, astronauts, and engineers.
NASA's Curious Universe first debuted in March 2020 and features a catalog of episodes focused on a wide variety topics, from spacesuit design to exoplanet hunting.
In 2022, the show received a People's Voice Webby Award in the category "Best Limited Series—Health, Science & Education," recognizing the team's in-depth reporting on the science, engineering, people, and launch of NASA's James Webb Space Telescope.
NASA's Curious Universe is a podcast created with the "first-time space explorer" in mind and doesn't require prior knowledge of NASA or its missions. All you need is your curiosity!
NASA's Curious Universe, and the show's companion Spanish podcast, Universo Curioso de la NASA, are now available on Apple Podcasts, Google Podcasts, and Soundcloud.
Curious Universe is written and produced by NASA's audio team, based at the agency's Goddard Space Flight Center in Greenbelt, Maryland.
About NASA Audio
From long-form interviews with astronauts and engineers to stories that take you on a tour of the galaxy, NASA's audio offerings let you experience the thrill of space exploration without ever leaving Earth. Discover all of NASA's podcasts at: nasa.gov/podcasts
---