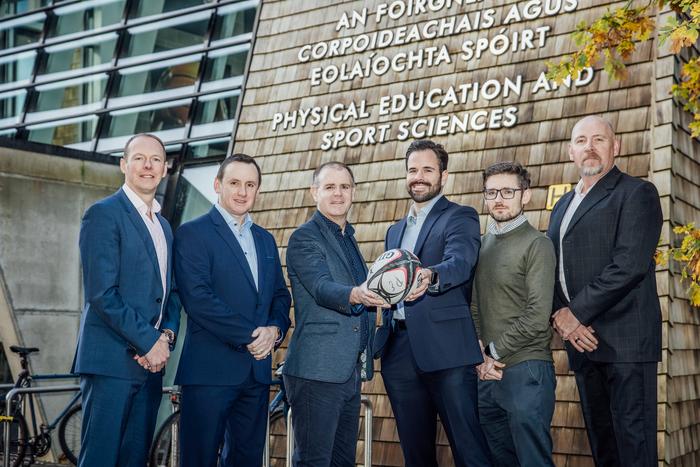 University of Limerick, Ireland and UPMC announce strategic partnership on concussion research
Press release (7/11/23)
***REPRO FREE imagery attached
University of Limerick in Ireland and international healthcare provider UPMC are to work together to advance knowledge and understanding on the treatment of concussion, it has been announced.
The Irish Rugby Injury Surveillance (IRIS) project based at UL, together with UPMC, have agreed a new strategic research partnership that ultimately aims to increase our understanding of concussion and its treatment to enhance player health and welfare.
This research partnership builds on a Memorandum of Understanding already signed between UL, UPMC, and the University of Pittsburgh.
The IRIS project, which was established in 2016 and is supported by the Irish Rugby Football Union, tracks the incidence and nature of injury in amateur and schools' rugby in Ireland.
The important new partnership with UPMC will expand on the work done to date in IRIS and aims to examine the qualitative symptoms of concussion in amateur rugby, the length of recovery time post-concussion, and the treatment advice given to players.
The partnership will involve the appointment and full funding of a PhD Scholar who will split their research time between the Sport and Human Performance Research Centre in UL under the direction of Dr Tom Comyns, Professor Ian Kenny, and Dr John Mulvihill, and UPMC Pittsburgh under the guidance of internationally renowned experts in sports-related concussions, Dr Michael Collins and Dr Anthony Kontos.
Dr Collins and Dr Kontos are both considered world leading experts in the diagnoses, treatment, and management of sports-related concussion and the PhD will offer a scholar the opportunity to engage in impactful international research in this area.
Dr Comyns, Associate Professor and senior lecturer in human movement science at UL's Department of Physical Education and Sports Sciences, explained: "This partnership represents a major step forward for the thorough investigation of the treatment and management of concussion and the IRIS team at UL are looking forward to working together with UPMC and Dr Collins and Dr Kontos, who are world leader in their field.
"It will also result in the establishment of an international collaboration aimed at enhancing player welfare and health."
Speaking about the announcement, John Windle, General Manager, UPMC Sports Medicine, said: "This collaboration represents a significant step forward in our commitment to advancing the field of sports medicine and improving the lives of athletes at all levels across Ireland.
"By combining existing expertise with the knowledge and resources of the internationally renowned UPMC Concussion Programme, we aim to better understand, prevent, and treat concussions, ultimately making sports safer for everyone across Ireland," Mr Windle added.
ENDS
For further information, please contact:
Alan Owens
Communications Officer
University of Limerick
+353 87 908 6633
About University of Limerick:
University of Limerick is a research-led, independent, internationally focused university with more than 18,500 students and 2,000 staff. It is a young, energetic and enterprising University with a proud record of innovation in education and excellence in research and scholarship.
More information is available at www.ul.ie.
Tweet @UL
Facebook.com/universityoflimerick
LinkedIn University of Limerick
---