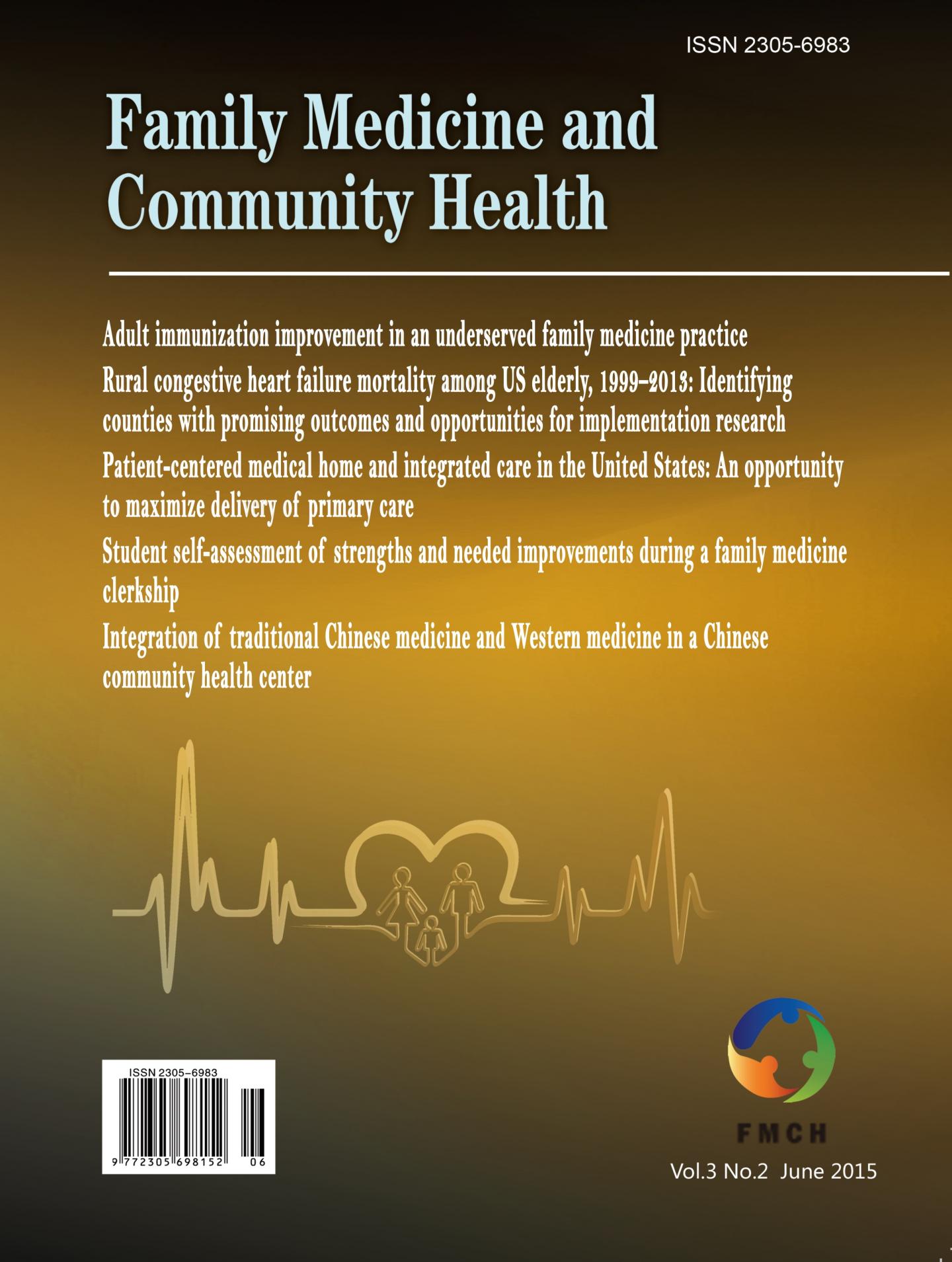 Cancer and Primary Care is the theme of the new issue of Family Medicine and Community Health (FMCH), http://fmch-journal.org/, an international peer reviewed medical journal with editorial offices in China and the US. The Autumn 2015 issue includes four original research articles on cancer, one systematic review on global health and two papers focusing specifically on health care in China. Authors contributing to this issue come from diverse institutions, including the Freeman Spogli Institute for International Studies, Stanford University; Johns Hopkins Medicine, Baltimore; Case Western Reserve University School of Medicine, Cleveland; the Indian Institute of Public Health, Bhubaneswar, Odisha, India; ACON Primary Care Research Center, Hangzhou, China and the University of Edinburgh, UK.
Cancer is a disease that affects many people regardless of race, economic status, gender or age. This special issue of FMCH, coordinated by Li Li MD, PhD, Professor of Family Medicine, Epidemiology, and Biostatistics, and Mary Ann Swetland Endowed Professor of Environmental Health Sciences at Case Western Reserve University, looks at cancer screening, treatment, survivorship, access to care, and global health.
The featured work in this issue is an original research article entitled "Stool DNA-based versus colonoscopy-based colorectal cancer screening: patient perceptions and preferences", http://dx.doi.org/10.15212/FMCH.2015.0125. As stated by authors Matthew V. Abola, Todd F. Fennimore, Marcia M. Chen, Zhengyi Chen, Ashutosh K. Sheth, Gregory Cooper and Li Li, colorectal cancer is the second leading cause of cancer-related deaths, and nonscreening accounts for most of these deaths. Among all colon cancer deaths, a significantly higher proportion of patients are African American. The authors investigated if patients' perceptions of the stool DNA test differ according to race and other patient characteristics.
Other articles published in the issue include:
Sanghamitra Pati, Sukdev Nayak and David Weller: "Disconnect between primary care and cancer follow-up care: an exploratory study from Odisha, India", http://dx.doi.org/10.15212/FMCH.2015.0137
This paper explores the perceptions of oncologists, general practitioners, and patients with regard to the involvement of primary care in cancer follow-up care in India. It reports that despite the growing number of cancer survivors, a disconnect between primary care and cancer follow-up care exists in India.
James J. Werner and Kitty Corbett: "Primary care clinicians' strategies to overcome financial barriers to specialty health care for uninsured patients", http://dx.doi.org/10.15212/FMCH.2015.0138
The authors describe strategies used by federally qualified health centers (FQHCs) to assist medically uninsured patients in obtaining specialty health care services. It outlines six strategies currently being deployed by FQHCs to access specialty care services for uninsured patients.
Tzuyung D. Kou, Siran M. Koroukian, Pingfu Fu, Derek Raghavan, Gregory S. Cooper and Li Li: " Survival in men older than 75 years with low- and intermediate-grade prostate cancer managed with watchful waiting with active surveillance", http://dx.doi.org/10.15212/FMCH.2015.0129.
This study examined prostate cancer?specific and all-cause death in elderly patients older than 75 years with low-risk tumors managed with active treatment versus watchful waiting with active surveillance (WWAS). The results support WWAS as an initial management option for older men with well-differentiated and localized prostate cancer.
Masahiro J. Morikawa: "Family medicine: Global health in practice", http://dx.doi.org/10.15212/FMCH.2015.0126.
Family medicine continues to be a powerful tool to improve people's health in our own communities and in global health practice. The author undertakes a review of past major global health campaigns with a specific focus on the roles of family medicine to illustrate its relevance in global health, and to address practical approaches to attain health, which nurture sustainability of local health resources and resilience of the community.
Guoping Xu and Jiaji Wang: "Primary health care, a concept to be fully understood and implemented in current China's health care reform", http://dx.doi.org/10.15212/FMCH.2015.0127.
The authors explore how the concept of "primary health care" (PHC) has been misunderstood and wrongly interpreted in Chinese as "entry-level health care" for more than a half century. The authors discuss how this misinterpretation of the PHC concept in China has had a unique detrimental impact on China's health care development from policy formulation to financial allocation to health care provider training.
Feng Lin, Qihong Sun, Zhangping Peng, Jun Cai, Philip Geanacopoulos, Lin Li, Yun Zhao, Xin Zhang, Xiaoxiao Chen: "The innovations in China primary health care reform: Development and characteristics of the community health services in Hangzhou", http://dx.doi.org/10.15212/FMCH.2015.0135.
This study focuses on Hangzhou, a Chinese city with a population of nine million urban and rural residents, to examine the successful development and innovation experience of its primary health care service system since 2009. Preliminary data collection and analysis indicate that the basic health status of Hangzhou residents is superior to that of residents of China as a whole, and some health indicators in Hangzhou were found to be comparable to those in Western developed countries.
Family Medicine and Community Health, http://fmch-journal.org, is a stringently peer-reviewed, open access journal in its third year of publication. FMCH aims to promote timely communication of medical knowledge and skills that translate into better modalities of care globally. It focuses on family medicine; community health; chronic disease management; community nursing; hospice care; paramedics; epidemiology; education and training; and community health policy worldwide.
###
Led internationally by Editor-in-Chief, Prof. Wei Wang, MD, PhD, FFPH, of Edith Cowan University, Western Australia, the journal plans to publish two additional special topic issues: Comprehensive Planning for Aged Care, Global Health, and Cancer Research in the coming months. Roger J. Zoorob, MD, MPH, FAAFP, Chair of the Department of Family and Community Medicine, Baylor College of Medicine, Houston, TX, serves as US Editor.
FMCH is available on the IngentaConnect platform, http://www.ingentaconnect.com/content/cscript/fmch and at Family Medicine and Community Health, http://fmch-journal.org. Submissions may be made using ScholarOne Manuscripts, https://mc03.manuscriptcentral.com/fmch. There are no author submission or article processing fees.
---
Journal
Family Medicine and Community Health