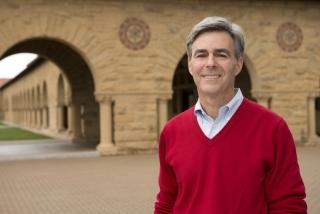 McGill University, in association with Lawrence and Frances Bloomberg and Manulife, is pleased to announce that Dr. Thomas Robinson, a Stanford University professor of Pediatric Medicine and pioneer in using novel motivational techniques to combat childhood obesity, is the winner of the 2016 Bloomberg Manulife Prize for the Promotion of Active Health.
Dr. Robinson is being recognized for developing a unique research program that goes beyond looking at the root causes of obesity and other health-related conditions by developing creative and sometimes unconventional interventions - from dance classes to educational courses -- and measuring their impact on diet, weight loss and other barometers of health. The ultimate goal is to persuade children, adolescents and their families to adopt healthier lifestyles, often without them even knowing.
Among his more notable projects is one in which he introduced after-school dance classes to at-risk communities where children have been historically inactive. Within weeks, involvement in the classes showed positive effects on participants' cholesterol and insulin levels, and showed signs of slowing obesity. In another project, focused on diet, university students who had taken classes that explored the environmental impact of certain unhealthy foods showed decreases in consumption of red meat and sugary snacks.
"In your career, you only have a limited time in which to create change and to move research forward so that it has an impact on health," says Dr. Robinson. "Prizes such as this one give investigators like me the support we need to push the boundaries of our research. The increased attention that comes with this award makes it easier to share the implications of my research with opinion leaders and others beyond the realms of science and public health."
Dr. Robinson, MD, MPH, is the Irving Schulman, M.D. Endowed Professor in Child Health and Professor of Medicine at the Stanford Prevention Research Center. He is also Director of Stanford's Center for Healthy Weight. In addition to his research and clinical practice, Dr. Robinson is a frequent appointee to expert and advisory panels for leading scientific and public health agencies, including the Scientific and Technical Advisory Network of the World Obesity Federation and the Clinical Obesity Research Panel of the National Institute of Diabetes and Digestive and Kidney Diseases.
The Bloomberg Manulife Prize, which includes a CAD $50,000 research award, was established in 2011 by McGill University alumnus and Toronto-based investment manager Lawrence S. Bloomberg, C.M., O. Ont. MBA'65, and corporate sponsor Manulife to recognize researchers whose work is enhancing our understanding of how physical activity, nutrition or psychosocial factors influence personal health and wellbeing. The prize is housed at McGill's Desautels Faculty of Management and administered by the McGill Centre for the Convergence of Health and Economics. A jury of distinguished academics judge applications for the Prize.
"With the awarding of this year's Prize to Dr. Tom Robinson, McGill University continues to recognize researchers whose work is building awareness of the important links that exist between physical activity, healthy living and disease prevention," says Isabelle Bajeux-Besnainou, Dean of the Desautels Faculty of Management. "Through his pioneering research program, Dr. Robinson is not only discovering novel ways to help stem the tide of life-threatening obesity among children and adults but is also ensuring that these discoveries are put into practice."
Childhood obesity is one of the most serious public health challenges of the 21st century. In Canada, the prevalence of childhood obesity has increased at an alarming rate: more than doubling in children and quadrupling in adolescents over the past 30 years. Obesity in childhood is associated with a wide range of serious health complications, including the premature onset of such life-threatening illnesses as diabetes and heart disease.
"The healthy choices we make today have a positive outcome on our long-term health and wellness. Learning how and why we should make those healthy choices is crucial at a young age for developing lifelong habits," says Marianne Harrison, President & CEO, Manulife Canada. "Manulife promotes the health and well-being of Canadians through corporate sponsorships and by providing products that encourage and reward healthy living, like Manulife Vitality."
Since its inauguration, the Bloomberg Manulife Prize has gained the endorsement of prominent health organizations including The Canadian Cancer Society, The Canadian Heart and Stroke Foundation, ParticipACTION Canada, The Canadian Diabetes Association, YMCA Canada and the Canadian Men's Health Foundation.
Dr. Robinson will accept the Bloomberg Manulife Prize at a special ceremony in Toronto on Wednesday, February 15, 2017, where he will also speak about his research. This will be followed by a visit to McGill University in Montreal on Thursday, February 16.
###
About the Bloomberg Manulife Prize
The Bloomberg Manulife Prize is administered by McGill's Desautels Faculty of Management. Sponsors include The Globe and Mail, Shaw Media, Cineplex Odeon, and the Cambridge Group of Clubs. For more information: http://www.mcgill.ca/bloomberg-manulife
About Manulife
Manulife Financial Corporation is a leading international financial services group providing forward-thinking solutions to help people with their big financial decisions. We operate as John Hancock in the United States, and Manulife elsewhere. We provide financial advice, insurance and wealth and asset management solutions for individuals, groups and institutions. At the end of 2015, we had approximately 34,000 employees, 63,000 agents, and thousands of distribution partners, serving 20 million customers. At the end of September 2016, we had $966 billion (US$736 billion) in assets under management and administration, and in the previous 12 months we made more than $24.4 billion in benefits, interest and other payments to our customers. Our principal operations are in Asia, Canada and the United States where we have served customers for more than 100 years. With our global headquarters in Toronto, Canada, we trade as 'MFC' on the Toronto, New York, and the Philippine stock exchanges and under '945' in Hong Kong. Follow Manulife on Twitter @ManulifeNews or visit manulife.com or johnhancock.com.
Contact:
Cynthia Lee, McGill University, Media Relations
cynthia.lee@mcgill.ca, 514-398-6754
http://www.mcgill.ca/newsroom/
http://twitter.com/McGilluMedia
---