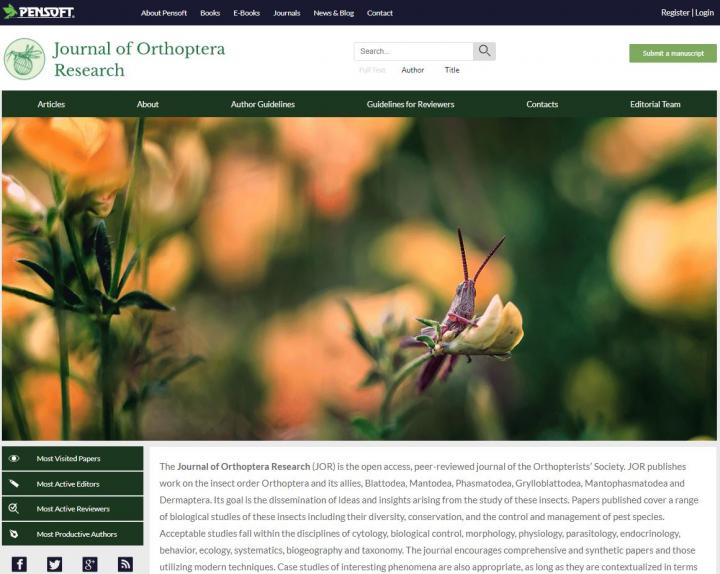 The Orthopterists' Society's Journal of Orthoptera Research (JOR) joins the growing portfolio of open access titles published on the Pensoft-developed journal publishing platform ARPHA (abbreviation for Authoring, Reviewing, Publishing, Hosting and Archiving).
The first issue in collaboration with Pensoft is live on the new journal's website as of June 2017.
While preserving its attractive and well-known style and global expertise on the order Orthoptera and other closely allied insect orders, the journal now offers increased accessibility through a modernised design, intuitive interface, and many high-tech perks for authors, readers, reviewers and editors alike.
In continuous publication since 1992, Journal of Orthoptera Research is no newcomer to the arena of entomological peer-reviewed journals. It has enjoyed an esteemed place in the canon as the only global scientific publication dedicated to publishing work on the grasshoppers, crickets and bushcrickets. Now, the move to Pensoft ushers the journal to a new digital age by providing a modernised platform for showcasing fascinating research on these most charismatic and valuable of insects.
Among the innovative advantages is fast-track and convenient publishing thanks to ARPHA. Each manuscript is carried through all stages from submission and reviewing to dissemination and archiving on a single platform to facilitate and expedite the process using the best technological capabilities. Furthermore, this results in publications available in three formats (PDF, XML, HTML) with state-of-the-art semantic enhancements, so that articles can be easily found, accessed and harvested by both humans and machines.
Among the nine articles comprising the first Journal of Orthoptera Research issue since joining Pensoft [JOR Vol. 26(1)], there is a new species of bushcricket from China that sings an unusually complex tune when courting its potential partners; a curious experiment in the colour-shifting abilities of adult grasshoppers; and a description of a unique YouTube video showing two male bushcrickets engaging in previously unreported sexual activities.
"It's pretty exciting to welcome Journal of Orthoptera Research to Pensoft's family," says Pensoft's founder and CEO Prof. Lyubomir Penev. "We first started discussions on the possible publication of the journal by Pensoft back in 2010 and have resumed them a couple of times since. I am happy to see the journal now published in the modern design and format it really deserves!"
"I'm certain that ARPHA will secure the right place for Journal of Orthoptera Research among a whole portfolio of excellent zoological journals. Our journal will definitely feel at home next to the names of Journal of Hymenoptera Research, Nota Lepidopterologica, Zoologia, ZooKeys and many others," says Editor-in-Chief Dr. Corinna Bazelet.
###
Follow Journal of Orthoptera Research on Twitter | Facebook.
Additional information:
About Pensoft:
Pensoft is an independent academic publishing company, well-known worldwide for its innovations in the field of semantic publishing, as well as for its cutting-edge publishing tools and workflows. In 2013, Pensoft launched the first ever end to end XML-based authoring, reviewing and publishing workflow, as demonstrated by the Pensoft Writing Tool (PWT) and the Biodiversity Data Journal (BDJ), now upgraded to the ARPHA Publishing Platform.
Flagship titles include: Research Ideas and Outcomes (RIO), One Ecosystem, ZooKeys, Biodiversity Data Journal, PhytoKeys, MycoKeys, and more.
About ARPHA:
ARPHA is the first end-to-end, narrative- and data-integrated publishing solution that supports the full life cycle of a manuscript, from authoring to reviewing, publishing and dissemination. ARPHA provides accomplished and streamlined production workflows that can be customized according to the journal's needs.
Contacts:
Prof. Lyubomir Penev, Pensoft
Email: penev@pensoft.net
Dr. Corinna Bazelet, Journal of Orthoptera Research
Email: cbazelet@sun.ac.za
---