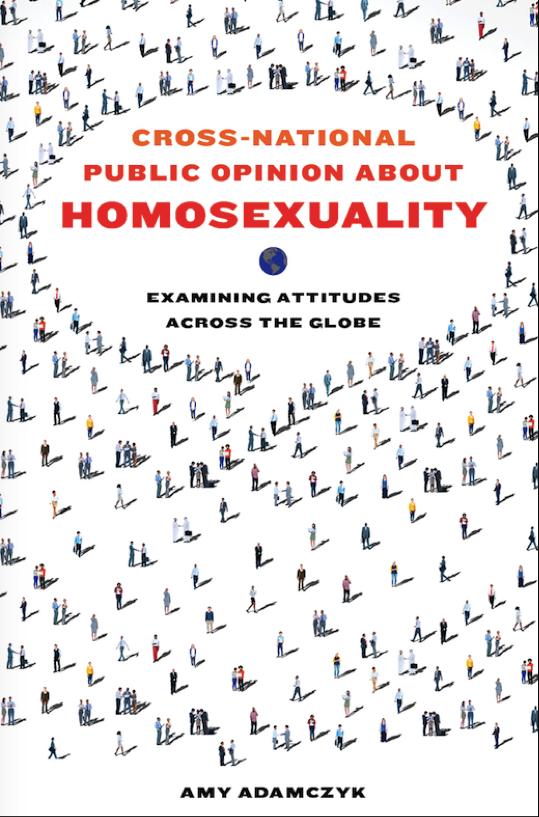 Dr. Amy Adamczyk, Professor and Interim Chair of Sociology at John Jay College of Criminal Justice and the Graduate Center, City University of New York (CUNY), has received a 2017 Global Religion Research Initiative (GRRI) Award from Center for the Study of Religion and Society at the University of Notre Dame. In addition, Dr. Adamczyk's groundbreaking book, which investigates the factors that shape cross-national attitudes about homosexuality, appeared in January 2017 from the University of California Press.
Dr. Adamczyk will use her GRRI curriculum development grant to create a new seminar for criminal justice doctoral students called Religion, Morality, and Crime in Global Perspective. There is a close relationship between religion, morality, and crime. While a lot of research shows that more religious people may be less likely to engage in some deviant and minor criminal acts, religion has also been used to justify major crimes, like terrorism. This seminar will investigate the theoretical and empirical research of this timely topic, offering needed insight into our current understanding of the world and America's place within it.
Dr. Adamczyk also contributes to the topical conversation about diversity, inclusivity and tolerance in her new book, Cross-National Public Opinion about Homosexuality: Examining Attitudes across the Globe.
Public opinion about homosexuality varies substantially around the world. While residents in some nations have embraced gay rights as human rights, people in many other countries find homosexuality unacceptable. What creates such big differences in attitudes? This book shows that cross-national differences in opinion can be explained by the strength of democratic institutions, the level of economic development, and the religious context of the places where people live. Dr. Adamczyk uses survey data from almost ninety societies, case studies of various countries, content analysis of newspaper articles, and in-depth interviews to examine how demographic and individual characteristics influence acceptance of homosexuality.
Dr. Adamczyk synthesizes her mixed-methods approach within a robust theoretical framework to understand the larger forces that shape attitudes towards same-sex relationships, and her book illuminates the origins of sexual prejudice and tolerance as well as the intersection of the politics of sexuality, economics and religion.
Dr. Amy Adamczyk is Professor of Sociology at John Jay College of Criminal Justice and the Graduate Center, City University of New York. Her research focuses on how different contexts (e.g. nations, counties, friendship groups), and personal religious beliefs shape people's deviant, criminal, and health-related attitudes and behaviors. To learn more about her book, please visit http://www.ucpress.edu/book.php?isbn=9780520288768
###
The City University of New York is the nation's leading urban public university. Founded in New York City in 1847, the University comprises 24 institutions: 11 senior colleges, seven community colleges, and additional professional schools. The University serves nearly 275,000 degree-credit students and 218,083 adult, continuing and professional education students.
For more information, please contact Shante Booker (shante.booker@cuny.edu) or visit http://www.cuny.edu/research.
---