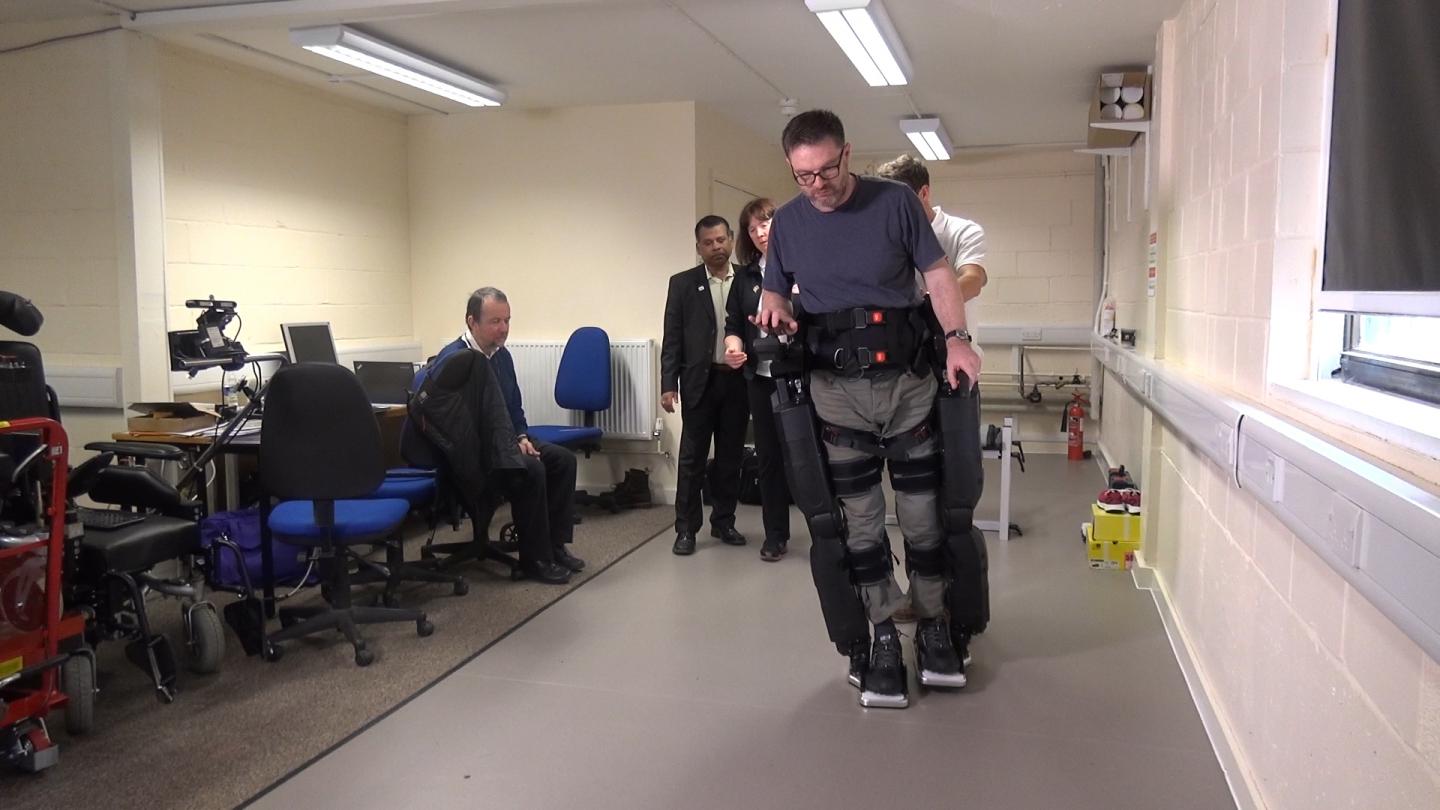 Expert clinicians and engineers at the University of Kent are carrying out the first clinical trials of robotic legs for patients.
These legs are the only design available that allow people to move about 'hands-free'. This means they can use their hands for the activities of daily life, like making a cup of tea while upright. The Kent study in the School of Engineering and Digital Arts (EDA), will examine the impact of these simple freedoms on the patient, both physically and mentally.
The device lifts patients from a sitting position into a robot-supported standing position, allowing them to take part in a set of supported walking and stretching exercises, designed by specialist physiotherapists. There are increasing numbers of wheelchair users who cannot walk at all and sitting for extended periods places them at risk from numerous medical complications. Walking in the robotic legs may help reduce these risks as well as improve quality of life.
If the trial finds these 'exoskeletons' work, they could improve the health of patients with a variety of causes of paralysis - including people who have suffered a trauma from an accident, war injuries, strokes, multiple sclerosis or motor neurone disease.
The University of Kent is uniquely placed for researchers in engineering, biomedical engineering, medicine and psychology to collaborate with doctors and patients in these first clinical UK trials of 'bionic' legs - first developed by the United States Army for military personnel who lost limbs.
For the bionic legs to have wider use, the manufacturers need clinical trials with a variety of patients to find out if it is successful every time because people with paralysis in rehabilitation cannot risk falling, and to find out if it is effective in enhancing their quality of life.
The clinical trial is led by Dr Mohamed Sakel, Honorary Senior Research fellow at the University's School of Engineering and Digital Arts (EDA) and Director/Consultant Neuro-Rehabilitation and former Director R&D at the East Kent Hospitals University Foundation Trust (EKHUFT), and Dr Matthew Pepper, Senior Lecturer in Electronics, EDA, and Consultant Clinical Scientist in the Medical Physics Department, EKHUFT.
EDA and EKHUFT have worked collaboratively on a number of assistive technology projects that have placed them with exactly the right skills and track-record to develop the robotic walking device using robotic legs developed by New Zealand manufacturer, Rex Bionics.
The research is supported by the National Institute for Health Research (NIHR) Clinical Research Network (CRN): Kent, Surrey and Sussex and is being funded by REX Bionics.
The University of Kent plans to further develop the device to increase ease of use and reduce cost. This University of Kent trial is open to all residents of UK and Ireland.
###
Photo caption - clinical specialist Karen Saunders, patient Steve Walker-Manuell, and consultant physician Dr Mohamed Sakel.
For further information or interview requests contact Sandy Fleming at the University of Kent Press Office.
Tel: 01227 823581/01634 888879
Email: S.Fleming@kent.ac.uk
News releases can also be found at http://www.kent.ac.uk/news
University of Kent on Twitter: http://twitter.com/UniKent
Notes to editors
The clinical trial team includes - Dr M Sakel, Dr Matthew Pepper, Layla Larsen - Joint Appointment between EKHUFT Medical Physics and UoK EDA, Stephen Kelly - Senior Lecturer EDA, Farzin Deravi (Head of School EDA) and Reader.
Established in 1965, the University of Kent - the UK's European university - now has almost 20,000 students across campuses or study centres at Canterbury, Medway, Tonbridge, Brussels, Paris, Athens and Rome.
It has been ranked: third for overall student satisfaction in the 2014 National Student Survey; 16th in the Guardian University Guide 2016; 23rd in the Times and Sunday Times University Guide 2016; and 22nd in the Complete University Guide 2015.
In the Times Higher Education (THE) World University Rankings 2015-16, Kent is in the top 10% of the world's leading universities for international outlook and 66th in its table of the most international universities in the world. The THE also ranked the University as 20th in its 'Table of Tables' 2016.
Kent is ranked 17th in the UK for research intensity (REF 2014). It has world-leading research in all subjects and 97% of its research is deemed by the REF to be of international quality.
Along with the universities of East Anglia and Essex, Kent is a member of the Eastern Arc Research Consortium (http://www.kent.ac.uk/about/partnerships/eastern-arc.html).
In 2014, Kent received its second Queen's Anniversary Prize for Higher and Further Education.
---