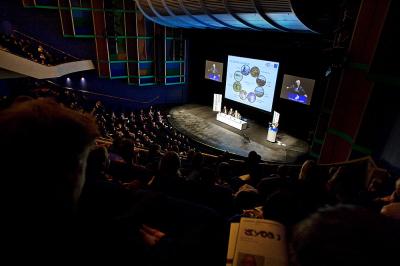 This release is availble in German.
The Aarhus University sponsored conference aimed at creating dialogue and knowledge transfer between the many conference participants and – according to head of conference Professor Ellen Margrethe Basse – Beyond Kyoto was very successful in doing so:
"I am very pleased with the outcome of this conference, which will undoubtedly contribute significantly to the future climate debate not to mention deliver substantial inputs to COP15"
In a unique way the heads of conference theme sessions have delivered 7 important statements from Beyond Kyoto. "The 7 Aarhus Statements on Climate Change" was presented at the end of the conference and on Monday the Aarhus Statements will be forwarded to a series of prominent Danish ministers – including Prime Minister Anders Fogh Rasmussen and Minister for Climate and Energy Connie Hedegaard.
Climate Policy: All sectors of society must be involved in future climate solutions
Biodiversity and Ecosystems: Biodiversity must be an integrated part of the general mitigation and adaptation effort
Agriculture and Climate Change: We must increase agricultural productivity to use less water and land
Nanotechnology Solutions: Nanotechnology will lead us to the next industrial revolution and provide the technological breakthroughs in developing sustainable energy solutions
Citizens and Society: The COP15 should include the commitments of the Aarhus Convention and include incentives for empowering participation of the citizens
The Arctic: Ensure a sustainable development in collaboration with local population in affected areas
Integrated Energy Solutions: Establish a new carbon currency which directly stimulates use of new fossil free technologies
For further information please contact Head of conference, Professor Ellen Margrethe Basse, mobile: +45 23261829 or Head of press relations at Aarhus University Anders Correll, mobile: +45 2899 2235
Theme 2: Biodiversity and ecosystems
Biodiversity needs to be an integrated part of the general climate change mitigation and adaptation effort
Climate change (CC) constitutes a major threat to Earth's biodiversity
Currently, biodiversity is under negative pressure from land-use, biological invasions, and pollution. As a result, numerous species are threatened with extinction, for example, 25% of the World's ~5,500 mammal species. Over the next 100 years CC will constitute an additional pressure, with potentially severe impacts. CC is already affecting ecosystems and biodiversity globally, causing changes in ecosystem functioning, species abundances, and species ranges. With an increase in global mean temperature of just >1.5-2.5°C 20-30% of the species studied may experience an increased risk of extinction.
Although strong losses are unavoidable if the climate change is not strongly curtailed beyond business-as-usual expectations, the CC impact will strong depend on interactions with other pressures, notably land-use. Key adaptation strategies are:
1. Reducing other pressures on biodiversity: A key adaptation strategy would be decreasing other pressures on biodiversity (habitat loss etc) to increase resilience to CC. It is therefore crucial that CC mitigation and adaptation (especially in land-use, e.g., biofuel crops) should be implemented in ways that alleviates rather puts additional negative pressure on biodiversity.
2. CC-integrated conservation planning: Maintain viable, connected and genetically diverse populations by a variety of means (expand reserve systems, design of reserve systems to be robust to CC, CC-off-setting local management (controlled burning to reduce fuel loads ect.), captive breeding, assisted migration/translocation, engineering new habitats etc).
Forest conservation including Reduced Emissions from Deforestation and Degradation (REDD) constitute a major and cost-effective CC mitigation opportunity
Biodiversity and in particular forests also constitute a major part of the solution to the CC problem. Emissions from land use change, especially tropical deforestation, contribute to ~20% of total anthropogenic CHG emissions. A important facet of CC mitigation is therefore forest conservation including reduced emissions from deforestation and forest degradation in developing countries (REDD), especially in relation to carbon- and biodiversity-rich tropical forests. By reducing pressure on tropical forests, REDD is also likely to have direct benefits for biodiversity. Afforestation/reforestation can also contribute importantly to carbon sequestration and reduce pressure on forest biodiversity. To realize this key mitigation, it is absolutely crucial that economic structures providing incentives for forest conservation are implemented.
Key point: Biodiversity needs to be an integrated part of the CC mitigation and adaptation effort
CC adaptation and mitigation in other sectors can have positive, neutral, or negative impacts on biodiversity. Synergies could be promoted by formulating integrated policies cross-linking major UN conventions, notably UNFCCC (United Nations Framework Convention on Climate Change) and CBD (Convention on Biological Diversity).
###
Further information to Theme 2 (Biodiversity and ecosystems):
PD Dr. Josef Settele/ Dr. Ingolf Kühn
Helmholtz Centre for Environmental Research (UFZ)
Phone: +49-345-558- 5320, -5311
http://www.ufz.de/index.php?en=817
http://www.ufz.de/index.php?en=821
and
Prof. Dr. Wolfgang Cramer
Potsdam Institute for Climate Impact Research (PIK)
Phone: +49-331-288-2521
http://www.pik-potsdam.de/members/cramer/index_html?set_language=en
Links:
Conference Beyond Kyoto: http://www.klima.au.dk/dk/forside/konferencebeyondkyotoconferen/
Theme 2 Biodiversity and ecosystems: http://www.klima.au.dk/dk/forside/konferencebeyondkyotoconferen/programme/theme-2-biodiversity-ecosystems/
7 recommendations from Aarhus to COP15! http://www.au.dk/en/news/archive/2009/060309a
UN Climate Change Conference 2009 in Copenhagen (COP15): http://en.cop15.dk/
EU Research project ALARM (Assessing LArge scale environmental Risks with tested Methods): http://www.alarmproject.net
EU Research project MACIS (Minimisation of and Adaptation to Climate change Impacts on biodiversity) http://www.macis-project.net/
---