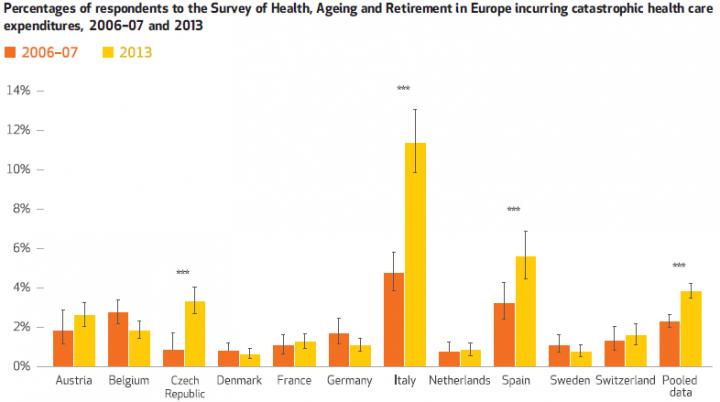 One of the studies in the July issue of Health Affairs examines the growing use of patient cost sharing in Europe during and after the recent economic recession. The study, by Raffaele Palladino and coauthors at Imperial College London, in the United Kingdom, used data from the Survey of Health, Ageing and Retirement in Europe to identify changes from 2006-07 to 2013 in out-of-pocket expenditures among people ages fifty and older in eleven European countries. They found significant increases in the incidence and size of out-of-pocket expenditures and the share of the population facing catastrophic health expenses in several of the countries (see chart below.)
"We found that people in poorer income quintiles were less likely to incur any out-of-pocket expenditure and reported lower mean out-of-pocket expenditure, compared to people in the highest income quintile," the authors noted. "This suggests that better financial protection from increasing health care costs exists among vulnerable populations than among the highest-income populations."
Also of interest in the July issue: "Private Sector An Important But Not Dominant Provider Of Key Health Services In Low- And Middle-Income Countries," by Karen Grépin of Wilfred Laurier University.
###
Health Affairs is the leading journal at the intersection of health, health care, and policy. Published by Project HOPE, the peer-reviewed journal appears each month in print, with additional Web First papers and health policy briefs published regularly at http://www.healthaffairs.org. You can also find the journal on Facebook and Twitter. Read daily perspectives on Health Affairs Blog. Download monthly Narrative Matters podcasts on iTunes. Tap into Health Affairs content with the iPad app.
---