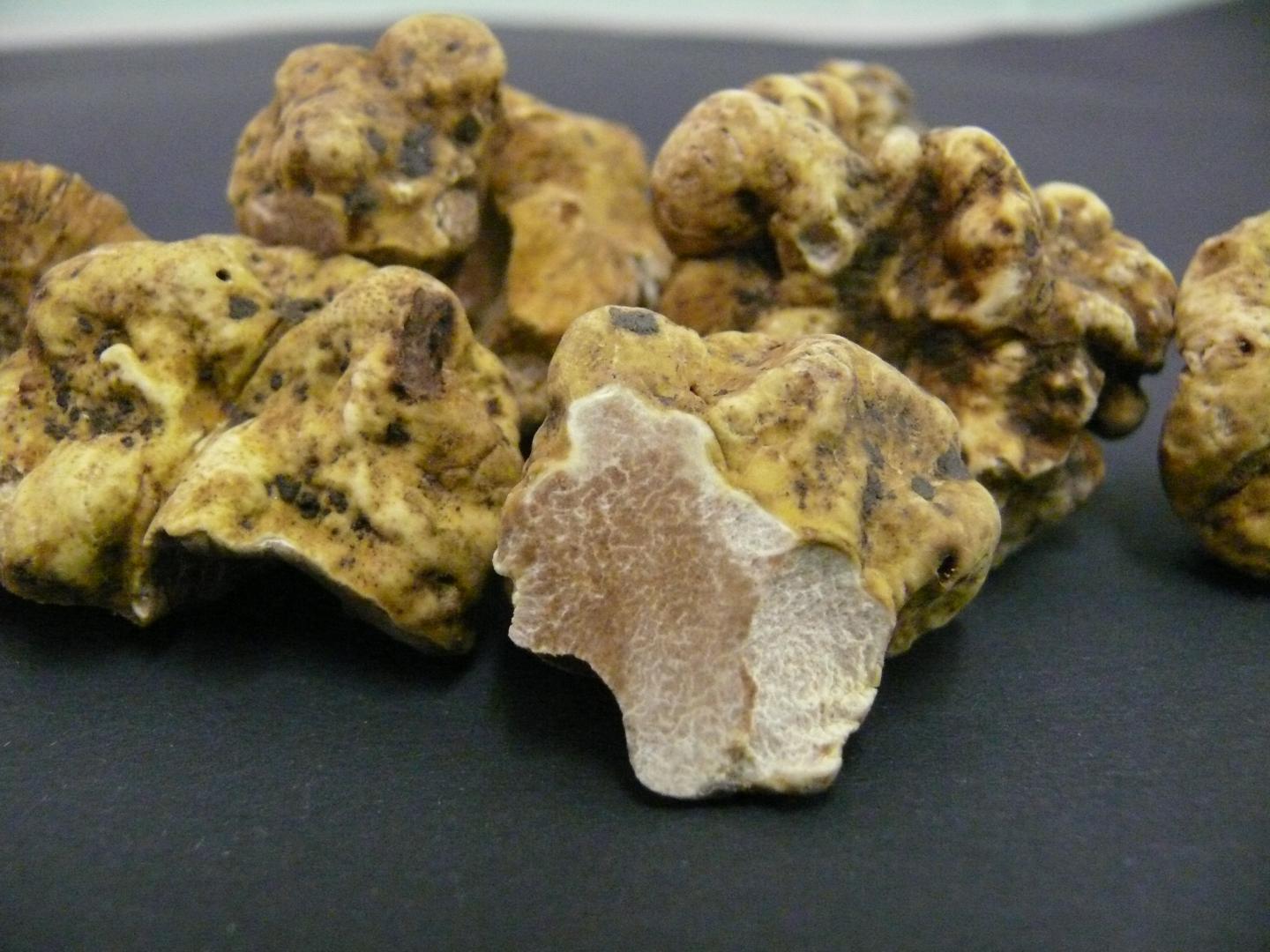 This news release is available in German.
FRANKFURT. Truffles, along with caviar, are among the most expensive foods in the world. Because they grow underground, people use trained dogs or pigs to find them. But the distinctive smell of truffles is not only of interest to gourmets. A group of German and French scientists under the direction of the Goethe University Frankfurt have discovered that the smell of white truffles is largely produced by soil bacteria which are trapped inside truffle fruiting bodies.
White truffles from the Piedmont region in Italy can reach 5,000 Euro per kilogram, and black truffles from the Périgord region in Southern France as much as 2,000 Euro per kilogram. Particularly large specimens even fetch prices of up to 50,000 Euro per kilogram at auctions. Connoisseurs search for the precious delicacies near hazelnut trees, oaks and some species of pine. This is because truffles grow in a symbiotic relationship with the trees. For scientists truffles are therefore a model organism to investigate how symbiosis evolved between plants and fungi.
Truffles are also useful to study fungal smell and flavour. Understanding how flavours are created is indeed very important to the food industry. Yeasts and bacteria which make cheese and wine have been researched in depth, but little is known about how the flavour of other organisms, including truffles, is created.
Over the past 10 years, researchers already suspected that micro-organisms trapped inside truffle fruiting bodies contributed to the flavour. "When the genome of the black Perigord truffle was mapped in 2010, we thought that the fungus had sufficient genes to create its flavour on its own", junior professor Richard Splivallo from the Institute for Molecular Life Sciences at the Goethe University explained.
The team made up of German and French scientists studied the white truffle Tuber borchii. It is native to Europe but has been recently introduced in New Zealand and Argentina. The researchers were able to show that bacteria produce a specific class of volatile cyclic sulphur compounds, which make up part of the distinctive truffle smell. Dogs and pigs are able to find truffles underground thanks to the slightly sulphuric smell.
"However, our results cannot be transferred to other types of truffles", Splivallo says, "because the compounds we investigated are only found in the white truffle Tuber borchii." For this reason, in the future they plan to study compounds which are found in the Périgord and Piermont truffles and are common to all types of truffles. "We don't just want to know which part of the truffle flavour is produced by bacteria. We are also interested in how the symbiosis between fungi and microorganisms has evolved and how this benefits both symbiotic partners."
###
Publication: Splivallo R, Deveau A, Valdez N, Kirchhoff N, Frey-Klett P, Karlovsky P. (2014). Bacteria associated with truffle-fruiting bodies contribute to truffle aroma. Environmental Microbiology. DOI: 10.1111/1462-2920.12521
Information: Junior-Prof. Richard Splivallo, Institute for Molecular Bio Sciences, Campus Riedberg, Tel.: 0049(0)69/ 798- 42193, Splivallo@bio.uni-frankfurt.de.
The Goethe University is an institution with particularly strong research capabilities based in the European financial metropolis of Frankfurt. It celebrates its 100th year of existence in 2014. The university was founded in 1914 through private means from liberally-orientated citizens of Frankfurt and has devoted itself to fulfilling its motto "Science for the Society" in its research and teaching activity right up to the present day. Many of the founding donors were of Jewish origin. During the last 100 years, the pioneering services offered by the Goethe University have impacted the fields of social, societal and economic sciences, chemistry, quantum physics, neurological research and labour law. On January 1st, 2008, it achieved an exceptional degree of independence as it returned to its historical roots as a privately funded university. Today it is one of the ten universities that are most successful in obtaining external research funding and one of the three largest universities in Germany with centres of excellence in medicine, life sciences and humanities.
Publisher: The president of the Goethe University Frankfurt am Main. Editorial department: Dr. Anke Sauter, Science editor, Department Marketing and Communications, Grüneburgplatz 1, 60629 Frankfurt am Main, Phone: (069) 798-12498.
---
Journal
Environmental Microbiology