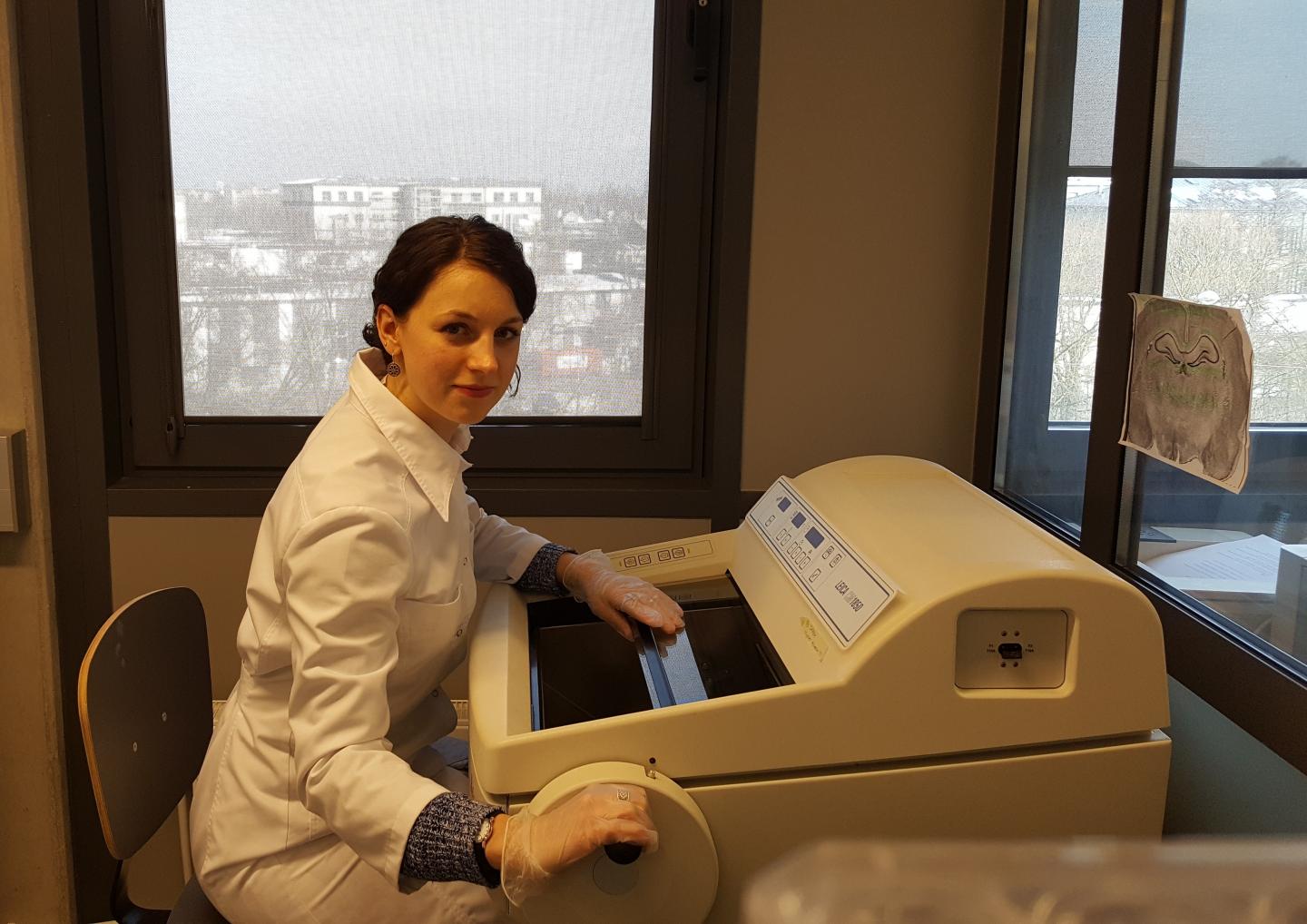 Durham, NC - Karīna Narbute, Ph.D. is the latest recipient of STEM CELLS Translational Medicine's Young Investigator Award. The award fosters advancements in the field of stem cells and regenerative medicine by honoring a young researcher who is the principal author of an article published in SCTM that, over the course of a year, is deemed to have the most impact.
Dr. Narbute, a research assistant in Prof. Kluša's lab in the Department of Pharmacology at the University of Latvia in Riga, was awarded the prize for her work demonstrating, for the first time, the therapeutic efficacy of extracellular vesicles derived from stem cells harvested from dental pulp in pre-clinical Parkinson's disease model animals.
In her winning paper, "Intranasal Administration of Extracellular Vesicles Derived from Human Teeth Stem Cells Improves Motor Symptoms and Normalizes Tyrosine Hydroxylase Expression in the Substantia Nigra and Striatum of the 6?Hydroxydopamine?Treated Rats," Dr. Narbute and her team examined therapeutic effects of intranasal administration of EVs derived from human exfoliated deciduous teeth stem cells (SHEDs) on unilateral 6?hydroxydopamine (6?OHDA) medial forebrain bundle (MFB) rat model of PD. Their proof of concept study demonstrates that EVs could be potentially exploited for the development of novel and minimally invasive therapies that delay progression of the disease and mitigate disability in PD patients.
"More than 10 million people worldwide are living with Parkinson's Disease, and, while there are therapies to help treat the symptoms, this proof-of-concept study shows the therapeutic potential of extracellular vesicles derived from stem cells to potentially delay disease progression," said Anthony Atala, M.D., Editor-in-Chief of STEM CELLS Translational Medicine and director of the Wake Forest Institute for Regenerative Medicine.
Dr. Narbute hopes her findings can one day be used to develop new treatment strategies not only for Parkinson's, but for other devastating neurogenerative diseases, too.
"Even though we have shown that EVs possess therapeutic properties to reverse neurodegeneration, we still have a lot of work ahead of us, e.g., to determine the exact molecular mechanisms that underlie the beneficial effects of EVs," said Dr. Narbute.
Learn more about Dr. Narbute's work on treatment options for spinal cord injuries.
###
About STEM CELLS Translational Medicine:
STEM CELLS Translational Medicine (SCTM), co-published by AlphaMed Press and Wiley, is a monthly peer-reviewed publication dedicated to significantly advancing the clinical utilization of stem cell molecular and cellular biology. By bridging stem cell research and clinical trials, SCTM will help move applications of these critical investigations closer to accepted best practices. SCTM is the official journal partner of Regenerative Medicine Foundation.
About AlphaMed Press:
Established in 1983, AlphaMed Press with offices in Durham, NC, San Francisco, CA, and Belfast, Northern Ireland, publishes two other internationally renowned peer-reviewed journals: STEM CELLS®, celebrating its 39th year, is the world's first journal devoted to this fast paced field of research. The Oncologist®, also a monthly peer-reviewed publication, entering its 26th year, is devoted to community and hospital-based oncologists and physicians entrusted with cancer patient care. All three journals are premier periodicals with globally recognized editorial boards dedicated to advancing knowledge and education in their focused disciplines.
About Wiley:
Wiley, a global company, helps people and organizations develop the skills and knowledge they need to succeed. Our online scientific, technical, medical and scholarly journals, combined with our digital learning, assessment and certification solutions, help universities, learned societies, businesses, governments and individuals increase the academic and professional impact of their work. For more than 200 years, we have delivered consistent performance to our stakeholders. The company's website can be accessed at http://www.wiley.com.
About Regenerative Medicine Foundation (RMF):
The non-profit Regenerative Medicine Foundation fosters strategic collaborations to accelerate the development of regenerative medicine to improve health and deliver cures. RMF pursues its mission by producing its flagship World Stem Cell Summit, honouring leaders through the Stem Cell and Regenerative Medicine Action Awards, and promoting educational initiatives.
---