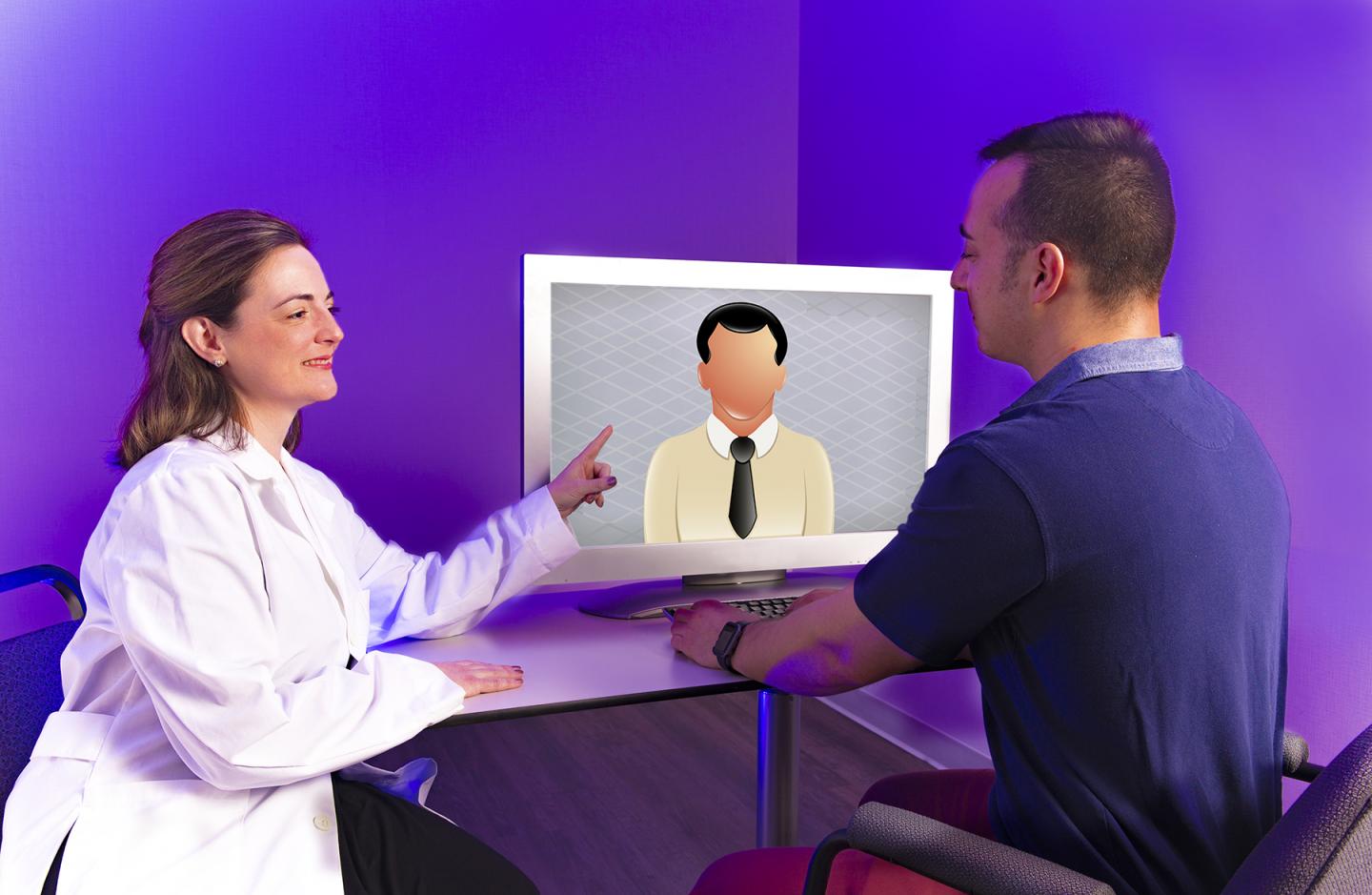 East Hanover, NJ. May 29, 2019. Helen Genova, PhD, received a $357,000 grant from the New Jersey Governor's Council for Medical Research and Treatment of Autism, New Jersey Department of Health, for the study, "Utilization of a Virtual-Reality Job Training Tool in Adolescents with Autism Spectrum Disorder." This grant is the Foundation's first major award for the study of autism spectrum disorders, and its first from the Governor's Council. Dr. Genova is assistant director of the Center for Neuropsychology and Neuroscience Research at Kessler Foundation.
Difficulty with social skills, including job interviewing, contribute to the high risk for unemployment for adolescents with autism spectrum disorders. This study examines the effectiveness of an innovative virtual reality (VR) intervention to improve interview skills by providing the adolescent with repeated interview practice with a virtual human avatar. Researchers will look at skill improvement, as well as effects on confidence and anxiety related to interviewing.
Using tools developed at the University of Michigan, this study will examine whether this VR intervention improves job interview skills while increasing confidence and reducing anxiety related to interviewing. The skills training will be performed in a school setting, to test the feasibility of incorporating the intervention into a high school curriculum.
"Adolescents with autism spectrum disorders need skills to transition to adulthood," said Dr. Genova, "and skills that aid transition to the workplace are especially important. If this intervention is effective, and well received by students and faculty," she added, "it has the potential to improve the outlook for these adolescents in terms of employment, as well as with social interactions at home and in the community."
###
Kessler Foundation partners with Children's Specialized Hospital on pediatric rehabilitation research that improves the lives of children and adolescents with disabilities.
Funding: NJ Governors Council CAUT19 APL027
About the NJ Governor's Council for Medical Research and Treatment of Autism
The NJ Governor's Council for Medical Research and Treatment of Autism, NJ Department of Health was created by state appropriation in 1999 and has issued research, clinical and educational enhancement grants since 2000. The Council's vision is to enhance the lives of individual with autism spectrum disorder across their lifespans. The mission of the Council is to advance and disseminate the understanding, treatment, and management of autism spectrum disorder by means of a coordinated program of biomedical research, clinical innovation, and professional training in New Jersey.
About Kessler Foundation
Kessler Foundation, a major nonprofit organization in the field of disability, is a global leader in rehabilitation research that seeks to improve cognition, mobility, and long-term outcomes--including employment -- for people with neurological disabilities caused by diseases and injuries of the brain and spinal cord. Kessler Foundation leads the nation in funding innovative programs that expand employment opportunities for people with disabilities.
For more information on Kessler Foundation's research, visit KesslerFoundation.org.
Facebook |http://www.facebook.com/KesslerFoundation
Twitter | http://twitter.com/KesslerFdn
Instagram | https://www.instagram.com/kesslerfdn
YouTube | http://www.youtube.com/user/KesslerFoundation
iTunes & SoundCloud | http://www.soundcloud.com/kesslerfoundation
Contacts:
Carolann Murphy, PA
Senior Staff Writer
973.324.8382
CMurphy@KesslerFoundation.org
Rob Gerth
Director, Communications
973.323.3675
RGerth@KesslerFoundation.org
---