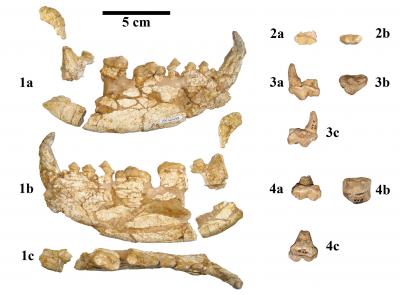 New fossils found in Spain are thought to be of the oldest recorded ancestor of the giant panda. The fossils reveal the origins of this unique bear, as described in a paper published November 14 in the open access journal PLOS ONE by Juan Abella and colleagues from the National Museum of Natural Sciences and the Catalan Institute of Paleontology, Spain.
The two 11.6 million year old fossil jaws and teeth were discovered in southwest Europe and represent a new genus likely to be the oldest known members of the giant panda family. The fossils bear the characteristics of a bear adapted to eating tough plant material like bamboo. The giant panda, native to certain parts of China, is the only living member of this unique bear family with these dietary habits.
Corresponding author Juan Abella adds "The new genus we describe in this paper is not only the first bear recorded in the Iberian Peninsula, but also the first of the giant panda's lineage."
###
Citation: Abella J, Alba DM, Robles JM, Valenciano A, Rotgers C, et al. (2012) Kretzoiarctos gen. nov., the Oldest Member of the Giant Panda Clade. PLoS ONE 7(11): e48985. doi:10.1371/journal.pone.0048985
Financial Disclosure: The Spanish Ministerio de Economı´a y Competitividad (CGL2011-28681, CGL2011-25754, and RYC-2009-04533 to DMA), the research group BSCH-UCM 910607, and the Generalitat de Catalunya (2009 SGR 754 GRC) supported this research. Fieldwork at ACM was funded by CESPA Gestio´n de Residuos, S.A.U. The funders had no role in study design, data collection and analysis, decision to publish, or preparation of the manuscript.
Competing Interests: The authors have declared that no competing interests exist.
PLEASE LINK TO THE SCIENTIFIC ARTICLE IN ONLINE VERSIONS OF YOUR REPORT (URL goes live after the embargo ends): http://dx.plos.org/10.1371/journal.pone.0048985
---