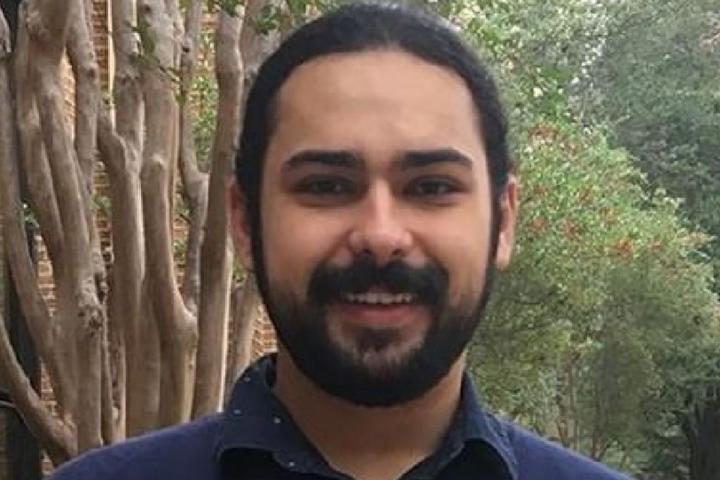 Joe Cloud, a computer science and engineering doctoral student at The University of Texas at Arlington, has earned a graduate fellowship from Tau Beta Pi, the engineering honor society, for the 2021-22 academic year. He will receive a stipend of $10,000 in support of his graduate work.
Cloud is in the second year of his doctoral program in computer engineering. He works with UTA Assistant Professor William Beksi in the Robotic Vision Laboratory on robotic learning for space and industrial robots. They are working jointly with researchers at the UTA Research Institute to develop learning-based methods for safe robot trajectory generation and motion planning.
Cloud earned his Bachelor of Science degree in computer engineering from UTA in 2019. His first foray into research came as a freshman, when he helped Amir Farbin, associate professor of physics, build a supercomputer. As a sophomore, he began working in Professor Fillia Makedon's Heracleia Lab in the Department of Computer Science and Engineering, writing code to control robotic arms and teaching them to perform tasks.
The summer before his senior year, he was the lead intern on a project at NASA's Langley Research Center to integrate a new instrument to a mobile robot for outdoor testing. That internship led to a position in NASA's Pathways co-op program, where he developed robotic algorithms for a project aimed at establishing a sustainable colony on the moon.
"On behalf of the Computer Science and Engineering Department, I congratulate Joe on this honor and thank him for his hard work and excellence in his academic pursuits that have brought visibility and pride to UTA," said Hong Jiang, Nedderman Professor and Chair of the Computer Science and Engineering Department. "I also want to acknowledge his faculty mentors, Drs. Fillia Makedon and William Beksi, who have spotted his talent and ably guided him for so many years."
Tau Beta Pi Fellowships are awarded for high scholarship, campus leadership and service, and the promise of future contributions to the engineering profession. They are highly competitive, with only 28 awarded out of 336 applicants this year.
Cloud is the seventh recipient from UTA in the 88 years of the fellowship's history. The last Tau Beta Pi Fellowship awarded to a UTA computer science and engineering student was to G. Michael Youngblood in 2002, and the last student from the University to win one was MD Banjamin Sarder, in the Industrial, Manufacturing and Systems Engineering Department, in 2007.
###
Tau Beta Pi is the world's largest engineering society, providing more financial assistance to engineering students than any other. Membership represents the highest honor to be obtained by an engineering student and is awarded based on high scholarship and exemplary character.
- Written by Jeremy Agor, College of Engineering
---