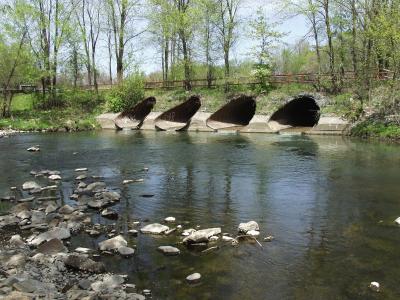 Human activities are changing the water chemistry of many streams and rivers in the Eastern U.S., with consequences for water supplies and aquatic life, so reports a new study in the journal Environmental Science and Technology.
In the first survey of its kind, researchers looked at long-term alkalinity trends in 97 streams and rivers from Florida to New Hampshire. Sites ranged from small headwater streams to some of the nation's largest rivers. Over the past 25 to 60 years, two-thirds have become significantly more alkaline.
Alkalinity is a measure of water's ability to neutralize acid. In excess, it can cause ammonia toxicity and algal blooms, altering water quality and harming aquatic life. Increasing alkalinity hardens drinking water, causing pipe scaling and costly infrastructure problems. And, perhaps most alarming, it exacerbates the salinization of fresh water.
In what may seem like a paradox, human activities that create acid conditions are driving the problem. This is because acid rain, acidic mining waste, and agricultural fertilizers speed the breakdown of limestone, other carbonate rocks, and even concrete and cement. The result: alkaline particles are washed off of the landscape and into streams and rivers.
The survey found watershed geology was the strongest predictor of river alkalinization, with rivers receiving water from porous, limestone, and other carbonate rocks being more alkaline. Topography and pollution were also triggers. The most rapid rates of alkalinization were at high elevation sites that were chronically exposed to acid pollution.
Among the rivers impacted by higher alkalinity are those that provide water for Washington, D.C., Philadelphia, Baltimore, Atlanta, and other major cities, the researchers reported. This is due, in part, to acid rain exposure, urbanization, and the extent of land covered by cement and concrete.
Also affected are rivers that flow into water bodies already harmed by excess algae, such as the Chesapeake Bay, where managers are struggling to contain algal blooms that are toxic to fish, oysters, and crabs. Appalachian Mountain streams are also vulnerable. In that region, thin soils and steep slopes cause erosion, and there is persistent exposure to industry emissions.
Noted ecologist Gene Likens, Founding Director of the Cary Institute of Ecosystem Studies and a co-discoverer of acid rain, was among the study's authors. The extent of alkalinity change in streams and rivers exceeded his expectations: "This is another example of the widespread impact humans are having on natural systems. Policymakers and the public think that the acid rain problem has gone away, but it has not."
Adding, "Acid rain has led to increased outputs of alkalinity from watersheds and contributed to long-term, increasing trends in our rivers. And this is twenty years after federal regulations were enacted to reduce the airborne pollutants that cause acid rain."
Lead author Sujay Kaushal, an associate professor and aquatic ecologist at the University of Maryland, notes, "What we are seeing may be a legacy effect of more than five decades of pollution. These systems haven't recovered. Lagging effects of river alkalinization are showing up across a major region of the U.S. How many decades will it persist? We really don't know the answer."
###
The research was funded by NASA Carbon Cycle & Ecosystems, the National Science Foundation's Long Term Ecological Research Program, and The Andrew W. Mellon Foundation.
Sujay S. Kaushal, Gene E. Likens, Ryan M. Utz, Michael L. Pace, Melissa Grese, and Metthea Yepsen, "Increased river alkalization in the Eastern U.S," in Environmental Science and Technology, August 26, 2013. View the article at: http://pubs.acs.org/doi/abs/10.1021/es401046s
The full research team included:
Sujay S. Kaushal, University of Maryland, College Park
Gene E. Likens, Cary Institute of Ecosystem Studies & University of Connecticut
Ryan M. Utz, National Ecological Observatory Network
Michael L. Pace, University of Virginia
Melissa Grese, University of Maryland, College Park
Metthea Yepsen, University of Maryland, College Park
The Cary Institute of Ecosystem Studies is a private, not-for-profit environmental research and education organization in Millbrook, N.Y. For nearly thirty years, Cary Institute scientists have been investigating the complex interactions that govern the natural world. Their objective findings lead to more effective policy decisions and increased environmental literacy. Areas of expertise include air and water pollution, climate change, invasive species, and the ecological dimensions of infectious disease. Learn more at http://www.caryinstitute.org
---
Journal
Environmental Science & Technology