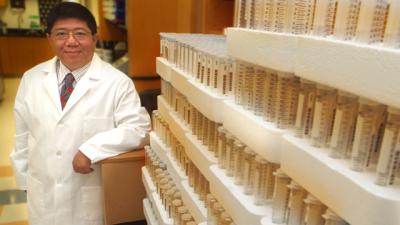 AUGUSTA, Ga. – Massive samples emanating from a decade-old, international initiative to determine how genetics and environment cause type 1 diabetes are giving scientists a unique perspective on which molecular and environmental factors really contribute to the disease.
The TEDDY study, following nearly 9,000 at-risk children from birth to age 15, is enabling scientists to parse which genetic mutations correlate with progression or lack of progression to type 1 diabetes, said Dr. Jin-Xiong She, Director of the Center for Biotechnology and Genomic Medicine at the Medical College of Georgia at Georgia Regents University.
She is principal investigator for The Environmental Determinants of Diabetes in the Young consortium in Georgia and Florida. He recently received $10 million in National Institutes of Health funding to continue his studies for another five years. TEDDY also has clinical centers in Colorado, Washington, Finland, Sweden and Germany.
Since 2003, 424,788 newborns have been screened by the centers for two genes believed to put them at high-risk for type 1 diabetes and nearly 9,000 children have been enrolled in TEDDY. The children's blood is examined regularly for signs of an immune system attack on their insulin-producing cells. The blood also provides a window into the activity of genes as parents keep detailed records of what their children eat, when they exercise, get sick, stressed or vaccinated. Parents bring in water samples from where they live and collect fingernail clippings and stool samples as part of the effort to piece together the genetic and environmental causes of type 1 diabetes. It's this close scrutiny through the peak ages of disease development that is enabling the unprecedented longitudinal genetic perspective.
"We are looking at the genes, genetic expression, the proteins, and the small molecules called metabolites, which are the products of our metabolism," said She, Georgia Research Alliance Eminent Scholar in Genomic Medicine, running through the sequence of how genes produce both good and bad results in the body.
"We are using this information to correlate the progression or lack of progression of the disease with different molecular markers and environmental triggers to understand all the factors contributing to the development of type 1 diabetes as well as what factors can provide protection from disease progression," She said.
They are identifying differences in gene expression between children showing signs of autoimmunity, children with diabetes and those who do not get the disease. "This is a whole new way of doing genetic studies. This is the beauty and the power of the TEDDY study and, ideally, how all diseases should be studied."
It's a big departure from traditional genome-wide association studies, which compare genetic variations in people with and without a disease that were used, for example, to identify the screening genes for the TEDDY study. "You are basically looking at the frequency of genes in patients versus controls," She said of the approach that has been popular for about two decades. At least in type 1 diabetes, it appears the approach doesn't work very well.
Massive data continually generated by TEDDY is enabling scientists to watch all the pertinent pieces play out: gene expression juxtaposed to environmental exposures and, ultimately to disease or lack thereof.
"We are watching it unfold at all levels. We are finding the real players. This is going to allow us to better predict which children will develop type 1 diabetes and, ultimately, what we can do to prevent or better manage this disease."
She predicts the new approach will yield dozens of highly relevant genes and possibly more than 100 that have some impact on disease progression. He also predicts it will mean putting aside some of 40 genes considered players today.
The complexity and dynamics of disease development is playing out in Georgia where the scientists are finding progression rates to full-blown disease lag behind other parts of the world. Interestingly, a higher proportion of Georgia children are developing celiac disease, another autoimmune disease affecting intestinal cells that appears to share some risk genes with type 1 diabetes, She said.
Nearly 500 of TEDDY's 9,000 enrollees, who are now an average age of about 5, have persistent evidence of antibodies to their own insulin-producing islet cells – evidence that their immune system is turning on their cells – and more than 100 of the children already have type 1 diabetes. Researchers estimate that both groups will essentially double in size in the coming years.
Jinfiniti Biosciences LLC, a biotech company led by She and housed in GRU's Life Sciences Business Development Center, was selected as the genomics laboratory for TEDDY. At this stage of study, TEDDY also has added experts in other areas such as Metabolomics Fiehn Lab at the University of California, Davis.
She notes the ongoing necessity is the commitment of families to TEDDY. A party for Georgia/Florida participants this past summer had 400 attendees. "If the families weren't excited and committed, they would not stay with this for 15 years."
Type 1 diabetes is an autoimmune disease in which the body's immune system attacks the insulin producing cells of the pancreas. Insulin enables the body to use glucose as energy. Incidence of both type 1 and 2 diabetes, which is typically related to lifestyle, is increasing in young people in the United States, according to the American Diabetes Association.
###
For more information, visit http://www.teddystudy.org.
---