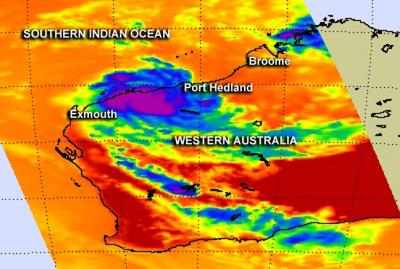 Infrared data from NASA's Aqua satellite has shown that soon after a low pressure system in northwestern West Australia became Tropical Storm Peta, it made landfall and started to fall apart.
Early on Jan. 22, the Joint Typhoon Warning Center (JTWC) gave System 93S a high chance for development into a tropical depression. At that time, System 93S was located near 19.2S and 120.7E, about 415 nautical miles (477.6 miles/768.6 km) east-northeast of Learmonth, Australia. Satellite imagery showed that the center is consolidating, and bands of thunderstorms had developed, so the Australian Bureau of Meteorology had posted a watch for the coast of Western Australia, from De Grey to Onslow, including Port Hedland and Karratha. By 2100 UTC (4 p.m. EST/U.S.) the low became Tropical Depression 12S in the Southern Indian Ocean.
NASA's Tropical Rainfall Measuring Mission (TRMM) satellite saw tropical storm Peta forming off the coast of Port Hedland, Australia on January 22, 2013 at 1631 UTC (11:31 a.m. EST). Precipitation data from TRMM's Microwave Imager and Precipitation Radar (PR) instruments were coupled with enhanced infrared imagery from TRMM's Visible and InfraRed Scanner (VIRS) at NASA's Goddard Space Flight Center in Greenbelt, Md. to create a full view of Peta's rainfall rates. TRMM revealed that rain was falling at a rate of up to 94 mm (~3.7 inches) per hour near the center of the developing tropical cyclone. A 3-D image constructed from TRMM's PR data showed that some intense storms had tops reaching above 16 km (~9.9 miles).
On Jan. 23 at 0900 UTC, the depression gained strength and became Tropical Storm Peta. Peta moved over land in the Pilbara Coast near Karratha and was still over land by 1500 UTC (10 a.m. EST/U.S.). At that time, Peta was centered near 21.6 south and 117.3 east, about 180 nautical miles (207 miles/333 km) east of Learmonth, Australia. Peta's maximum sustained winds were near 35 knots (40 mph/64.8 kph) and it was moving to the south-southwest at 6 knots (7 mph/11.1 kph).
JTWC noted that radar imagery on Jan. 23 from Dampier, Australia showed the low-level circulation center was becoming increasingly difficult to pinpoint as Peta continued moving over land.
NASA's Aqua satellite passed over Western Australia on Jan. 23 at 0547 UTC (12:47 a.m. EST/U.S.) and the Atmospheric Infrared Sounder (AIRS) instrument gathered temperature data using infrared light. The AIRS data revealed that cloud top temperatures have warmed which indicates the strength in the uplift of air (that helps form thunderstorms) has weakened. The AIRS data also showed that the overall structure of the storm was becoming irregular.
By 1000 UTC (5 a.m. EST/U.S./6 p.m. WST local time, Australia) the Australian Bureau of Meteorology (ABM) noted that Peta had become an ex-tropical cyclone. The center of circulation was inland and just southeast of Karratha. ABM canceled the Cyclone Warning for coastal areas between Port Hedland and Dampier, including Karratha. Although the wind danger has passed, residents along the Pilbara coast may still experience heavy rainfall.
Forecasters at the Joint Typhoon Warning Center expect Peta to re-emerge over the open waters of the Indian Ocean, but do not expect the storm to strengthen. The movement over land and an increase in vertical wind shear has weakened the storm and will cause the storm to dissipate over the ocean.
###
---