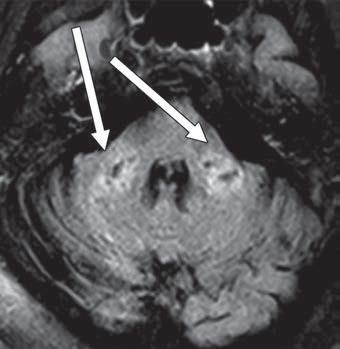 Leesburg, VA, February 17, 2021--According to an open-access article in ARRS' American Journal of Roentgenology (AJR), COVID-19-related disseminated leukoencephalopathy (CRDL) represents an important--albeit uncommon--differential consideration in patients with neurologic manifestations of coronavirus disease (COVID-19).
"Increasingly," wrote Colbey W. Freeman and colleagues from the University of Pennsylvania, "effects of COVID-19 on the brain are being reported, including acute necrotizing encephalopathy, infarcts, microhemorrhage, acute disseminated encephalomyelitis, and leukoencephalopathy."
Among the 2,820 patients with COVID-19 admitted to the authors' institution between March 1 and June 18, 2020, 59 (2.1%) underwent brain MRI. Three (5.1%) had known white matter lesions from multiple sclerosis, 23 (39.0%) had white matter lesions of small vessel ischemic disease, six (10.2%) had acute infarcts, four (6.8%) had subacute infarcts, four (6.8%) had chronic infarcts, one (1.7%) had abnormal basal ganglia signal from hypoxemia, two (3.4%) had microhemorrhage in association with chronic infarcts, and two (3.4%) had microhemorrhage associated with acute or subacute infarcts.
Six patients (10.2%; four women, two men; age range, 41-86 years) had neuroimaging findings suggestive of CRDL--"characterized by extensive confluent or multifocal white matter lesions (with characteristics and locations atypical for other causes), microhemorrhages, diffusion restriction, and enhancement," Freeman et al. explained. Hypertension (4/6, 66.7%) and type 2 diabetes mellitus (3/6, 50.0%) were common comorbidities.
Reiterating that no established criteria exist for defining CRDL, "our patients had white matter lesions atypical for other causes," as well as "involvement of the bilateral middle cerebellar peduncles and corpus callosum," the authors of this AJR article concluded.
###
Founded in 1900, the American Roentgen Ray Society (ARRS) is the first and oldest radiological society in North America, dedicated to the advancement of medicine through the profession of radiology and its allied sciences. An international forum for progress in medical imaging since the discovery of the x-ray, ARRS maintains its mission of improving health through a community committed to advancing knowledge and skills with an annual scientific meeting, monthly publication of the peer-reviewed American Journal of Roentgenology (AJR), quarterly issues of InPractice magazine, AJR Live Webinars and Podcasts, topical symposia, print and online educational materials, as well as awarding scholarships via The Roentgen Fund®.
---
Journal
American Journal of Roentgenology