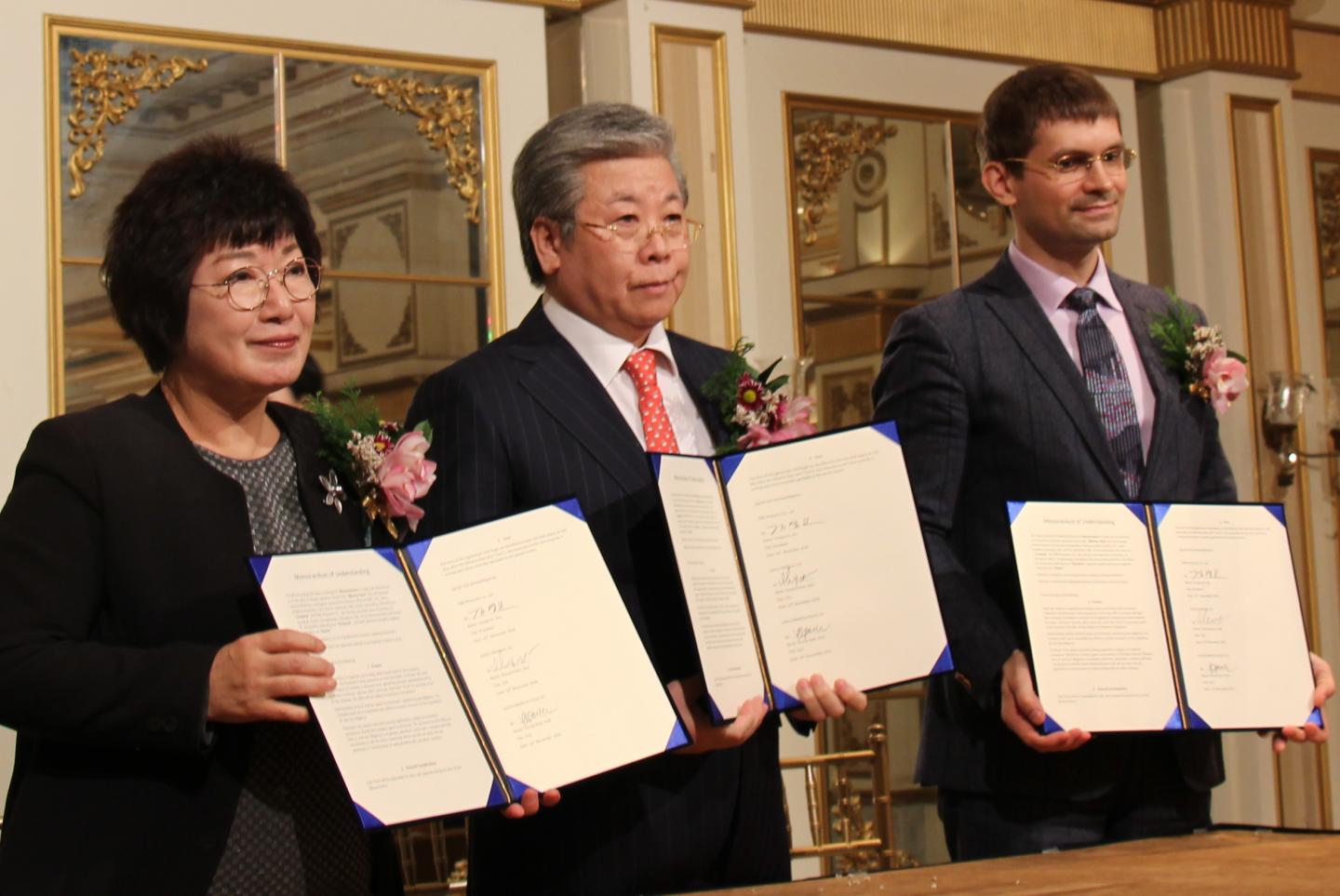 Tuesday, 22nd of November, 2016, Baltimore, MD - Insilico Medicine, Inc and YMK Photonics, Inc announced today a research collaboration and business cooperation to develop photonics quantum computing and accelerated deep learning techniques for drug discovery, biomarker development and aging research. On the 15th of November, 2016 in the presence of over 800 YMK employees, customers, partners and investors, the Chairman of YMK Holdings, Mr. Kim Young Mo, the CEO of Insilico Medicine, Alex Zhavoronkov, PhD and Head of Insilico Korea, Professor Youngsook Park signed a memorandum of understanding to pursue mutual benefit in deep learning and cognitive photonics computing.
"YMK is pursuing a very big vision. Extending healthy human longevity is not only the most altruistic cause, but a pressing socio-economic necessity. Insilico Medicine made substantial advances in applying deep learning techniques to drug development and aging research, but to accelerate the process and simulate entire human bodies and populations or generate optimal molecular structures, they could really benefit from our expertise in quantum computing. This collaboration is the first step towards cognitive quantum photonic computation for drug discovery and longevity research", said Mr. Kim Young Mo, the Chairman of YMK Holdings.
YMK Photonics and its joint venture in Netherlands, LioniX International B.V. are developing core photonics technologies targeting many applications ranging from telecommunications to optical diagnostic devices. The company is extending its reach into cognitive quantum photonic computing and intends to establish a broad range of research as well as practical commercial collaborations.
"Quantum computing, artificial intelligence and longevity are among the trends that are going to transform our society in the near future. I am happy to facilitate this research collaboration between YMK and Insilico Medicine intended to develop practical applications for photonic cognitive computing in the drug discovery space. Insilico Medicine is hiring best talent in AI through hackathons and can build very complex systems quickly and accelerate drug discovery process beyond what is possible using traditional methods", said professor Youngsook Park, Korea's leading futurist and bestselling author.
Earlier this year Insilico Medicine published several seminal papers where deep learning techniques are applied to drug discovery (Aliper et al, "Deep learning applications for predicting pharmacological properties of drugs and drug repurposing using transcriptomic data." (2016), Molecular pharmaceutics) and biomarker development (Putin, et al, "Deep biomarkers of human aging: Application of deep neural networks to biomarker development." (2016), Aging ) and demonstrated the proof of concept of using the Generative Adversarial Networks (GANs) to produce new molecular structures with certain specifications. Furthermore, on November 16th, Insilico Medicine published an important paper on dimensionality reduction of gene expression data (Ozerov, et al, "iPANDA: a novel approach for precision medicine and drug discovery on gene expression data" (2016), Nature Communications) paving the way for big data-driven projects.
"Our conglomerate approach to photonics development allows us to occupy many niches, where our core technology is essential. One of such niches is quantum computing for deep learning. In this context, drug discovery and biomarker development seems to be a logical place to start", said William Jang, CTO of YMK Photonics.
The the directions of this research collaboration were described in a 1.5-hour joint lecture at the Imperial Palace Hotel in Korea and announced to the Korean press: http://ymkphotonics.com/news/ymk-news-2/?uid=32&mod=document
"We are happy to collaborate with YMK Photonics, one of the leaders in photonics chips. Quantum computing is the next frontier in artificial intelligence research and we would like to harness its power for biomedical applications and specifically drug discovery and aging research", said Alex Zhavoronkov, PhD, CEO of Insilico Medicine, Inc.
###
About YMK Holdings
YMK Holdings Co., Ltd. is a investment company located in Seoul, the Republic of Korea. It nurtures and invests in disruptive technologies to create limitless values and to contribute boosting current economy. In addition, it provides various high-end consulting services related to Mergers & Acquisition, oversea investment, establishing distribution channels of high-tech products, etc. http://www.ymkholdings.com
About YMK Photonics
YMK Photonics Co., Ltd., funded by YMK Holdings, is a developing photonics businesses with leading Korean conglomerates and medium-sized competitive enterprises. It is currently focusing on commercializing handheld Optical Coherence Tomography for skin care application, and on assembling and manufacturing of chips in a mass-volume to enable it to lead the photonics market. http://www.ymkphotonics.com
About Insilico Medicine, Inc
Insilico Medicine, Inc. is a bioinformatics company located at the Emerging Technology Centers at the Johns Hopkins University Eastern campus in Baltimore with R&D resources in Belgium, Russia and Poland hiring talent through hackathons and competitions. It utilizes advances in genomics, big data analysis and deep learning for in silico drug discovery and drug repurposing for aging and age-related diseases. The company pursues internal drug discovery programs in cancer, Parkinson's, Alzheimer's, sarcopenia and geroprotector discovery. Through its Pharma.AI division the company provides advanced machine learning services to biotechnology, pharmaceutical and skin care companies. Brief company video: https://www.youtube.com/watch?v=l62jlwgL3v8
---