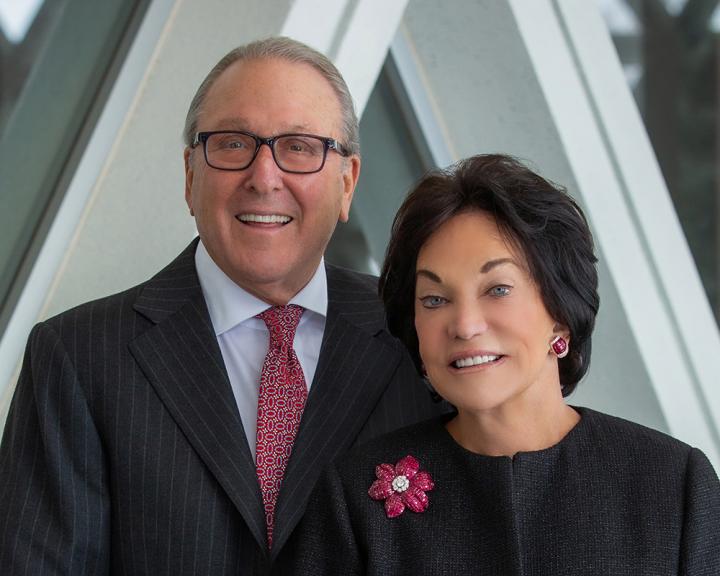 The University of Michigan Board of Regents today approved the renaming of the U-M Depression Center for Frances and Kenneth Eisenberg and their family, in recognition of their transformational $30 million total giving to depression research and scholarship.
The center will be known as the Frances and Kenneth Eisenberg and Family Depression Center.
The Eisenbergs' philanthropy toward the center includes earlier support for advanced science in the field of mood disorders and a professorship now held by the center's new director, Srijan Sen, M.D., Ph.D.
"Thanks to the Eisenbergs' extraordinary commitment to moving depression and bipolar illnesses out of the shadows and into the sunlight of advanced scientific research, discovery and evidence-based care, our university will be able to accelerate the pace of prevention, detection, treatment and support," said U-M President Mark S. Schlissel, M.D., Ph.D. "It's hard for me to imagine a more important and timely investment in medical research than what is being made by the Eisenberg family."
"With the pandemic, we are finally talking about how central mental health is to our everyday lives," said Kenneth Eisenberg. "There is a growing awareness about how pervasive conditions like depression are across the nation. There's promise in that awareness. Depression, in all of its forms, has robbed millions of people of joy, purpose, relationships, and even lives.
"Frances and I wanted to provide a gift that would exponentially grow the potential to change millions of people's lives for the better, as well as provide momentum to the incredible work that the Depression Center is doing in this area," he added. "It's a message of hope and promise of better lives for millions."
The Eisenbergs' total giving to U-M is $39 million, including gifts to the Taubman Medical Research Institute and other areas of Michigan Medicine, to the Eisenberg Institute for Historical Studies in the College of Literature, Science & the Arts (LSA), and contributions to the School of Education and TeachingWorks, School of Social Work, Department of Athletics and University Musical Society.
In addition to the Frances and Kenneth Eisenberg Professorship in Depression and Neurosciences, their past gift to the Depression Center supports several award programs: a research prize awarded to a world-renowned scientist for groundbreaking research, a research scholar fund to support emerging leaders in the field, and two research funds to support promising projects.
Sen, who is also U-M's associate vice president for research in health sciences, noted, "The incredible generosity of the Eisenberg family and other donors will catalyze collaboration among scientists and clinicians from different fields, allowing us to harness the modern tools of data science, neuroscience and technology and make even more rapid strides in reducing the burden of these diseases."
Addressing a critical health issue
Sen noted that unlike most other leading causes of death and disability in the U.S., the negative impact of depression has increased substantially over the past two decades. The pandemic's impact on the mental health of individuals in many parts of society has further increased the urgency of developing solutions.
"Depression and related disorders affect the health and well-being of so many people, and the outcomes of many other illnesses," said Marschall Runge, M.D., Ph.D., the executive vice president for medical affairs, dean of the Medical School and CEO of Michigan Medicine, U-M's academic medical center. "We are confident that the Eisenbergs' leadership will inspire others who have seen the toll that depression can take to lend their support and move science and clinical care forward even faster."
John Greden, M.D., the center's founding director and former chair of the Department of Psychiatry, noted that gifts from donors have been critical to the center in its 20-year history, including funds that have helped launch or enhance a broad array of research programs.
"Research funds from donors are critical for providing the spark for discovery science -- early-stage findings that can form the basis for winning federal funding and fueling large-scale efforts to advance knowledge and improve care," he said. "Our center was the first of its kind, and by further growing gifts like this, we will continue to lead the nation and develop the cures and preventions we seek."
For instance, Sen's own work on the integrative effects of stress, sleep disruption, genetics and other factors on the mental health of health care professionals has been supported in part by his professorship funds. His work has direct relevance to those who have cared for COVID-19 patients.
The Eisenbergs' giving will open doors to many further projects, programs and support for U-M research teams in a wide range of fields, said Sen. The Eisenberg Family Depression Center includes more than 350 faculty members from 17 U-M schools, colleges and institutes whose work relates to all aspects of depression and bipolar disorder. Together, they bring in more than $58 million in research funding each year.
The Eisenberg family joins significant donors such as the Upjohn family, the Prechter family, Judith Tam and others in helping to make the U-M center a national example. Other universities have patterned their own depression centers on U-M's, and have formed a National Network of Depression Centers, based in Ann Arbor.
###
---