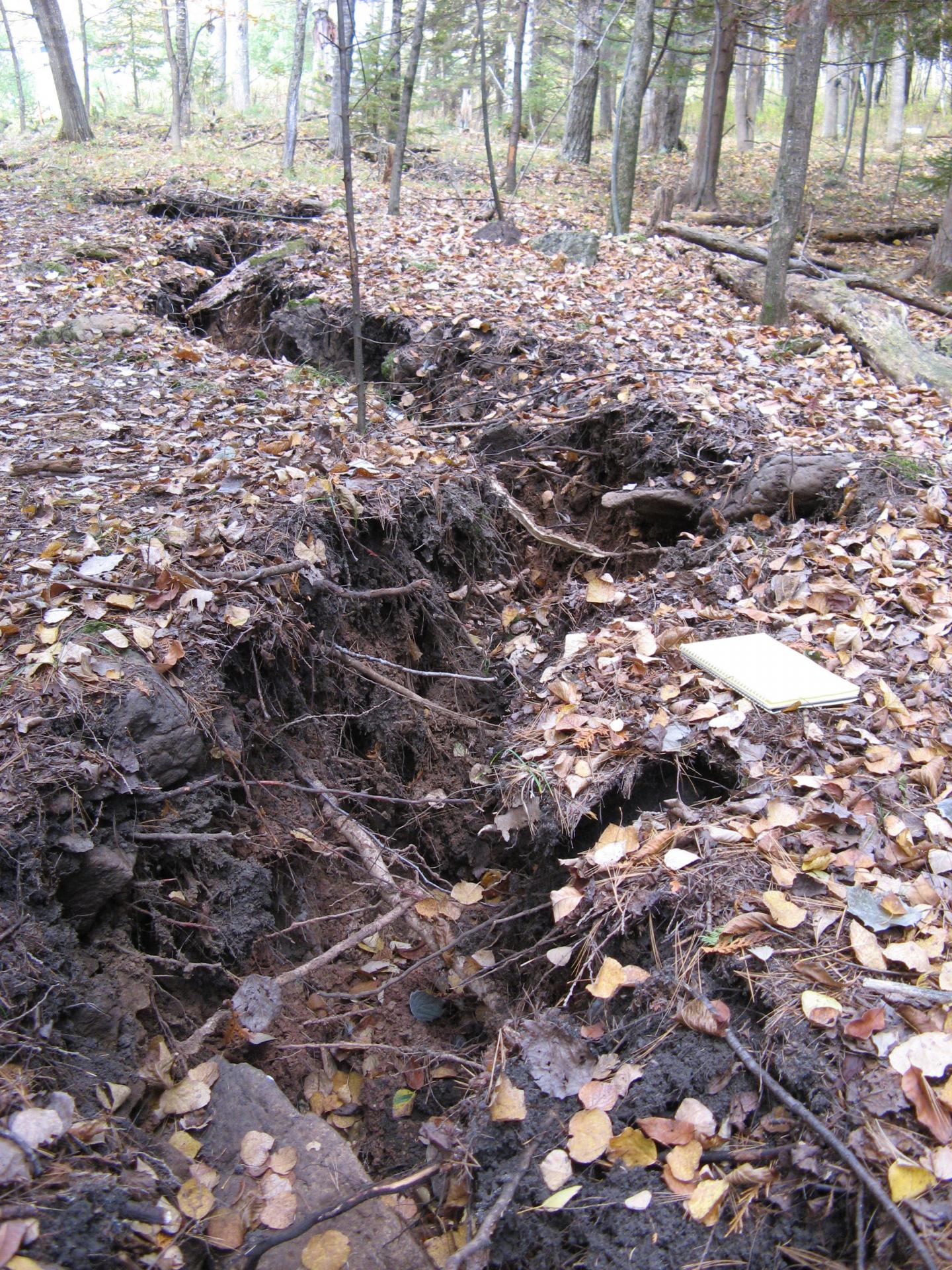 To a geologist, a rock is not just a rock, and a big crack in the ground is not what it first seems either. One such split, north of Menominee, Michigan, in the state's Upper Peninsula, is a large crack that formed in 2010. Not known for its earthquakes, Michigan is considered aseismic, and the Menominee Crack registered the Upper Peninsula's first recorded earthquake--measured at less than magnitude 1. The feature and its causes were mysterious.
Now, researchers from Michigan Technological University think they have identified what the feature is: a geological pop-up. The unusual structure is often found at the base of quarries or where glaciers have recently receded. The team, led by Wayne Pennington, dean of the College of Engineering at Michigan Tech, says the Menominee Crack is a one-of-a-kind feature as far as they can tell.
"We wanted to look into the crack because we could not find information in the literature on pop-up structures forming outside specific areas," Pennington says. "As far as we can tell, this is a one-of-a-kind event; but in case it is not, we wanted the information about it to be available for other investigators."
The team surveyed the site and conducted seismic refraction tests to verify the crack is a pop-up structure. By capturing sound waves, Pennington's group confirmed the brittle limestone underlying the crack was highly fractured and bowed upwards.
"The crack itself was not as important to note as the ridge," Pennington says, explaining that the ridge indicated a deeper structure. He adds that pop-ups usually form where downward pressure is lessened, most commonly at quarries and glacial zones where the overlying rock or ice has been removed.
"There are no nearby quarries, however," Pennington says, adding that the glaciers left more than 11,000 years ago. "There was a large tree that had been removed after it fell over and the timing certainly provides an interesting coincidence."
He admits the cause of the crack remains a mystery--and a puzzling one in an aseismic zone--but it also makes the feature unique.
###
---
Journal
Seismological Research Letters