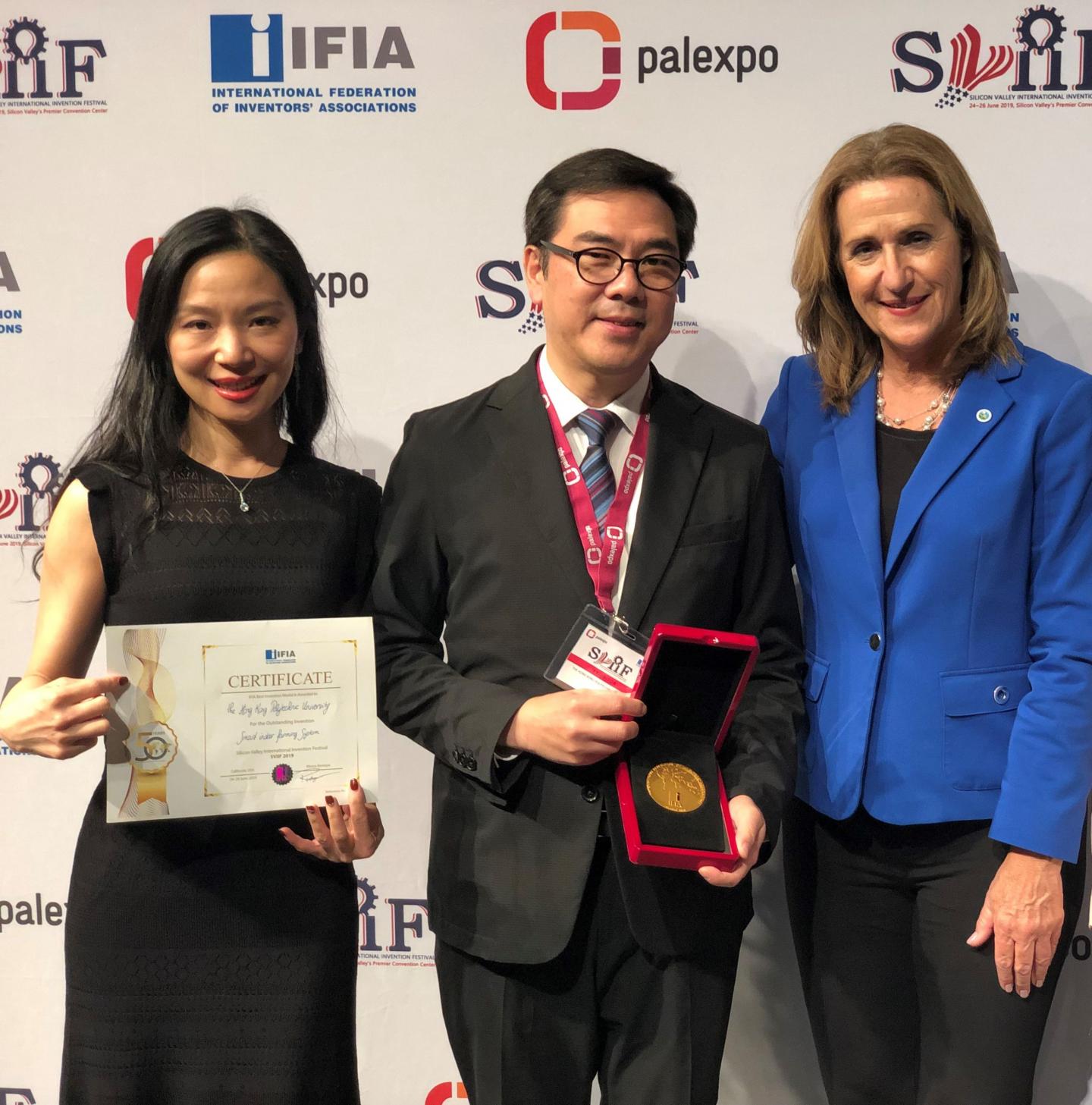 Its Smart Indoor Farming System won a Grand Award and a Gold Medal with the Congratulations of the Jury, while its Flexible Scoliotic Brace with Shape Memory Alloy Struts won a Gold Medal and a Special Merit Award, at SVIIF held in Santa Clara, California, the United States from 24 to 26 June.
SVIIF attracted inventors from research institutions, academic bodies and business enterprises from about 30 countries/regions to showcase their inventions this year. It was also the first time that Hong Kong institutions participated in this global annual event. Well attended by multi-national companies, investors, entrepreneurs and financiers, SVIIF offers a platform for inventors, industries and businesses to explore opportunities for collaboration and commercialisation of innovations.
The award-winning innovations of PolyU:
(1) Smart Indoor Farming System
Grand Award and Gold Medal with the Congratulations of the Jury
Principal Investigator: Dr LOO Ka-hong, Department of Electronic and Information Engineering
Applying Artificial Intelligence-based and data-driven technologies, the system can generate photosynthetic-active-radiation lighting, watering and nutrient supply programmes which are optimised for the growth of individual plant types. The system adopts advanced sensing technologies to collect real-time data for the plant growth and environmental data from growth chambers and farms using the system. By comparing the data collected with the growth profiles of different plant types, optimal sets of growth control parameters can be constructed and fed back to the user's system. The system will then automatically supply the optimal tailor-made essentials, such as light, water, temperature, nutrients, to enhance the growth performance of individual plants. Study shows that the growth cycle of Italian lettuce has been shortened by about 50% with the support of this system. Water consumption can also be substantially reduced to only 5% of that in conventional farming.
The system can be set up in urban buildings to provide sustainable and stable sources of edible plants, such as salad greens, potatoes, beets, herbs, etc.
(2) Flexible Scoliotic Brace with Shape Memory Alloy Struts
Gold Medal and Special Merit Award
Principal Investigator: Dr Joanne YIP Yiu-wan, Institute of Textiles and Clothing
The innovative brace, designed for adolescents with scoliosis, is made of shape memory alloy, artificial hinges and soft light-weight materials. The design can apply strategic corrective forces to the spine and offer adequate support to the user. Users are more willing to wear this Scoliotic Brace for a longer period because of its enhanced level of comfort and mobility, thus making it more effective in treating spinal deformity.
###
SVIIF is hosted by International Federation of Inventors' Association (IFIA), supported by the World Intellectual Property Organization (WIPO), Santa Clara City and the Santa Clara University, in collaboration with the US Patent and Trade Mark Office. For details, please visit the organiser's official website: https://www.sviif.com/.
---