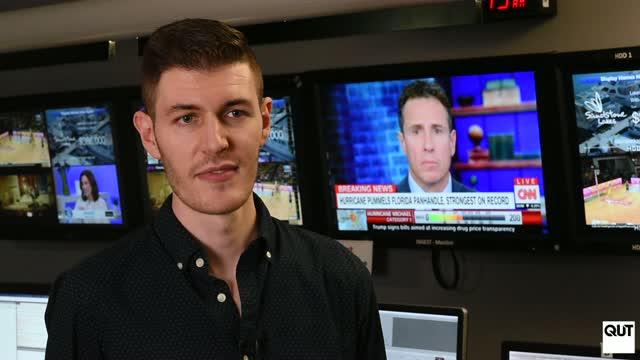 A QUT journalism academic says the current freelancer-heavy market for media professionals could be preventing photographers and video journalists who report on traumatic news events from accessing the support they need.
The results of TJ Thomson's peer-reviewed study Mapping the emotional labor and work of visual journalism has been published in Journalism.
"People understand exposure to media content impacts audiences but we often forget about the people behind the creation of the content," Dr Thomson said.
"The study shines a light on the often-unacknowledged emotional work and labor that visual journalists experience in the field that often extends into their homes and personal lives, too."
Dr Thomson said the study's findings also showed female journalists reported more emotional investment and management strategies compared to their male counterparts.
"Men tend to end contact with those they depict once the story is published while women reported continuing the relationship independent of the work," he said.
"Men were more pragmatic and noted the limited resources they had in terms of time and emotional energy, whereas women reported feeling obligated to maintain connections."
The research was based on interviews with 23 journalists from eight countries, including Pulitzer-prize-winners and recipients of World Press Photo awards.
Participants represented major media organizations from the United States as well as international agencies.
Dr Thomson said visual journalists regularly suppressed or enhanced their emotional displays while also dealing with editorial decisions sometimes beyond their control.
Dr Thomson described visual journalistic practice as an "emotionally intense activity".
"It can encompass the stress associated with risk to personal health and safety for journalists who cover wars, conflict or violent protests.
"It can involve the strain of documenting subjects in vulnerable situations, such as during accidents, medical emergencies and natural disasters.
"As part of the front line news production team, visual journalists are exposed to unique production circumstances by getting footage as quickly as possible with less freedom in selecting who and for how long they document a traumatic event."
He said among the study's participants only four had been to a counselor, adding visual journalists were more likely to resort to informal rather than formal emotional management strategies.
"Some male journalists reported they were likely to cope with their emotions through unhealthy means, by overeating, drinking alcohol or using drugs," Dr Thomson said.
"This is likely due to the lack of support provided by newsrooms in terms of culture and resources and increasing reliance on freelancers rather than dedicated staffs," he said.
However, Dr Thomson acknowledged some of Australia's larger and better resourced media organisations have formal support to help mitigate the effects caused by emotional labour at work.
###
About the author
Mapping the emotional labor and work of visual journalism published in Journalism by TJ Thomson of QUT's School of Communication, Creative Industries Faculty. He is a lecturer in Digital Journalism and member of QUT's Digital Media Research Centre.
A pdf of the study is available upon request.
Further reading - responses from participants in the study
"It is so rare that anyone validates 'emotional labor' as you call it! It's a relief to name it."
-- 43-year-old female freelance photographer
"The work we do as photographers and storytellers is so intimate in so many ways. If they're opening up to you, you're kind of absorbing the weight of whatever they're experiencing. As strong as we might think we are as professional photographers and journalists, it's imperative that we have other outlets and resources, especially if the creative outlet that helps you function in life becomes your profession and career. You have to find alternatives. I find it's important to both be able to share with my husband, who is an outsider, and also to share with other photographers because it's not like a regular, 9-5 desk job. You take your work home with you."
-- 32-year-old female freelance photographer
"As a photographer, the better interpersonal skills you have, the more emotional intelligence you have, the better your photos are going to be because you're going to get better access and you're going to get more people helping you and opening up doors to you. That's what you really need. Whether or not you really want to experience the emotional labor of the profession or not, your success kind of depends on it, to a certain extent."
-- 49-year-old male freelance photographer
"I think as one of the few women working in this field at my company, I'm held to a different emotional standard than coworkers. If we would both have the same reaction, I would get called out on it 90 percent of the time. I almost have to be blue steel, I guess, I can't react positively or negatively to anything because, either way, it's going to be bite me in the ass. I think that's what's shaped my view over the last few years. There are ways that you can express frustration and anger but you have to do it in a calm sort of mature, rational, intelligent argument. Having a complete meltdown and freaking out about it is not going to change it in the eyes of your management team as far as them questioning whether you can handle the stress. ... My work environment has shaped my emotional values."
-- 44-year-old female agency photographer
"The emotional labor involved in visual journalism is tremendous. I would almost compare it to that experienced by a psychologist because you have to put so many things through you in the course of a day. These people just load us up with their stories. They load us up with stories of death and grief, inequality and struggle. Heavy things. You take those emotions in, you take them in, you take them in, and, in some years, you just wear out. I feel it now. I started reacting more emotionally to things because I think I've already reached my limit of not even negativity but sorrow that I've witnessed. Everytime I witness something or meet a new subject, it always hits me harder and harder and harder and harder. I think I'm already filled. Everything that I pour in spills over."
-- 25-year-old male freelance photographer
"This is a style of life where you cannot separate your work from your (personal) life. Your subjects call you anytime. They don't ask you when you're available and when you're not. They just call you ... This job takes all of our lives."
-- 25-year-old male freelance photographer
Editorial note: Mental health experts are available 24/7 via the Beyond Blue Support Service via online chat at beyondblue.org.au/get-support.
Media contacts:
QUT Media, +61 7 3138 1150 or media@qut.edu.au
After hours: Rose Trapnell, +61 407 585 901
---