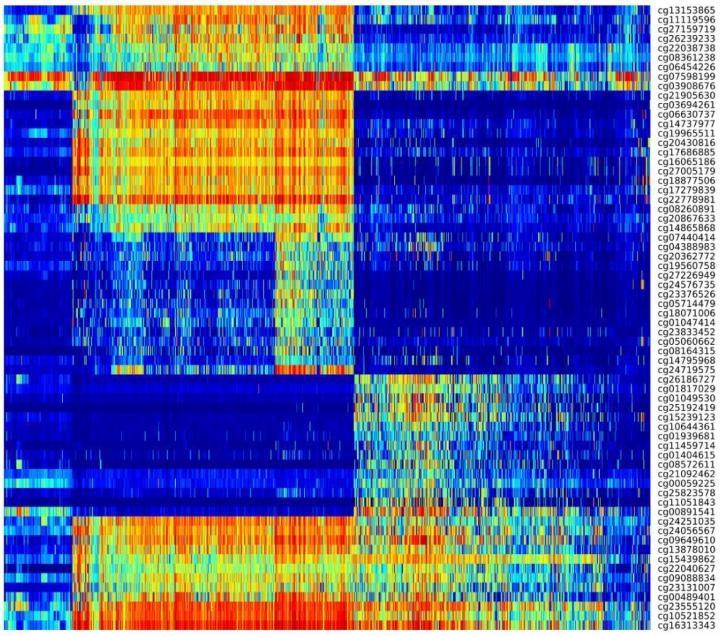 NEW YORK, NY, USA & RIBEIRAO PRETO, SP, BRAZIL (January 28, 2016)--A comprehensive analysis of the molecular characteristics of gliomas--the most common malignant brain tumor--explains why some patients diagnosed with slow-growing (low-grade) tumors quickly succumb to the disease while others with more aggressive (high-grade) tumors survive for many years. The multinational study suggests a new way of classifying gliomas that may have a significant impact on patient management and may lead to the development of more targeted therapies.
The paper, co-led by researchers from Columbia University Medical Center (CUMC), USA, Ribeirão Preto Medical School (FMRP) at the University of São Paulo (USP), Brazil, and The University of Texas MD Anderson Cancer Center, Houston, Texas, USA, was published today in the journal Cell.
Currently, pathologists determine if a glioma is low-grade or high-grade based on the tumor tissue's appearance under the microscope.
"While this approach is generally good at distinguishing between gliomas that are clearly very aggressive and those that are relatively slow-growing, it misses the mark in a significant percentage of cases, leading to inappropriate treatment," said co-senior author Antonio Iavarone, MD, professor of neurology and pathology and cell biology (in the Institute for Cancer Genetics) at CUMC and a member of the Herbert Irving Comprehensive Cancer Center (HICCC) at NewYork-Presbyterian /Columbia University Medical Center. "Instead, by looking at the molecular makeup of these tumors, we now have a much more precise way of predicting which tumors are more likely to grow rapidly and can prescribe treatments accordingly."
Other researchers have attempted to classify gliomas according to their genetic characteristics. One study found that tumors with mutations in a gene called IDH were significantly less aggressive than those without the mutation, known as IDHwildtype tumors. However, these findings did not fully explain why some patients with IDHmutant tumors fare worse than expected and some with IDHwildtype tumors fare better than expected. Other studies suggested that a glioma's level of DNA methylation, an epigenetic process that cells use to control gene expression, might explain a tumor's aggressiveness, but the evidence was inconclusive.
In this study, Dr. Iavarone and his colleagues analyzed 1,122 high and low grade glioma samples from the Cancer Genome Atlas, looking for epigenetic changes in the tumors' DNA. The researchers found that the best predictor of progression in an IDHmutant glioma--the less-aggressive variety--is its level of DNA methylation. Among IDHmutant gliomas, those with a high degree of DNA methylation progressed more slowly. However, tumors with less DNA methylation, about 6 percent of the total, progressed very quickly.
"Based on their appearance under the microscope, these aggressive tumors looked very much like the other IDHmutant tumors," said Dr. Iavarone. "But from a disease prognosis standpoint, they progressed quite similarly to the more lethal subset of IDHwildtype gliomas," said Dr. Iavarone.
Among those with IDHwildtype gliomas--the most aggressive type--a small subset (about 6 percent) had relatively favorable clinical outcomes. The molecular characteristics of this group were similar to those of pilocytic astrocytomas, a childhood brain tumor with a relatively favorable survival rate.
"The present study advances the understanding of the glioma division by correlating each subtype of DNA methylation with a distinct clinical outcome," said co-senior author Houtan Noushmehr, PhD, professor of epigenomics and bioinformatics at University of São Paulo and director of the OMICs and Bioinformatics lab at FMRP at Ribeirão Preto, São Paulo. "We discovered low grade and high grade gliomas mixed together within these different epigenetic subtypes. This was an unexpected finding and allowed us to further understand the progression of gliomas within the different subtypes," said Dr. Noushmehr.
"This research has expanded our knowledge of the glioma somatic alteration landscape and emphasized the relevance of DNA methylation profiles as a method for clinical classification," said senior co-author Roel Verhaak, PhD, associate professor of bioinformatics and computational biology MD Anderson. "These findings are an important step forward in our understanding of glioma as discrete disease subsets, and the mechanism driving glioma formation and progression."
The paper also identified several previously unrecognized genetic alterations that may contribute to glioma development, highlighting potential new targets for drug therapy.
"This study, which focused on tumor classification, does not point to specific therapies for glioma," said Dr. Iavarone. "But our findings will help clinicians identify subsets of patients with IDHmutant tumors who need to be treated more aggressively and those with IDHwildtype tumors who can be spared aggressive treatment."
The study is titled, "Molecular profiling refines the classification of adult diffuse lower- and high-grade glioma." The full list of contributors can be found in Cell.
###
This study was supported by grants from the São Paulo Research Foundation (FAPESP) (2015/07925-5, 2015/02844-7, 2014/08321-3, 2014/02245-3), the National Institutes of Health (U24CA143883, U24CA143858, U24CA143840, U24CA143799, U24CA143835, U24CA143845, U24CA143882, U24CA143867, U24CA143866, U24CA143848, U24CA144025, U54HG003067, U54HG003079, U54HG003273, U24CA126543, U24CA126544, U24CA126546, U24CA126551, U24CA126554, U24CA126561, U24CA126563, U24CA143731, U24CA143843, P30CA016672, P50 CA127001, R01 CA190121, P01 CA085878), and the Cancer Prevention & Research Institute of Texas.
The researchers have submitted a patent for probes that can be used to predict a glioma's clinical outcome. The researchers declare no other conflicts of interest.
Columbia University Medical Center provides international leadership in basic, preclinical, and clinical research; medical and health sciences education; and patient care. The medical center trains future leaders and includes the dedicated work of many physicians, scientists, public health professionals, dentists, and nurses at the College of Physicians and Surgeons, the Mailman School of Public Health, the College of Dental Medicine, the School of Nursing, the biomedical departments of the Graduate School of Arts and Sciences, and allied research centers and institutions. Columbia University Medical Center is home to the largest medical research enterprise in New York City and State and one of the largest faculty medical practices in the Northeast. For more information, visit cumc.columbia.edu or columbiadoctors.org.
Herbert Irving Comprehensive Cancer Center
The Herbert Irving Comprehensive Cancer Center at Columbia University Medical Center and NewYork-Presbyterian Hospital encompasses pre-clinical and clinical research, treatment, prevention and education efforts in cancer. The Cancer Center was initially funded by the NCI in 1972 and became a National Cancer Institute (NCI)-designated comprehensive cancer center in 1979. The designation recognizes the Center's collaborative environment and expertise in harnessing translational research to bridge scientific discovery to clinical delivery, with the ultimate goal of successfully introducing novel diagnostic, therapeutic and preventive approaches to cancer. For more information, visit http://www.hiccc.columbia.edu.
Ribeirao Preto Medical School (FMRP) at University of São Paulo (USP) provides excellence in patient care and in higher education, by training health professionals with a high level of qualification and qualified researchers in its graduate programs, which produce high-quality innovative research with international insertion. In this context, OMICs Lab aims to identify and understand the epigenomic signatures that define normal and disease states. The ultimate goal is to help develop better therapies and cures for complex diseases such as diabetes and cancer. To this end, we generate (by our own and through our collaborators), next generation sequencing data across a multitude of -omics type data, genomics, epigenomics, proteomics and transcriptomics and perform mechanistic studies. A main focus of the lab is to train and educate the next generation of scientists skills in analyzing and interpreting these data types and by doing so we introduce important skills in the scientific method, bioinformatics and leadership. For more information, visit http://www.fmrp.usp.br, http://www.usp.br or bioinformatics.fmrp.usp.br and find us on Facebook, Twitter and YouTube. NewYork-Presbyterian
NewYork-Presbyterian is one of the nation's most comprehensive healthcare delivery networks, focused on providing innovative and compassionate care to patients in the New York metropolitan area and throughout the globe. In collaboration with two renowned medical school partners, Weill Cornell Medicine and Columbia University College of Physicians & Surgeons, NewYork-Presbyterian is consistently recognized as a leader in medical education, ground-breaking research and clinical innovation.
NewYork-Presbyterian has four major divisions: NewYork-Presbyterian Hospital is ranked #1 in the New York metropolitan area by U.S. News and World Report and repeatedly named to the magazine's Honor Roll of best hospitals in the nation; NewYork-Presbyterian Regional Hospital Network is comprised of leading hospitals in and around New York and delivers high-quality care to patients throughout the region; NewYork-Presbyterian Physician Services connects medical experts with patients in their communities; and NewYork-Presbyterian Community and Population Health features the hospital's ambulatory care network sites and operations, community care initiatives and healthcare quality programs, including NewYork Quality Care, established by NewYork-Presbyterian, Weill Cornell and Columbia.
NewYork-Presbyterian is one of the largest healthcare providers in the U.S. Each year, nearly 29,000 NewYork-Presbyterian professionals deliver exceptional care to more than 2 million patients.
For more information, visit http://www.nyp.org and find us on Facebook, Twitter and YouTube.
---