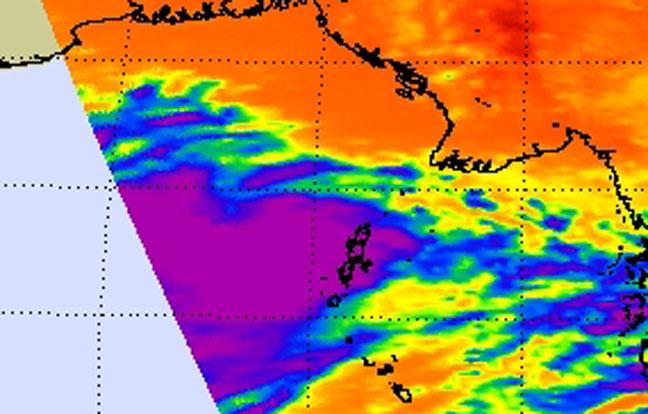 The Northern Indian Ocean has awakened after a tropical slumber and created Tropical Storm Hudhud on Oct. 8 and NASA's Aqua satellite passed overhead.
The Atmospheric Infrared Sounder or AIRS instrument that flies aboard NASA's Aqua satellite passed over Tropical Cyclone Hudhud on Oct. 8 at 6:53 UTC (2:53 a.m. EDT and captured infrared data on the storm revealing bands of strong thunderstorms around the center.
Animated infrared satellite imagery showed that the low-level circulation center was consolidating, and there is an improvement in the banding of thunderstorms wrapping into a defined center. Another image showed tightly-curved banding of thunderstorms and an eye in microwave data.
On Oct. 8 at 1500 UTC (11 a.m. EDT), Hudhud had maximum sustained winds near 45 knots (51.7 mph/83.3 kph). It was centered near 13.2 north and 90.4 east. It was centered about 562 nautical miles (646.7 miles/1,041 kph) south of Chittagong, India. Hudhud was moving to the west-northwest at 9 knots (10.3 mph/16.6 kph).
The Joint Typhoon Warning Center expects Hudhud to reach hurricane strength and make landfall near Visakhapatnam on Oct. 10.
###
Rob Gutro
NASA's Goddard Space Flight Center
---