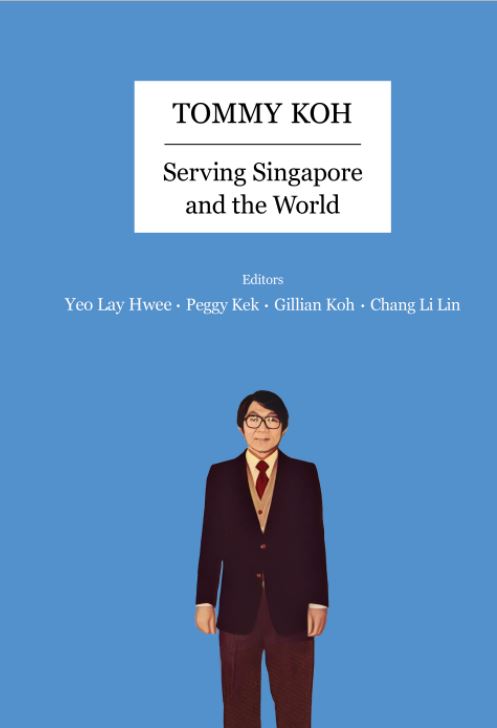 On Nov. 11, 2017, the eve of his 80th birthday, a book about Professor Tommy Koh and his achievements and exploits for Singapore and the World was launched at the Ritz Carlton Hotel, Singapore.
The book launch was attended by some 200 guests, including Deputy Prime Minister Tharman Shanmugaratnam and Minister for Education (Higher Education and Skills) Ong Ye Kung, lawyers, members of the arts community and Prof Koh's friends and family.
Published by World Scientific Publishing, Tommy Koh: Serving Singapore and the World testifies of Prof Koh's masterful ability to distil complex issues and interests into actionable decisions and plans; disarm opponents with a soothing turn of phrase and direct the energies around the negotiating table towards achieving what is right, good and ultimately, to the mutual benefit of all parties concerned-whether in the realm of domestic or international diplomacy, culture and the arts, or local and international law.
MASTER NEGOTIATOR
Prof Koh who was first appointed Singapore's Permanent Representative to the United Nations (UN) in New York in 1968 at the age of 31 is known internationally for helping to establish what is the equivalent of the constitution of the world's seas by presiding over the Third UN Conference on the Law of the Sea from 1981 to 1982, and for chairing the Preparatory Committee for and the Main Committee of the UN Conference on the Environment and Development in Rio, which set out the global blueprint for sustainable development between 1990 to 1992.
Speaking as Guest-of-Honour at the launch (and surprise advanced birthday celebration) Mr Tharman attributed the diplomat's success to a distinctive mix of qualities that included his humility, ability to master complex facts, and "disarming way of winning people over".
FIRMLY ROOTED TO HIS VALUES
The stories told in Tommy Koh capture the spirit of Singapore's pioneer generation who shaped the Singapore that we know and celebrate today-and who many believe Prof Koh represents well; Namely their determination and tenacity, belief in the power of the individual, and collective sense of agency, all channelled towards building a progressive and inclusive nation.
One contributor, journalist Ms Chua Mui Hoong, describes Prof Koh as someone who has the courage of his convictions and is ready to state them publicly, "enlarging the scope of what is normal for public discourse and expanding the boundaries of what is permissible" (p.217). She cites his debate with Western critics on Asian Values, with peers in the world of diplomacy on the future of ASEAN integration, and with the broader public on whether Singapore should consider adopting a minimum wage policy if existing policy measures do not improve the lot of low-wage, low-skilled workers.
###
Media coverage of the event included The Straits Times and http://tinyurl.com/ProfKohWSPC2) and TODAY.
Edited by Dr Yeo Lay Hwee, Peggy Kek, Dr Gillian Koh and Chang Li Lin, the volume comprises 46 chapters written by public and people sector leaders who have worked with Prof. Koh through his lifelong service to the country and the world, as well as his personal friends. To know more about the book visit http://www.worldscientific.com/worldscibooks/10.1142/10499.
ABOUT THE EDITORS
Dr Yeo Lay Hwee is Director of the European Union Centre in Singapore since 2009. She is also Council Secretary and Senior Research Fellow at the Singapore Institute of International Affairs (SIIA), and Adjunct Fellow at the S Rajaratnam School of International Studies (RSIS). Since 2011, she has also taken on the role of Co-Editor in Chief for the Asia-Europe Journal.
Lay Hwee sits on several Academic Advisory Boards - Centre for European Studies at the Australian National University (ANUCES), the KU Leuven's Master in European Studies (MAES) Programme, and the Centre for Asia-Pacific Studies, Tallinn University of Technology.
An international relations expert, her research interests revolve around comparative regionalism, principles of multilateralism and governance networks. She has written extensively on issues pertaining to Asia-Europe relations in general, and in particular, the ASEM (Asia-Europe Meeting) process, relations between the European Union and ASEAN (Association of Southeast Asian Nations). She participates actively both in policy dialogues and academic workshops and conferences, and contributes regularly to commentaries and journals. She has also been involved in several EU-funded initiatives and actions such as the EU and Asia - Integration of Policy and Practice and the Jean Monnet Network funded under the Erasmus Plus Programme. She has also worked with various agencies on policy advocacy programmes related to governance, ASEAN and ASEM.
Peggy Kek first met Tommy Koh in 1997 when he hired her as the founding Director of Public Affairs at the Asia-Europe Foundation. There they discovered a common passion for the arts. In 2002 after her graduate studies in London, she returned to Singapore and worked with Tommy again, this time at the Institute of Policy Studies. Peggy left IPS in 2004 for Washington DC, to work at the World Bank, but continued to collaborate with Tommy on the Programme of Seminars for the 2006 World Bank-IMF Annual Meetings that were held in Singapore. Their paths continued to cross when she was Acting Executive Director of the Singapore International Foundation, Director of External Affairs and Partnerships at the Lee Kuan Yew School of Public Policy at the National University of Singapore, and currently Director of Development and Partnerships at the Singapore Symphony Orchestra. Peggy worked with the United Nations Children's Fund in the 1990s and early 2000s and is the co-author of Singapore and UNICEF: Working for Children (2016). She obtained her MA in International Studies at SOAS, University of London, on a Chevening scholarship.
Dr Gillian Koh is Deputy Director (Research) at the Institute of Policy Studies and Senior Research Fellow and Head of its Politics and Governance research cluster which focuses on analysis of electoral politics, the development of civil society, state-society relations, and citizen engagement in Singapore.
Gillian has led the research teams that generated the IPS Presidential Election Survey (POPS5, 2011), and three IPS Post-Election Surveys (2006, 2011, 2015). Other surveys she has conducted include the focus on Singaporeans' sense of identity, rootedness and resilience. She has published and co-published articles on civil society and political development in Singapore. She was co-editor of Migration and Integration in Singapore: Policies and Practice (Routledge, 2015) as well as State-Society Relations in Singapore (IPS & Oxford University Press, 2000).
Gillian gained her PhD in Sociological Studies from the University of Sheffield (UK) in 1995 and has been at IPS and acquainted with Professor Tommy Koh, the subject of this volume, since.
Chang Li Lin is a civil servant. Prior to this appointment, she was Deputy Director for Public Affairs at one of Singapore's think tanks on national issues, Institute of Policy Studies (IPS) at the Lee Kuan Yew School of Public Policy, National University of Singapore. In the first half of her career at IPS, she covered policy research in the area of international relations. Later, she took over the public affairs portfolio which included managing donor and media relations, and special projects. Receiving her BA in Sociology and International Relations (IR) at the University of Reading, Li Lin subsequently obtained her Masters in IR at the University of Kent at Canterbury, in the United Kingdom. She has written articles and edited a number of publications on Singapore's foreign policy, peacekeeping and domestic politics including The Little Red Dot Series (co-edited with Tommy Koh), The UNITAR-IPS Conference Series (co-edited with Nassrine Azimi), and 50 Years of Singapore and the United Nations (co-edited with Tommy Koh and Joanna Koh).
---