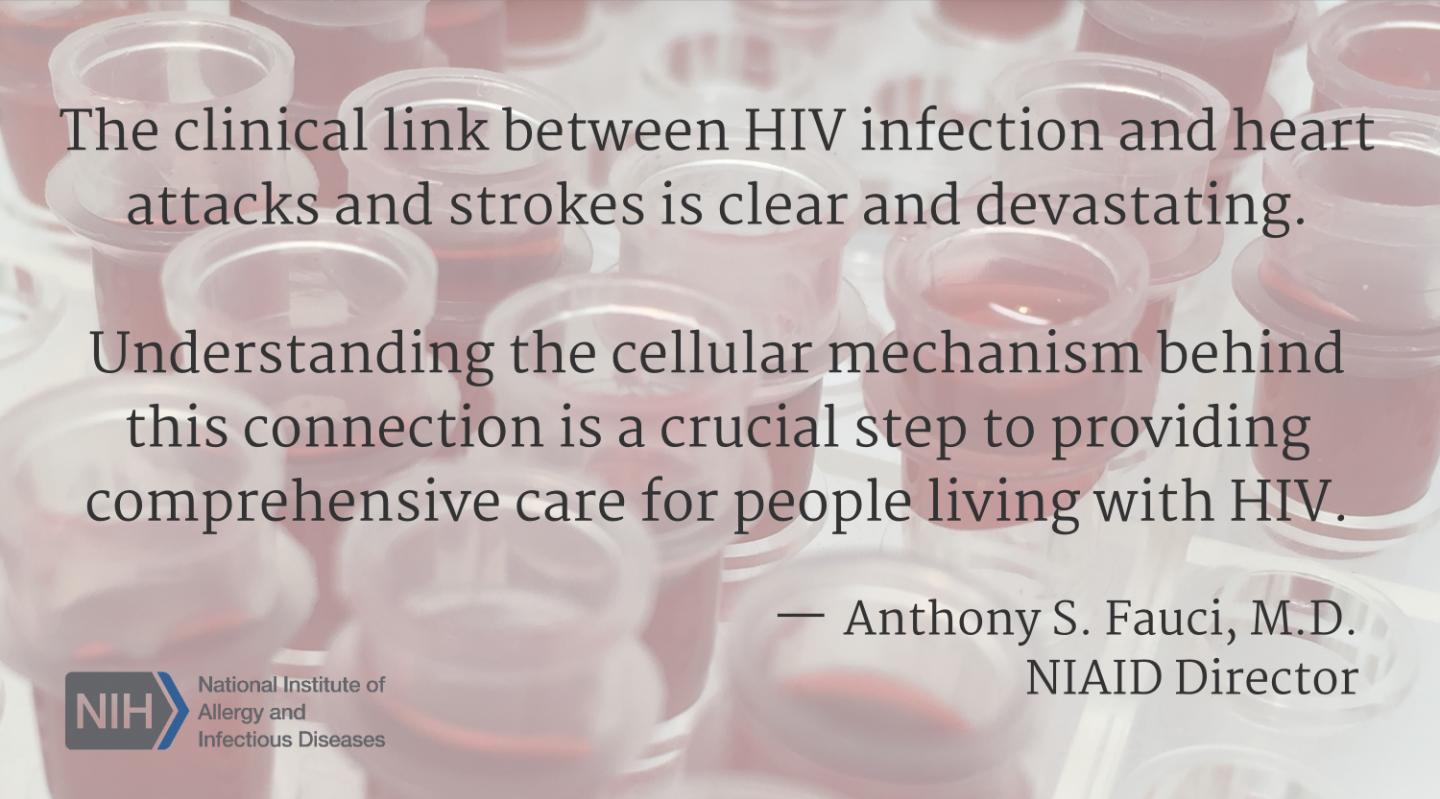 Scientists at the National Institutes of Health have expanded the understanding of how chronic inflammation and persistent immune activation associated with HIV infection drive cardiovascular disease risk in people living with HIV. People living with HIV are up to twice as likely to experience heart attacks, strokes and other forms of cardiovascular disease as people who do not have the virus, even when HIV infection is well-controlled with the use of antiretroviral therapy.
The scientists found that certain immune cells proliferate in people living with HIV, expressing proteins and triggering inflammation and abnormal blood clotting. These processes can be blocked in cells and in nonhuman primate models with an experimental drug. The research team, led by Irini Sereti, M.D., of the Laboratory of Immunoregulation at the National Institute of Allergy and Infectious Diseases, part of NIH, and Ivona Pandrea, M.D., Ph.D., from the University of Pittsburgh, published their findings today in Science Translational Medicine.
When researchers tested blood samples from people living with HIV, they found elevated levels of immune cells called monocytes that expressed high levels of tissue factor (TF), a protein associated with blood clotting and inflammatory processes. Surprisingly, high levels of these monocytes were present regardless of how well an individual's HIV infection was controlled with antiretroviral therapy. When the researchers exposed the blood samples to Ixolaris--an experimental anticoagulant found in tick saliva and known to block the cellular pathway that activates TF--TF activity was shut off in monocytes without affecting the cells' normal function.
As the researchers observed the same elevated levels of TF-expressing monocytes in nonhuman primates infected with SIV, the monkey form of HIV, they administered Ixolaris to five SIV-infected monkeys. Compared with previous data on SIV-infected monkeys, Ixolaris-treated monkeys had lower levels of biomarkers that predict abnormal blood clotting and immune activation. These findings indicate that targeting the TF pathway may reduce some cardiovascular risk factors. While Ixolaris has not been tested for safety or its ability to prevent abnormal clotting in humans, these data suggest that targeting this cellular mechanism may slow the inflammation and clotting processes that place people living with HIV at a higher risk of cardiovascular problems.
###
ARTICLE: ME Schechter, BB Andrade, T He et al. Inflammatory monocytes expressing tissue factor drive SIV and HIV-coagulopathy. Science Translational Medicine DOI: 10.1126/scitranslmed.aam5441 (2017).
WHO: NIAID Director Anthony S. Fauci, M.D., is available to comment.
CONTACT: To schedule interviews, please contact Judith Lavelle, (301) 402-1663, judith.lavelle@nih.gov.
NIAID conducts and supports research--at NIH, throughout the United States, and worldwide--to study the causes of infectious and immune-mediated diseases, and to develop better means of preventing, diagnosing and treating these illnesses. News releases, fact sheets and other NIAID-related materials are available on the NIAID website.
About the National Institutes of Health (NIH): NIH, the nation's medical research agency, includes 27 Institutes and Centers and is a component of the U.S. Department of Health and Human Services. NIH is the primary federal agency conducting and supporting basic, clinical, and translational medical research, and is investigating the causes, treatments, and cures for both common and rare diseases. For more information about NIH and its programs, visit http://www.nih.gov.
NIH...Turning Discovery Into Health®
---
Journal
Science Translational Medicine