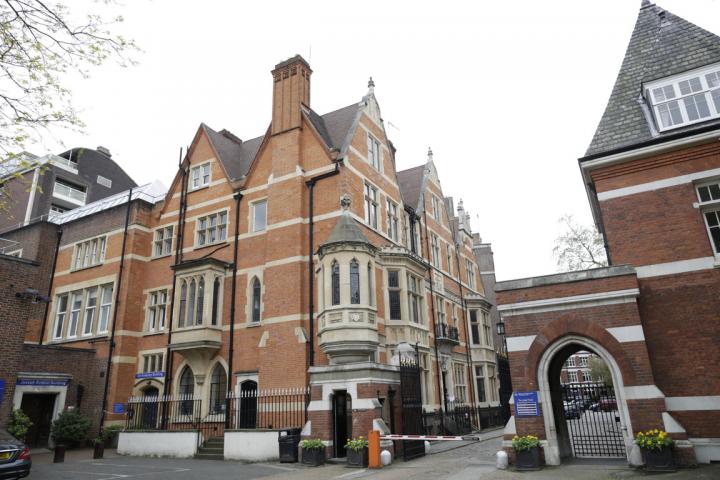 £6.5 million of funding has been awarded by Barts Charity to Queen Mary University of London to transform the Charterhouse Square campus at Barts and The London School of Medicine and Dentistry, and provide modern, cutting-edge teaching and medical research facilities.
This investment by Barts Charity will underpin a programme of innovative capital projects which will support the University's reputation for world-leading research generating an environment which will stimulate new discoveries and keep step with the ambitious agenda of expansion currently underway.
The full programme of works, anticipated for completion by early 2020, will include:
A new teaching lab for c. 50 students and a surgical skills teaching lab
Two new Cell Culture Labs for 8 researchers
A Tissue Bank Lab for 10 researchers and supporting archive facilities
A new Mass Spec Lab for 8 researchers
A new Microscopy Lab for 13 researchers
A general lab for 14 researchers
134 new office spaces
The creation of a new biorepository with a total capacity of 56,980 litres of storage and saving 385,711.52 kWh of energy per year
With the support of Barts Charity, the School has seen enormous success in leveraging external research funding across the portfolio, including in cancer and cardiovascular disease, largely based at the Charterhouse Square campus. This has been instrumental in attracting a cadre of internationally recognised experts and their teams, and the funding will be integral to providing the infrastructure to accommodate new teams and to sustain this unprecedented pace of expansion.
Unusually for a central London campus the School is able to expand capacity within its existing footprint. The remodelling and adaptation of existing space will enhance the School's capacity to host up to 100 new appointments over the next four years, and will involve a sensitive modernisation programme, providing high-spec facilities whilst retaining the unique heritage of the Charterhouse Square site.
Innovative design concepts to transform the existing estate will support a new generation of scientists who are at the cutting edge of interdisciplinary working. With the concentrated expertise in health data research and bioinformatics, bespoke workspaces will provide the optimal research environment for those working in computer modelling.
Fiona Miller-Smith, CEO of Barts Charity, has said: "I'm delighted that the Charity is supporting the School's growth agenda. The redesigned spaces will not only allow for expansion, but also permit existing teams to be co-located for the first time, strengthening collaborations and knowledge-sharing."
Professor Steve Thornton, Vice Principal (Health) at Queen Mary University of London, added: "This generous funding is integral to the growth of the School. Providing new research laboratories equipped to the latest standard will ensure the current and ambitiously expanding research programmes are supported, enabling them to reach their full potential to deliver tangible benefits to patients and the community. Providing optimal space to accommodate existing and new staff into School will allow them to flourish scientifically and shape the future of research."
###
For more information, please contact:
Joel Winston
Public Relations Manager (School of Medicine and Dentistry)
Queen Mary University of London
j.winston@qmul.ac.uk
Tel: +44 (0)20 7882 7943 / +44 (0)7970 096 188
Notes to the editor
*Images of architectural plans and current photos from the Charterhouse Square campus are available here: http://bit.ly/2Q2WKH5
Barts Charity
Barts Charity is a healthcare innovation funder, which aims to provide extraordinary healthcare for 2.5m people in east London, and beyond.
Working alongside the Barts Health NHS Trust's group of hospitals and Barts and the London School of Medicine and Dentistry (part of Queen Mary University London) we fund world-leading research, state-of-the-art equipment and innovative healthcare projects which go above and beyond what the NHS can provide.
In the year to March 2018, the Charity awarded grants of over £28.5million and at 31 March 2018 there were 146 Barts Charity funded research projects in progress.
Visit bartscharity.org.uk or contact comms@bartscharity.org.uk or 020 7618 1720 for more information.
Queen Mary University of London
Queen Mary University of London is a world-leading research-intensive university with over 25,000 students representing more than 160 nationalities.
A member of the prestigious Russell Group, we work across the humanities and social sciences, medicine and dentistry, and science and engineering, with inspirational teaching directly informed by our research.
In the most recent exercise that rated research in the UK, we were ranked 5th in the country for the proportion of research outputs that were world-leading or internationally excellent. We offer more than 240 degree programmes and our reputation for excellent teaching was rewarded with a silver in the 2017 Teaching Excellence Framework (TEF) awards.
Queen Mary's history dates back to 1785, with the foundation of the London Hospital Medical College. Our history also encompasses the establishment of the People's Palace in 1887, which brought accessible education, culture and recreation to the East End of London. We also have roots in Westfield College, one of the first colleges to provide higher education to women.
A recent McKinsey report ranked the School of Medicine and Dentistry fourth in the world for the quality of its research output.
---