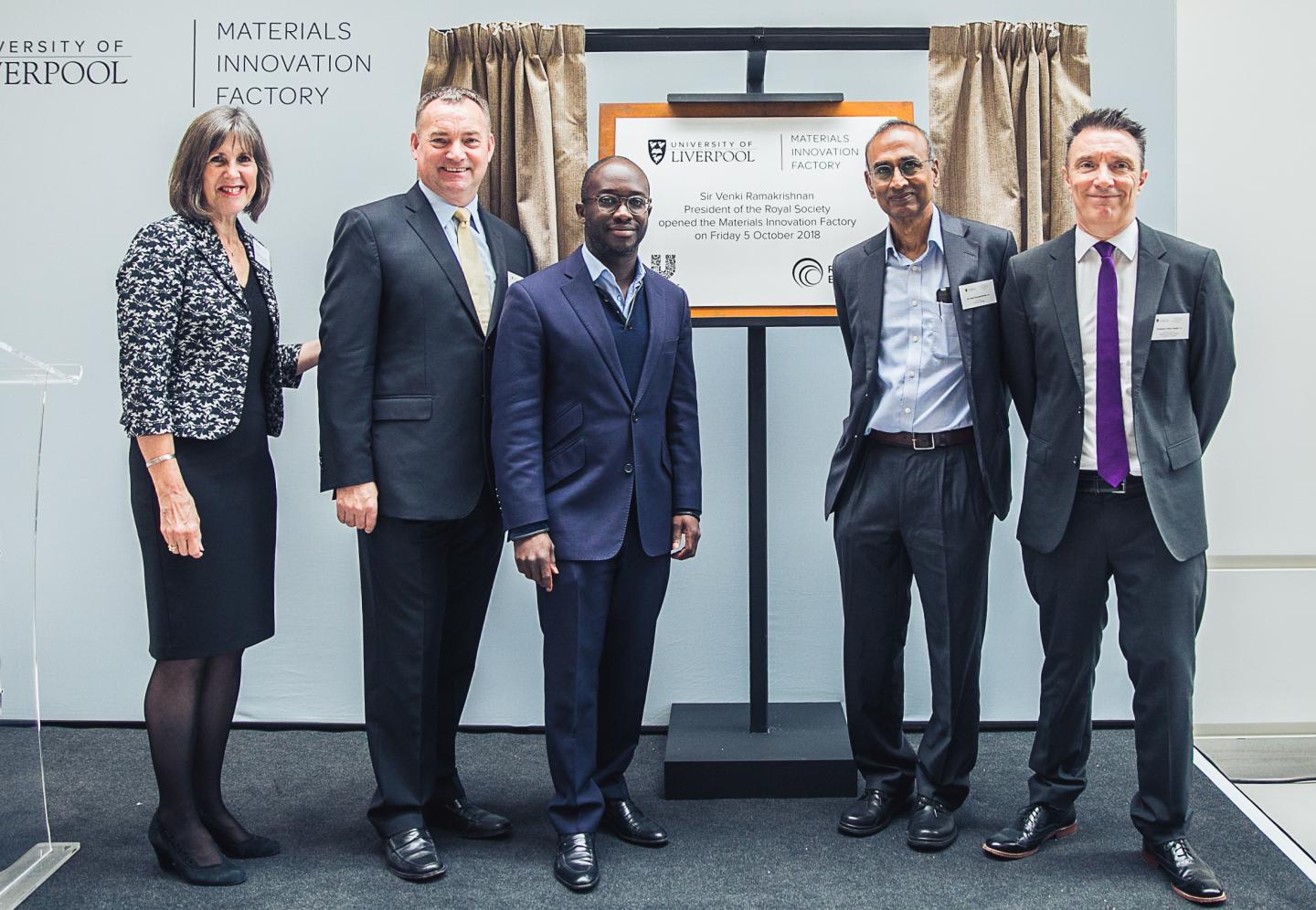 The University of Liverpool's Materials Innovation Factory, an £81 million facility dedicated to the research and development of advanced materials, has been officially opened by the President of the Royal Society and Nobel Laureate, Sir Venki Ramakrishnan.
A collaboration between the University and Unilever, the Materials Innovation Factory brings together materials chemistry expertise with the latest computational and robotic equipment to accelerate research and reduce the time it takes to develop new products which have the potential to address a range of societal challenges.
The 11,600m2 state of the art facility represents a 21st century research environment providing laboratory and office space for University researchers and Unilever scientists from the global Research and Development (R&D) Centre for Home Care and Personal Care products in Port Sunlight.
In addition, the facility, which boasts one of the highest-concentrations of materials science automation robotics in the world, can also accommodate other academic or industrial users on a flexible, open-access basis to facilitate cross-disciplinary collaborations, innovation and knowledge exchange.
Sir Venki Ramakrishnan, President of the Royal Society and Nobel Laureate, said: "The strength of material science in the North West is, to a great extent, built on the collaboration between academia and industry which is so well embodied in the Materials Innovation Factory.
"Whether it is human health, sustainability or a range of other areas, advanced materials offer tools by which we can tackle some of the big challenges we face on the global stage. The range of expertise here in Liverpool can make a big contribution to meeting those challenges and to driving economic growth."
Professor Dame Janet Beer, Vice-Chancellor of the University of Liverpool, said: "The opening of the Materials Innovation Factory is an important milestone for the University of Liverpool. The institution is known for its world-class research in advanced materials and these impressive new facilities will serve to further accelerate progress.
"The applications for our research in this area are truly exciting, with the potential to answer some of the greatest challenges facing the world today in fields such as sustainable energy, healthcare and manufacturing."
David Blanchard, Chief Research & Development Officer at Unilever, said: "This is an important next step for the partnership between Unilever and the University of Liverpool and a signal of our continued commitment to investment in the UK. With the world changing and innovating at a rapid pace, it's key for Unilever R&D to work closely with strong, expert partners. The Materials Innovation Factory is a best practice example of this type of collaboration."
Research activity in the Materials Innovation Factory spans the fields of organic materials, inorganic materials, nanomedicines, sustainability, genomic sequencing and high throughput formulation.
In particular, two world leading research groups, led by Professors Andy Cooper FRS and Matt Rosseinsky FRS, are creating innovative new materials with a range of uses: from porous molecular organic solids and liquids which can capture harmful pollutants to new materials for the harvesting, storage and conversion of low-carbon energy.
The Leverhulme Research Centre for Functional Materials Design, created to drive a design revolution for functional materials at the atomic scale, is also located in the facility.
Sam Gyimah MP, Science and Universities minister said: "This inspiring facility bring together some of the UK's most talented scientists and academics, with cutting edge robots and computers, to meet the future challenges our society will face.
"I want to see the UK continue to grow its reputation as an innovation superpower and with government and private sector investment in new research facilities like this one in Liverpool, we are striving towards our ambition for 2.4% of GDP to be spent on research and innovation by 2027."
Located in the heart of the city's Knowledge Quarter, the Materials Innovation Factory was awarded £11m through the government's UK Research Partnership Investment Fund (UKRPIF), a programme administered by Research England (formerly HEFCE), which helped secure significant private co-investment towards the project.
It also houses the Liverpool contribution to the Henry Royce Institute, a national institute for materials science research and innovation.
###
Notes to editors:
1. The University of Liverpool is one of the UK's leading research institutions with an annual turnover of £523 million. Liverpool is a member of the Russell Group. Visit http://www.liv.ac.uk or follow us on twitter at: http://www.twitter.com/livuninews
2. Unilever is one of the world's leading suppliers of Beauty & Personal Care, Home Care, and Foods & Refreshment products with sales in over 190 countries and reaching 2.5 billion consumers a day. It has 161,000 employees and generated sales of €53.7 billion in 2017. Over half (57%) of the company's footprint is in developing and emerging markets. Unilever has more than 400 brands found in homes all over the world, including Persil, Dove, Knorr, Domestos, Hellmann's, Lipton, Wall's, PG Tips, Ben & Jerry's, Magnum and Lynx.
a. Unilever's Sustainable Living Plan underpins the company's strategy and commits to:
Helping more than a billion people take action to improve their health and well-being by 2020.
Halving the environmental impact of our products by 2030.
Enhancing the livelihoods of millions of people by 2020.
b. The USLP creates value by driving growth and trust, eliminating costs and reducing risks. The company's sustainable living brands are growing 50% faster than the rest of the business and delivered more than 60% of the company's growth in 2016.
c. Unilever was ranked number one in its sector in the 2017 Dow Jones Sustainability Index. In the FTSE4Good Index, it achieved the highest environmental score of 5. It led the list of Global Corporate Sustainability Leaders in the 2017 GlobeScan/SustainAbility annual survey for the seventh year running, and achieved?four A ratings across Climate Change, Water, Forests and Supplier Engagement in CDP's 2018 Global Supply Chain report. Unilever has pledged to become carbon positive in its operations by 2030, and to?ensure 100% of its plastic packaging?is fully reusable, recyclable or compostable by 2025. For more information about Unilever and its brands, please visit http://www.unilever.com. For more information on the USLP: http://www.unilever.com/sustainable-living/?
3. The Royal Society is a self-governing Fellowship of many of the world's most distinguished scientists drawn from all areas of science, engineering, and medicine. The Society's fundamental purpose, reflected in its founding Charters of the 1660s, is to recognise, promote, and support excellence in science and to encourage the development and use of science for the benefit of humanity.
For further information please visit http://royalsociety.org. Follow the Royal Society on Twitter at http://twitter.com/royalsociety or on Facebook at http://www.facebook.com/theroyalsociety
4. Research England shapes healthy, dynamic research and knowledge exchange in English universities. We are responsible for funding, engaging with and understanding these institutions, and working with devolved funding bodies and the Office for Students to understand their strategies, capabilities and capacity. We support and challenge universities to create new knowledge, strengthen the economy, and enrich society. We distribute over £2.2bn to universities in England every year in the form of quality-related research (QR) funding, and via the Higher Education Innovation Fund. We are responsible for administering the Research Excellence Framework, used to inform QR funding, and for delivering the forthcoming Knowledge Exchange Framework. We also support specific activities with dedicated project funding, including the £900m UK Research Partnership Investment Fund, and the £100m Connecting Capability Fund. The Higher Education and Research Act 2017 established Research England as a Council of UK Research and Innovation alongside the seven Research Councils and Innovate UK. https://re.ukri.org/, @ResEngland
Research England (formerly HEFCE) administers the UK Research Partnership Investment Fund (UKRPIF). The UKRPIF supports investment in higher education research facilities and has allocated £680 million to 43 projects, and attracted over £1.73 billion of co-investment from more than 160 businesses, charities and philanthropists.
The aims of the fund are to:
a. enhance the research facilities of HEIs undertaking world-leading research
b. encourage strategic partnerships between HEIs and with other organisations active in research
c. stimulate additional investment in university research
d. strengthen the contribution of the research base to economic growth.
For further information on UKRPIF visit https://re.ukri.org/research/uk-research-partnership-investment-fund/
5. The Henry Royce Institute is the UK national institute for advanced materials research and innovation. The Royce works collaboratively with industry and academia to accelerate the innovation of materials systems, in order to create economic and societal benefit. With its hub at the University of Manchester, and more than £330 million invested in capability across its nine Partner institutions, the Royce is making a step change to research capability in the UK. For further information: http://www.royce.ac.uk or @RoyceInstitute
6. Knowledge Quarter Liverpool (KQ Liverpool), a 450-acre urban innovation district, is home to some of the world's most influential players in science, health, technology, education, music and the creative and performing arts.
---