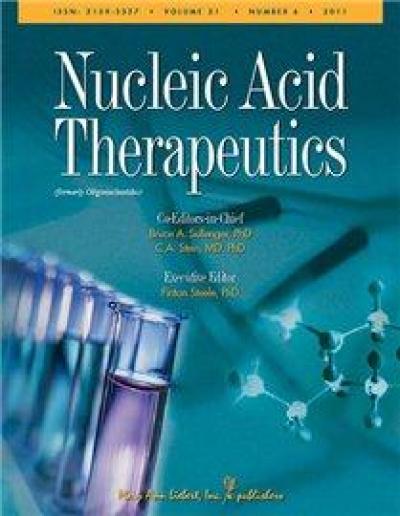 New Rochelle, NY, February 2, 2012—Small RNA-based nucleic acid drugs represent a promising new class of therapeutic agents for silencing abnormal or overactive disease-causing genes, and researchers have discovered new mechanisms by which RNA drugs can control gene activity. A comprehensive review article in Nucleic Acid Therapeutics, a peer-reviewed journal published by Mary Ann Liebert, Inc., details these advances.
Short strands of nucleic acids, called small RNAs, can be used for targeted gene silencing, making them attractive drug candidates. These small RNAs block gene expression through multiple RNA interference (RNAi) pathways, including two newly discovered pathways in which small RNAs bind to Argonaute proteins or other forms of RNA present in the cell nucleus, such as long non-coding RNAs and pre-mRNA.
Keith T. Gagnon, PhD, and David R. Corey, PhD, University of Texas Southwestern Medical Center, in Dallas, review common features shared by RNAi pathways for controlling gene expression and focus in detail on the potential for Argonaute-RNA complexes in gene regulation and other exciting new options for targeting emerging forms of non-coding RNAs and pre-mRNAs in the article "Argonaute and the Nuclear RNAs: New Pathways for RNA Mediated Control of Gene Expression."
"The field of RNA mediated control of gene expression is rapidly evolving and the article by Gagnon and Corey provides a highly informative and up to date review of this exciting and often surprising area of biomedical research. We are delighted to publish this important review for the field," says Co-Editor-in-Chief Bruce A. Sullenger, PhD, Duke Translational Research Institute, Duke University Medical Center, Durham, NC.
###
Nucleic Acid Therapeutics is under the editorial leadership of Co-Editors-in-Chief Bruce A. Sullenger, PhD, and C.A. Stein, MD, PhD, Department of Oncology, Albert Einstein-Montefiore Cancer Center, Montefiore Medical Center; and Executive Editor Fintan Steele, PhD (SomaLogic, Boulder, CO).
Nucleic Acid Therapeutics is an authoritative, peer-reviewed journal published bimonthly in print and online that focuses on cutting-edge basic research, therapeutic applications, and drug development using nucleic acids or related compounds to alter gene expression. Nucleic Acid Therapeutics is the official journal of the Oligonucleotide Therapeutics Society. A complete table of contents and free sample issue may be viewed online at www.liebertpub.com/nat.
Mary Ann Liebert, Inc. is a privately held, fully integrated media company known for establishing authoritative peer-reviewed journals in many promising areas of science and biomedical research, including Human Gene Therapy and Human Gene Therapy Methods, Genetic Testing and Molecular Biomarkers, Assay and Drug Development Technologies, and DNA and Cell Biology. Its biotechnology trade magazine, Genetic Engineering & Biotechnology News (GEN), was the first in its field and is today the industry's most widely read publication worldwide. A complete list of the firm's 70 journals, books, and newsmagazines is available at www.liebertpub.com
Mary Ann Liebert, Inc. 140 Huguenot St., New Rochelle, NY 10801-5215
Phone: (914) 740-2100 (800) M-LIEBERT Fax: (914) 740-2101
www.liebertpub.com
---
Journal
Nucleic Acid Therapeutics