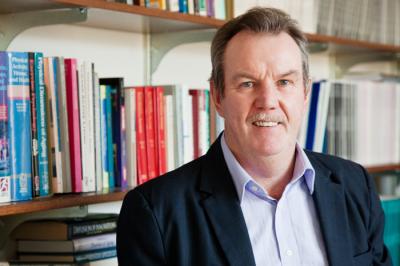 CHAMPAIGN, Ill. — Sticking with an exercise routine means being able to overcome the obstacles that invariably arise. A key to success is having the confidence that you can do it, researchers report. A new study explores how some cognitive strategies and abilities increase this "situation-specific self-confidence," a quality the researchers call "self-efficacy."
"You can apply the concept of self-efficacy to every single health behavior you can think of because in many ways that really is what gets us through the day, gets us through the tough times," said University of Illinois kinesiology and community health professor Edward McAuley, who led the research. "People who are more efficacious tend to approach more challenging tasks, work harder and stick with it even in the face of early failures."
Those lacking self-efficacy often won't even try to start a new routine, or will quit at the earliest sign of difficulty, McAuley said. "Almost 50 percent of people who begin an exercise program drop out in the first six months," he said.
All is not lost, however, for those with low self-efficacy, McAuley said. Research has shown that there are ways to increase your confidence in relation to specific goals. Remembering previous successes, observing others doing something you find daunting and enlisting others' support can increase your self-efficacy enough to get you started. Every step toward your goal will further increase your confidence, he said.
In the new study, published in the American Journal of Preventive Medicine, McAuley and his colleagues were interested in whether specific cognitive abilities and strategies enhanced older adults' ability to stay with an exercise program by boosting their self-efficacy.
The researchers conducted a battery of cognitive tests on 177 men and women in their 60s and early 70s and also asked them whether and how often they set goals for themselves, monitored their progress, managed their time and engaged in other "self-regulatory" behaviors.
"These self-regulatory processes are really concerned with our ability to plan, to schedule physical activity into our daily life, to inhibit undesirable responses, such as sitting in front of the TV when you could be out working in your yard or walking around the block," McAuley said. "These processes can be measured in a very objective way."
The cognitive tests were "measures such as spatial memory, being able to multitask and being able to inhibit undesirable responses," he said. Collectively, these tests assess what is known as "executive function."
Participants were then randomly assigned either to a stretching, toning and balance program or a walking program that met three times a week for a year. Their self-efficacy was assessed after three weeks in the program.
The researchers found that some abilities and strategies did increase participants' adherence to the exercise programs. Two executive function skills – the ability to multitask and to inhibit undesirable responses – significantly contributed to adherence by increasing self-efficacy, the researchers found. And more frequent use of self-regulatory strategies such as goal-setting, time management, self-monitoring and recruiting others for support increased study subjects' participation in the program – again, by boosting their self-efficacy, McAuley said.
"We can potentially use this information to identify who might be poor adherers to an exercise program," McAuley said. "And then offer those people an array of different coping skills and strategies to inhibit or overcome bad behaviors."
Because executive function declines with age, McAuley said, previously sedentary older adults hoping to exercise more will likely benefit most if they adopt strategies that help them manage obstacles and build their self-efficacy.
Other studies have shown that aerobic exercise such as walking improves brain function in older adults. Thus, participation in an exercise program is likely to enhance cognitive functions that raise self-efficacy, positively reinforcing a person's ability to pursue his or her exercise goals, McAuley said.
###
Edward McAuley is also a part-time faculty member of the Beckman Institute for Advanced Science and Technology. Collaborators on this study from the Illinois department of kinesiology and community health include postdoctoral researcher Sean Mullen and students Amanda Szabo, Siobhan White, Thomas Wójcicki, Emily Mailey, Neha Gothe and Erin Olson. Collaborators from the Beckman Institute include graduate research assistant Michelle Voss, postdoctoral researcher Kirk Erickson (now at the University of Pittsburgh), former doctoral student Ruchika Prakash (now at Ohio State University) and Beckman Institute director Art Kramer, who is a professor of psychology.
The National Institute on Aging funded this research.
Editor's notes: To reach Edward McAuley, call 217-333-6487; email emcauley@illinois.edu.
The paper, "Self-Regulatory Processes and Exercise Adherence in Older Adults," is available from the U. of I. News Bureau.
---
Journal
American Journal of Preventive Medicine