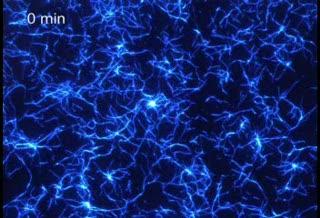 Researchers have found that a technique used to visualize amyloid fibers in the laboratory might have the potential to destroy them in the clinic. The technique involves zapping the fluorescently-tagged fibers with a laser, which can inhibit their growth and degrade them. This study, appearing in this week's JBC, may offer a non-drug alternative to treat amyloid-based disorders like Alzheimer, Parkinson, and Huntington diseases.
Yuji Goto and colleagues had been studying amyloids, dense tangles of protein, to better understand how they form. In an effort to view amyloid formation under a microscope in real-time, they added an amyloid specific dye called thioflavin T (ThT) to the tangles and then hit it with a laser beam to induce fluorescence. Surprisingly, they found that under the right conditions, the laser could actually stop fiber growth and even degrade the amyloids.
Goto and colleagues believe the laser-excited ThT transfers some of its energy to nearby oxygen, resulting in active oxygen species that alters the surrounding protein fibers. These specific experiments focused on beta2-microglobulin, a major component of amyloids associated with dialysis-related amyloidosis (a condition that currently has no good treatment), though they believe a similar approach of light-induced decomposition should work for other types of protein amyloids.
###
"Destruction of Amyloid Fibrils of a β2-Microglobulin Fragment by Laser Beam Irradiation" by Daisaku Ozawa, Hisashi Yagi, Tadato Ban, Atsushi Kameda, Toru Kawakami, Hironobu Naiki, and Yuji Goto
Article link: http://www.jbc.org/cgi/content/full/284/2/1009
Corresponding Author: Yuji Goto, Institute for Protein Research, Osaka University, Japan; Phone: +81-6-6879-8614; Email: ygoto@protein.osaka-u.ac.jp
The American Society for Biochemistry and Molecular Biology is a nonprofit scientific and educational organization with over 12,000 members in the United States and internationally. Most members teach and conduct research at colleges and universities. Others conduct research in various government laboratories, nonprofit research institutions and industry. The Society's student members attend undergraduate or graduate institutions.
Founded in 1906, the Society is based in Bethesda, Maryland, on the campus of the Federation of American Societies for Experimental Biology. The Society's purpose is to advance the science of biochemistry and molecular biology through publication of the Journal of Biological Chemistry, the Journal of Lipid Research, and Molecular and Cellular Proteomics, organization of scientific meetings, advocacy for funding of basic research and education, support of science education at all levels, and promoting the diversity of individuals entering the scientific work force.
For more information about ASBMB, see the Society's Web site at www.asbmb.org.
---
Journal
Journal of Biological Chemistry