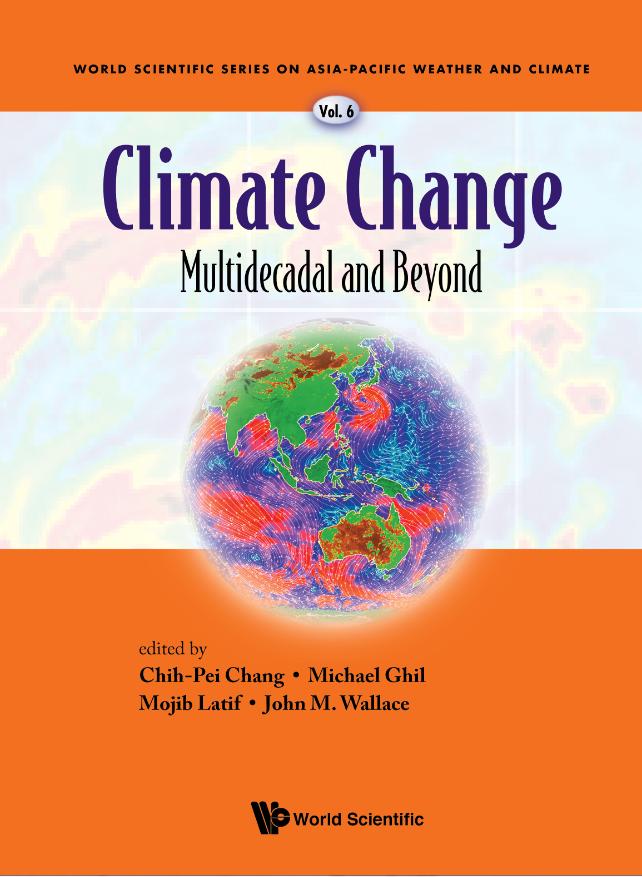 Many recent books discuss climate changes from the view of human impacts, but few spend more than a brief mention of natural variations -- can we ignore them?
In a pre-publication article in the Bulletin of the American Meteorological Society, Editors Chih-Pei Chang, Michael Ghil, Mojib Latif and John M. Wallace concluded that doing so may be detrimental to understanding our climate:
"An important message came from this research, and that is that internal climate variability on decadal and longer time scales is so large that not properly accounting for it may lead to false estimates of the climate's sensitivity to anthropogenic forcing." - C-.P. Chang, M. Ghil, M. Latif, and J. M. Wallace
With all the progress achieved in climate science today, two important challenges in understanding Climate Change remain:
1) How to delineate multi-decadal and longer time scales, when high-quality observational records available today only started being recorded and archived the last 100 years; and
2)How to separate variability due to anthropogenic forcing from natural variability?
A new book, Climate Change: Multidecadal and Beyond, published by the World Scientific Publications and Imperial College Press, seeks to address these challenges.
The book is based on the peer-reviewed and revised invited papers presented at the National Taiwan University International Science Conference on Climate Change. Unlike most climate change meetings and expert reports that have focused on projections of future climate changes based on computer modeling of anthropogenic effects, this book focuses on the understanding of the climate changes .
In this book, some of the world's leading experts in the areas of observational analysis, mathematical theory, and modeling discuss these two issues to elucidate the changes.
Climate Change: Multidecadal and Beyond consists of 23 chapters that encompass mathematical theories, observational analysis, and model simulations. The topics include: attribution of climate change in the presence of internal variability; mathematical theories of climate sensitivity; parameterization of cross-scale interaction in multiscale systems, internal Southern Ocean centennial variability; Atlantic meridional overturning circulation, North Atlantic multi-decadal variability; Pacific interdecadal climate variability, multi-decadal oscillation in global temperature and variability of sea ice extent; multi-year prediction and predictability, decadal hydroclimate variability across the Americas; long-term variations in tropical climate over the 20th and 21st centuries; decadal and longer time scale variability of North Atlantic and Western North Pacific tropical cyclones; and Indian and China summer monsoon rainfall.
Climate Change: Multidecadal and Beyond retails at US$98/£65 at leading bookstores. For further information regarding the book, please visit http://www.worldscientific.com/worldscibooks/10.1142/9070. If you require a review copy, any additional information, or would like to interview any of the contributors of the chapters, please contact Jason Lim at cjlim@wspc.com.sg, +65-64665775 ext 247.
###
About the Book Editors
Professor Chih-Pei Chang is a Visiting Research Chair Professor at the National Taiwan University and a Distinguished Professor at the U.S. Naval Postgraduate School. He is also Chair of the Monsoon Panel of the WMO/ WWRP Working Group on Tropical Meteorology Research.
Professor Michael Ghil is Distinguished Professor at UCLA and Professor, Département Terre-Atmosphère-Océan (TAO), Ecole Normale Supérieure (ENS). He is a member of Academy of Technological Sciences Romania, Royal Astronomical Society, Academia Europaea, and Académie des Sciences, Paris.
Professor Mojib Latif is Professor and Head of the Research Division: Ocean Circulation and Climate Dynamics at IFM-GEOMAR, Kiel, the Leibniz Institute of Marine Sciences. He is a member of IPCC and a guest commentator for major television networks.
Professor John Michael Wallace is a Professor of at University of Washington and ex-director of Joint Institute for the Study of the Atmosphere and Ocean at UW. He is a member of the National Academy of Sciences, U.S.A. and Russian Academy of Sciences.
About the Series
The World Scientific Series on Asia-Pacific Weather and Climate is a collaboration with the World Meteorological Organization Working Group on Tropical Meteorology Research, now a component of the World Weather Research Programme, and other international weather and climate program; the series Editorial Board, and World Scientific. Book or program/project proposals relevant to weather and climate or related fields, including interdisciplinary topics are welcomed by the Editorial Board. Interested scientists are advised to contact Prof. Chih-Pei Chang at cpchang@nps.edu.
About World Scientific Publishing
World Scientific Publishing is a leading independent publisher of books and journals for the scholarly, research, professional and educational communities. The company publishes about 600 books annually and about 130 journals in various fields. World Scientific collaborates with prestigious organizations like the Nobel Foundation, US National Academies Press, as well as its subsidiary, the Imperial College Press, amongst others, to bring high quality academic and professional content to researchers and academics worldwide. To find out more about World Scientific, please visit http://www.worldscientific.com.
For more information, contact Jason Lim at cjlim@wspc.com.sg
---