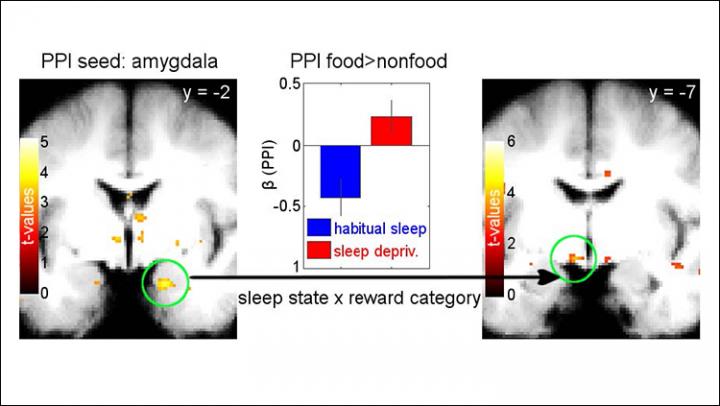 One night of sleep loss can increase the desirability of junk foods, finds a study of healthy weight young men published in JNeurosci.
Building on insights from behavioral economics and endocrinology, Julia Rihm and colleagues set out to untangle the relative contribution of decision-making processes and hormones to food choices following sleep deprivation. Participants visited their laboratory for a standardized dinner on two separate nights. At each visit they were instructed to either return home after the meal to sleep normally or to spend the night at the lab, where they would be kept awake. Their desire for snack foods, brain activity, and hormone levels were assessed the next morning after each night of sleep or total sleep deprivation.
The researchers found sleep loss increased the subjective value of food compared to non-food items independent of hormonal effects. Their neuroimaging results revealed increased activity in a circuit involving the amygdala and hypothalamus after sleep deprivation. These data suggest one way a lack of sleep can promote overeating and obesity risk.
###
Article: Sleep deprivation selectively up-regulates an amygdala-hypothalamic circuit involved in food reward*
DOI: http://www.jneurosci.org/lookup/doi/10.1523/JNEUROSCI.0250-18.2018
Corresponding author: Julia Rihm (University of Cologne, Germany), jrihm@uni-koeln.de
*A preprint of this manuscript has been posted on bioRxiv: https://doi.org/10.1101/245845
About JNeurosci
JNeurosci, the Society for Neuroscience's first journal, was launched in 1981 as a means to communicate the findings of the highest quality neuroscience research to the growing field. Today, the journal remains committed to publishing cutting-edge neuroscience that will have an immediate and lasting scientific impact, while responding to authors' changing publishing needs, representing breadth of the field and diversity in authorship.
About The Society for Neuroscience
The Society for Neuroscience is the world's largest organization of scientists and physicians devoted to understanding the brain and nervous system. The nonprofit organization, founded in 1969, now has nearly 37,000 members in more than 90 countries and over 130 chapters worldwide.
---