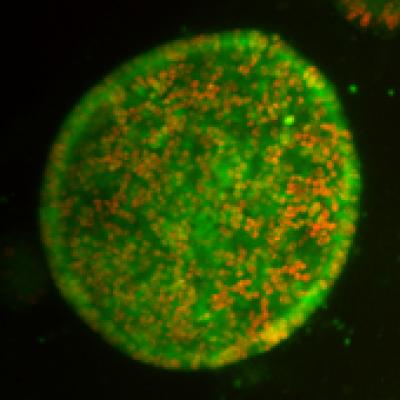 Boston, MA-- Hearing loss affects 360 million people worldwide according to the World Health Organization. Inner ear sensory cells, called hair cells, are responsible for detecting sound and helping to signal it to the brain. Loud sounds and toxic drugs can lead to death of the hair cells, which do not regenerate, and is the root cause for widespread hearing loss. Until now, it was not possible to promote the generation of sufficient quantities of new hair cells.
In a new paper in Cell Reports, scientists from Brigham and Women's Hospital, Massachusetts Institute of Technology, and Massachusetts Eye & Ear describe a technique to grow large quantities of inner ear progenitor cells that convert into hair cells. The same techniques show the ability to regenerate hair cells in the cochlea.
Humans are born with only 15,000 sensory hair cells in each cochlea, which are susceptible to damage from exposure to loud noises and medications, which can lead to cell death and hearing loss over time. "Amazingly, birds and amphibians are capable of regenerating hair cells throughout their life, suggesting that the biology exists and should be possible for humans. Intrigued, we decided to explore whether these hair cells could be regenerated," says Jeff Karp, PhD, co-corresponding author and biomedical engineer at BWH.
In order to find out, "we took cochlear supporting cells expressing Lgr5, a marker recently found in stem cells of several organs, and treated them with a drug cocktail that stimulated critical pathways," says Xiaolei Yin, co-lead author on the paper and instructor of medicine at BWH. The team achieved a >2000-fold increase in Lgr5 progenitor cells and found that these progenitors could generate new hair cells in high yield. The team also demonstrated that this approach could work with cells from mouse, non-human primate, and human tissue.
Importantly, the drug cocktail "generates new sensory hair cells in intact cochlear tissue, which shows promise for a therapy to treat patients with hearing loss," says Karp. This expansion of large populations of Lgr5-expressing cells and their differentiation to hair cells provides a powerful tool for investigating the regenerative biology of hearing, and these drugs should be relevant for clinical application.
To advance this work to patients, Frequency Therapeutics, is developing a novel small molecule approach to treat chronic hearing loss and expects to be in the clinic within the next 18 months.
###
Brigham and Women's Hospital (BWH) is a 793-bed nonprofit teaching affiliate of Harvard Medical School and a founding member of Partners HealthCare. BWH has more than 4.2 million annual patient visits and nearly 46,000 inpatient stays, is the largest birthing center in Massachusetts and employs nearly 16,000 people. The Brigham's medical preeminence dates back to 1832, and today that rich history in clinical care is coupled with its national leadership in patient care, quality improvement and patient safety initiatives, and its dedication to research, innovation, community engagement and educating and training the next generation of health care professionals. Through investigation and discovery conducted at its Brigham Research Institute (BRI), BWH is an international leader in basic, clinical and translational research on human diseases, more than 3,000 researchers, including physician-investigators and renowned biomedical scientists and faculty supported by nearly $666 million in funding. For the last 25 years, BWH ranked second in research funding from the National Institutes of Health (NIH) among independent hospitals. BWH is also home to major landmark epidemiologic population studies, including the Nurses' and Physicians' Health Studies and the Women's Health Initiative as well as the TIMI Study Group, one of the premier cardiovascular clinical trials groups. For more information, resources and to follow us on social media, please visit BWH's online newsroom.
---