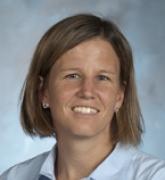 West African residents have frequent opportunities for exposure to the hepatitis C virus, according to a comprehensive review in the journal PLOS ONE co-authored by infectious disease specialist Jennifer Layden, MD, PhD of Loyola University Medical Center and Loyola University Chicago Stritch School of Medicine.
Hepatitis C is a liver disease caused by the blood borne hepatitis C virus (HCV). In most of the world, it is most commonly caused by the sharing of needles or other equipment to inject drugs.
More than 185 million people are estimated to be infected with HCV and nearly 350,000 people die every year from HCV-related liver diseases. The infection is highly prevalent in sub-Saharan Africa. Intravaneous drug use is not that common; thus the mechanisms for transmission are not clear.
"The most intriguing finding from this analysis is the frequency, with which these donors have had opportunities to be infected with more than one HCV strain.," says the article, which was written in equal parts by first author Joseph C. Forbi, PhD, of the Centers for Disease Control (CDC). "Exposures to infected blood and blood products through traditional circumcision, home birth, tribal scarring and hepatitis B virus co-infection are major risk factors associated with HCV infection among blood donors in Ghana."
Using convention and next-generation sequencing (NGS), the team identified and genetically characterized 65 HCV strains circulating among HCV-positive blood donors at Komfo Anokye Teaching Hospital in Kumasi, Ghana in West Africa. The HCV variants were classified into genotype 1 and genotype 2. The prevalence of a substantial genetic diversity of HCV-2 was confirmed in Ghana by the researchers.
The detection of three cases of co- or super-infections and transmission linkage between two cases suggests frequent opportunities for HCV exposure, and is consistent with the reported high HCV prevalence, according to the study. The conditions for effective HCV-2 transmission existed for more than three to four centuries, indicating a long epidemic history of HCV-2 in Ghana.
At Loyola Medicine, highly experienced specialists work as part of a clinically integrated care team, including hepatologists, transplant surgeons, researchers, geneticists, dietitians and other specialists to provide state-of-the-art management for patients with hepatitis C.
###
The article is titled, "Next-Generation Sequencing Reveals Frequent Opportunities for Exposure to Hepatitis C Virus in Ghana." Authors are Joseph C. Forbi, Jennifer E. Layden, Richard O. Phillips, Nallely Mora, Guo-liang Xia, David S. Campo, Michael A. Purdy, Zoya E. Dimitrova, Dorcas O. Owuso, Lili T. Punkova, Pavel Skums, Shirley Owuso-Ofori, Fred Stephen Sarfo, Gilberto Vaughan, Hajung Roh, Ohene K. Opare-Sem, Richard S. Cooper and Yury E. Khudyakov.
---