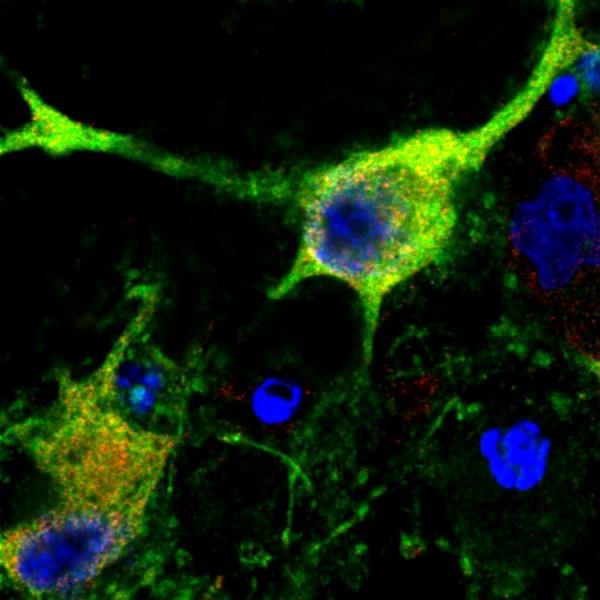 PITTSBURGH, Feb. 11, 2019 - Every 40 seconds, someone in the United States suffers a stroke and available therapies, such as clot busting drugs or clot removal devices, are focused on limiting the extent of brain damage. Now, research from the University of Pittsburgh School of Medicine and the VA Pittsburgh Healthcare System shows that a brain protein called UCHL1 may be critical to how nerve cells repair themselves after stroke damage. The research, conducted in animal models, could aid in the development of therapies that enhance stroke recovery by improving the underlying biological repair process.
"Even though traditional stroke therapies are very effective when available, the treatment must be started in the first hours after a stroke and most patients are not able to get these treatments. So there is a clear need for new approaches that can improve recovery days after a patient experiences a stroke," said co-senior author Steven Graham, M.D., Ph.D., professor of neurology at Pitt's School of Medicine, and associate chief of staff for research at VA Pittsburgh. "We think we have identified a protein that is at the root of how the brain recovers from stroke, making it an attractive target for developing drugs that help improve recovery."
UCHL1 is an enzyme that is highly active in the brain and plays a role in clearing away abnormal proteins. Mutations in the gene coding for UCHL1 have been thought to cause motor function deficits in humans. Previous research from Graham's lab had provided some hints as to UCHL1's function, showing that cyclopentenone prostaglandins (CyPgs) - fatty acid molecules - released in nerve cells after a stroke bind to UCHL1 and impair its function.
Graham teamed up with Feng Zhang, Ph.D., an assistant professor of neurology at Pitt's School of Medicine and a co-senior author on the current study published in the Proceedings of the National Academy of Sciences, to tease out the exact role of UCHL1 in stroke and to determine if it could be a viable drug target.
The researchers created a mouse model in which they inserted an altered version of the UCHL1 gene that was resistant to the effects of the CyPgs. They then surgically modelled the effect of a stroke in both genetically engineered and normal mice to compare how the nerve cells recovered.
Preventing CyPgs from inhibiting UCHL1 decreased the amount of injury to the axons after stroke when compared to normal mice. Axons - the long cables projecting outward from the center of the nerve cell - are needed to carry electrical signals and connect to other neurons and make up the bulk of the 'white matter' in the brain.
Further experiments showed that keeping UCHL1 active after a stroke helped preserve the function of neurons and brain tissue by activating cellular repair mechanisms that quickly cleaned up damaged proteins, preventing further nerve cell loss. The mice with the resistant form of UCHL1 also had improved recovery of waking, balance and other motor functions.
"While most stroke therapies focus on preventing neuronal death, preserving axonal integrity and decreasing white matter injury could be equally important for improved recovery," said Graham, who also is a neurologist at the UPMC Stroke Institute. "UCHL1 is a central player in that process."
Graham and his colleagues are now engaged in efforts to identify new drugs that could prevent CyPgs from binding to UCHL1 or to replace damaged UCHL1 proteins with a derivative that can be given intravenously.
###
First authors on the study were Hao Liu, M.D., Ph.D., and Nadya Povysheva, Ph.D., both from Pitt's School of Medicine.
Additional authors on the study included Marie E. Rose, Zhiping Mi Ph.D., Joseph S. Banton, Wenjin Li Ph.D., Fenghua Chen Ph.D., Daniel P. Reay, and Germán Barrionuevo M.D., all of Pitt.
The study was funded by National Institutes of Health grant 2R01NS037459-14A1.
About the University of Pittsburgh School of Medicine
As one of the nation's leading academic centers for biomedical research, the University of Pittsburgh School of Medicine integrates advanced technology with basic science across a broad range of disciplines in a continuous quest to harness the power of new knowledge and improve the human condition. Driven mainly by the School of Medicine and its affiliates, Pitt has ranked among the top 10 recipients of funding from the National Institutes of Health since 1998. In rankings recently released by the National Science Foundation, Pitt ranked fifth among all American universities in total federal science and engineering research and development support.
Likewise, the School of Medicine is equally committed to advancing the quality and strength of its medical and graduate education programs, for which it is recognized as an innovative leader, and to training highly skilled, compassionate clinicians and creative scientists well-equipped to engage in world-class research. The School of Medicine is the academic partner of UPMC, which has collaborated with the University to raise the standard of medical excellence in Pittsburgh and to position health care as a driving force behind the region's economy. For more information about the School of Medicine, see http://www.medschool.pitt.edu.
About VA Pittsburgh Healthcare System
VA Pittsburgh Healthcare System operates four U.S. Department of Veterans Affairs Research & Development (VA OR&D) Centers of Research including the Center for Health Equity Research and Promotion, Geriatric Research Education and Clinical Center, Human Engineering Research Laboratories, and the Mental Illness Research, Education and Clinical Center. VA Pittsburgh Healthcare System and UPMC clinicians, and University of Pittsburgh faculty are often primary study investigators. Our researchers develop cutting-edge therapies that benefit the whole of American medicine; they pioneered organ transplantation surgery, harnessed brain waves to move robotic arms, and developed lightweight aluminum wheelchairs. In 2018, 110 investigators advanced 330 projects, and received $30 million in funding.
VA Pittsburgh Healthcare System is among VA's largest, most complex and progressive health care systems with 3,700 health care professionals providing routine and life-saving care to 77,000 Veterans annually. Comprised of seven sites of care covering a 13-county service area, the health care system is a specialty and tertiary referral center for VA medical centers and systems across Pennsylvania, and parts of Delaware, New Jersey, New York, Ohio and West Virginia. VA Pittsburgh Healthcare System operates a regional mental health telemedicine hub, and is a national leader in telemedicine advancements and offerings, serving Veterans in 22 states at 104 individual sites. The health care system is a teaching and learning hospital, rotating nearly 600 residents and trainees each academic year.
Contact: Arvind Suresh
Office: 412-647-9966
Mobile: 412-509-8207
E-mail: SureshA2@upmc.edu
Contact: Allison Hydzik
Office: 412-647-9975
Mobile: 412-559-2431
E-mail: HydzikAM@upmc.edu
---
Journal
Proceedings of the National Academy of Sciences