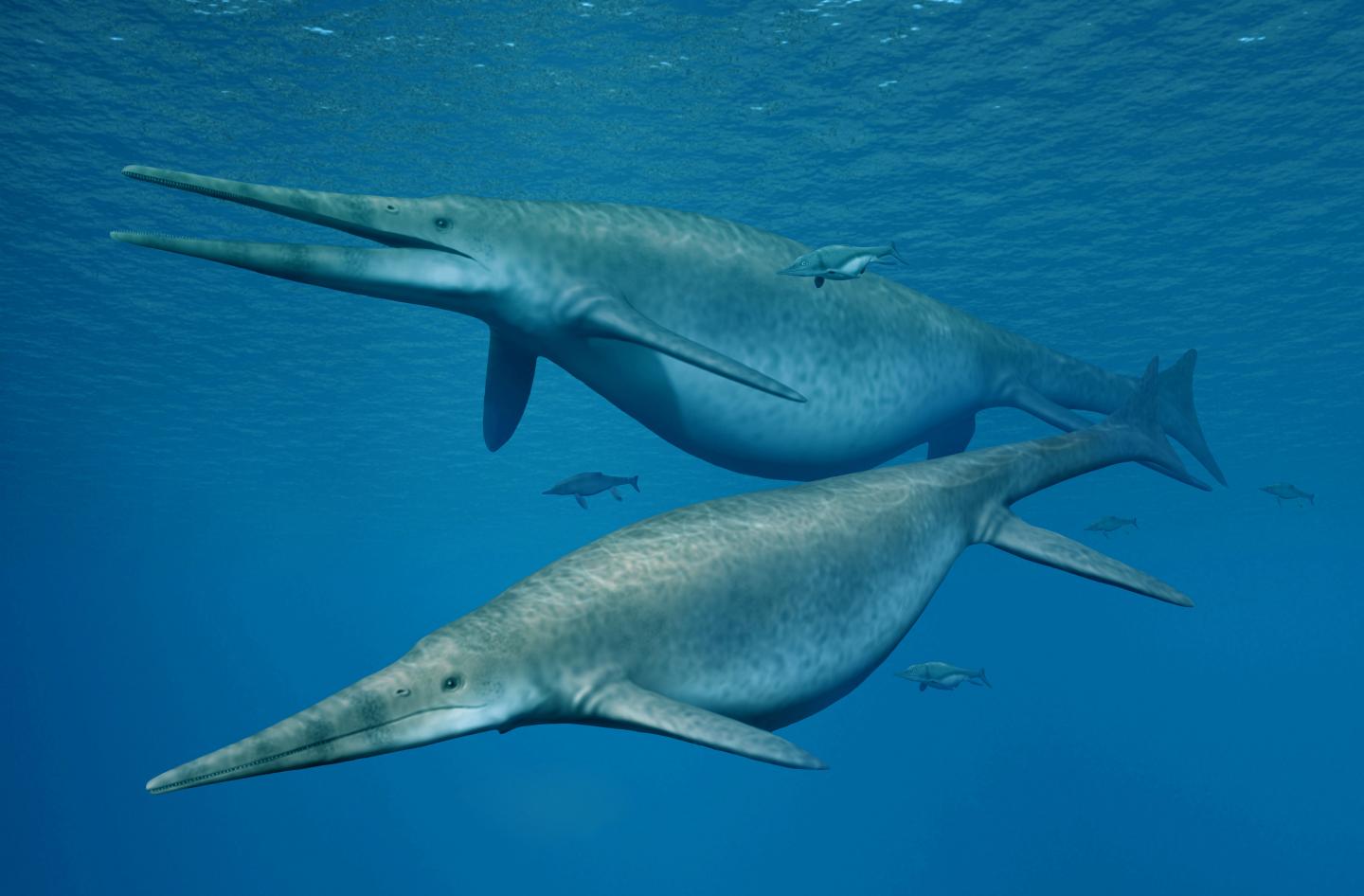 The 205 million-year-old jaw bone of a prehistoric reptile belongs to 'one of the largest animals ever' say a group of international palaeontologists.
The new discovery has also solved a 150 year old mystery of supposed 'dinosaur bones' from the UK.
The bone belongs to a giant ichthyosaur, a type of prehistoric aquatic reptile, and experts estimate the length of this specimen's body would have been up to 26 metres. Approaching the size of a blue whale.
Fossil collector and co-author of the study, Paul de la Salle, found the bone on the beach at Lilstock, Somerset in May 2016. He later returned to the site and found even more pieces that together measured about one metre in length.
Paul said "Initially, the bone just looked like a piece of rock but, after recognising a groove and bone structure, I thought it might be part of a jaw from an ichthyosaur and immediately contacted ichthyosaur experts Dean Lomax (University of Manchester) and Prof. Judy Massare (SUNY College at Brockport, NY, USA) who expressed interest in studying the specimen. I also contacted Dr Ramues Gallois, a geologist who visited the site and determined the age of the specimen stratigraphically.
Lomax and Massare identified the specimen as an incomplete bone (called a surangular) from the lower jaw of a giant ichthyosaur. The bone would have made up only a portion of the entire skull. They compared it with several ichthyosaurs and visited the Royal Tyrrell Museum of Palaeontology in Alberta, Canada, and examined the largest ichthyosaur known, the shastasaurid Shonisaurus sikanniensis, which is 21 m long. They found similarities between the new specimen and S. sikanniensis which suggest the Lilstock specimen belongs to a giant shastasaurid-like ichthyosaur.
"As the specimen is represented only by a large piece of jaw, it is difficult to provide a size estimate, but by using a simple scaling factor and comparing the same bone in S. sikanniensis, the Lilstock specimen is about 25% larger. Other comparisons suggest the Lilstock ichthyosaur was at least 20-25 m. Of course, such estimates are not entirely realistic because of differences between species. Nonetheless, simple scaling is commonly used to estimate size, especially when comparative material is scarce." Added Lomax.
In 1850, a large bone was described from the Late Triassic (208 million-years-old) of Aust Cliff, Gloucestershire, UK. Four other similarly incomplete bones were also found and described. Two of them are now missing and presumed destroyed. They have been identified as the limb bones of several dinosaurs (stegosaurs and sauropods), indeterminate dinosaurs and other reptiles.
However, with the discovery of the Lilstock specimen, this new study refutes previous identifications and also the most recent assertion that the Aust bones represent an early experiment of dinosaur-like gigantism in terrestrial reptiles. They are, in fact, jaw fragments of giant, previously unrecognised ichthyosaurs.
Dean added: "One of the Aust bones might also be an ichthyosaur surangular. If it is, by comparison with the Lilstock specimen, it might represent a much larger animal. To verify these findings, we need a complete giant Triassic ichthyosaur from the UK - a lot easier said than done!"
The new study is open access and has been published today in the scientific journal, PLOS ONE.
###
Notes to editors
Dean is an internationally recognised multi-award-winning palaeontologist, science communicator and author. He has travelled the globe and worked on many fascinating projects from excavating dinosaurs in the American West, to describing new species of extinct marine reptiles and winning a gold medal for excellence in science.
A visiting scientist at The University of Manchester, Dean is passionate about communicating palaeontology with the public and regularly appears on television, including as series advisor and recurring on-screen expert presenter for ITV's Dinosaur Britain. He has written two books, numerous scientific papers, and many popular articles. Dean is also the patron of the UK Association of Fossil Hunters (UKAFH). More here: http://www.deanrlomax.co.uk.
Please reference the article as: Lomax, D. R., De la Salle, P., Massare, J. A. and Gallois, R. 2018. A giant Late Triassic ichthyosaur from the UK and a reinterpretation of the Aust Cliff 'dinosaurian' bones. PLOS ONE, http://journals.plos.org/plosone/article?id=10.1371/journal.pone.0194742.
About The University of Manchester
The University of Manchester, a member of the prestigious Russell Group, is the UK's largest single-site university with 38,600 students and is consistently ranked among the world's elite for graduate employability.
The University is also one of the country's major research institutions, rated fifth in the UK in terms of 'research power' (REF 2014). World class research is carried out across a diverse range of fields including cancer, advanced materials, addressing global inequalities, energy and industrial biotechnology.
No fewer than 25 Nobel laureates have either worked or studied here.
It is the only UK university to have social responsibility among its core strategic objectives, with staff and students alike dedicated to making a positive difference in communities around the world.
Manchester is ranked 35th in the world in the Academic Ranking of World Universities 2016 and 5th in the UK. The University had an annual income of almost £1 billion in 2015/16.
Visit http://www.manchester.ac.uk for further information.
Facts and figures: http://www.manchester.ac.uk/discover/facts-figures/
Research Beacons: http://www.manchester.ac.uk/research/beacons/
News and media contacts: http://www.manchester.ac.uk/discover/news/
---