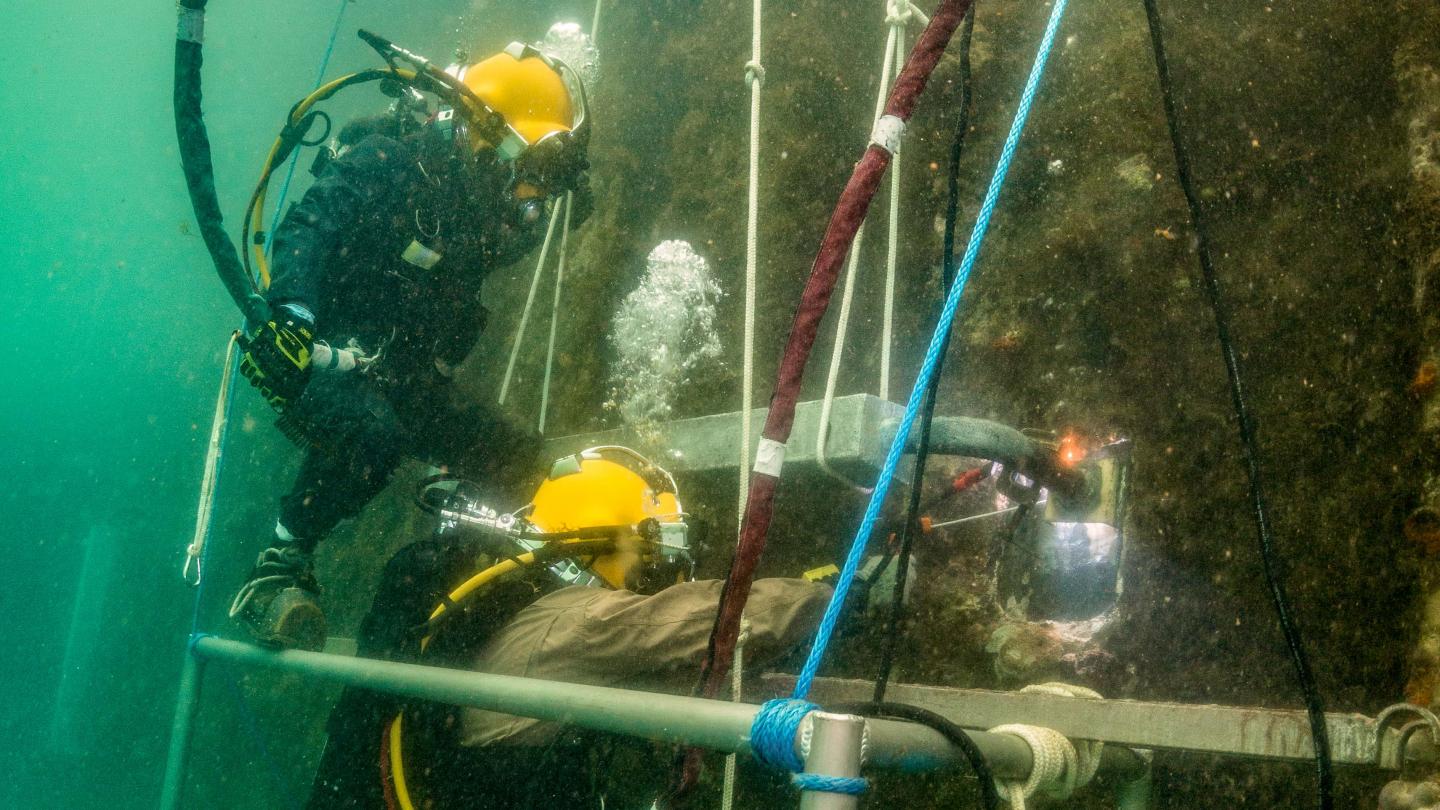 A U.S. Navy research team has discovered an alloy for making better, cheaper underwater anodes with the potential for shifting the global business of maintaining ships and piers.
A patent application was published by the federal government on Thursday for the new aluminum anode alloy containing a "very small addition of tin." It was invented by Craig Matzdorf and Alan Grieve of the Naval Air Warfare Center's Aircraft Division in Maryland.
Sacrificial anodes are attached to marine vessels and structures to protect them from corrosion caused by the flow of electrons between metal surfaces like iron, steel, and aluminum. When submerged in seawater, these metals form a battery.
Many anodes are made of alloys consisting mostly of zinc, a metal that can easily absorb the electrons flowing from the other metals, which is why mariners call anodes "zincs."
But zinc is relatively heavy, expensive, and toxic to aquatic life. In 1988, an aluminum-centric alternative became commercially available but was still dependent on zinc for anti-corrosive properties.
"The alloy compositions described herein are designed to have high operating efficiencies to make the alloy as cost-practical as possible, high current output to enable high and long-lasting performance for a given weight of anode (energy density), and optimized operating potential, which will vary depending on the application, states the Navy patent filing.
"An important added benefit is that the alloys of this invention do not contain zinc."
The Navy lab cast half-inch pucks and 1-inch cubes of the new alloy. Electrochemical testing revealed its superior current capacity compared to commercially available zinc alloys.
"With lower cost per Amp-hour due to the high current capacity and current commodity cost of the elements used in the various anodes, the subject invention has a superior cost per Amp-hour, which is a key factor for users and suppliers," the Navy lab said in the patent application.
In coordination with the Navy's technology transfer office, TechLink, the Department of Defense's partnership intermediary, is helping private companies understand how they can turn the invention into new products.
Through licensing agreements, foreign and domestic businesses can obtain the intellectual property rights to make and sell the new anode to military and commercial customers.
Dan Swanson, senior technology manager at TechLink, has been helping the Navy license Matzdorf's sizeable invention portfolio to capable industry partners for several years. He said the aluminum alloy was an "outstanding" invention with multiple uses.
"It's a multi-functional invention," Swanson said. "It has three main applications, in aluminum-rich coatings, bulk sacrificial anodes for ships and infrastructure, and in cold spray, which is still being tested."
###
Licensing-related inquiries can be directed to Swanson at dss@montana.edu or by telephone at 406-994-7736.
---