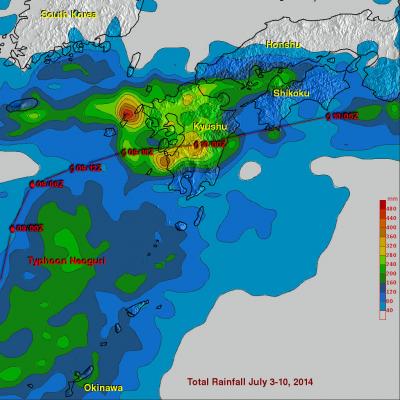 Southern Japan received a soaking from Tropical Storm Neoguri on July 9 and 10 and data from the TRMM satellite was used to create a map that shows how much rain fell in Kyushu.
Kyushu is the southwestern most and third largest island of Japan. The island is mountainous and is home to Mount Aso. Heavy rainfall from Neoguri fell on land that was already soaked in the past week from a slow moving frontal system.
Typhoon Neoguri made landfall on Kyushu early Thursday, July 10, local time after affecting the Okinawa island chain.
The Tropical Rainfall Measuring Mission or TRMM satellite is managed by both NASA and the Japan Aerospace Exploration Agency. TRMM acts as a rain gauge in space and can tally the amounts of rainfall from weather systems on Earth.
The TRMM Multi-Satellite Precipitation Analysis (TMPA), produced at NASA's Goddard Space Flight Center in Greenbelt, Maryland, combined the rainfall estimates generated by TRMM and other satellites. The analysis provided a near-real time Multi-satellite Precipitation Analysis (TMPA) for the period from July 3-10, 2014 and indicated rainfall totals of over 490 mm (19.3 inches) for the past week fell in western Kyushi.
The Joint Typhoon Warning Center issued its final bulletin on Tropical Storm Neoguri on July 10 at 15.00 UTC (11 a.m. EDT). At that time Neoguri's maximum sustained winds were near 40 knots (46.0 mph/74.0 kph). It was centered near 33.6 north latitude and 136.4 east longitude, about 131 nautical miles southwest of Camp Fuji, Japan. Neoguri was moving to the east-northeast at 19 knots (21.8 mph/35.1 kph). The storm was becoming an extra-tropical storm at the time, and completed the transition on July 11.
###
---