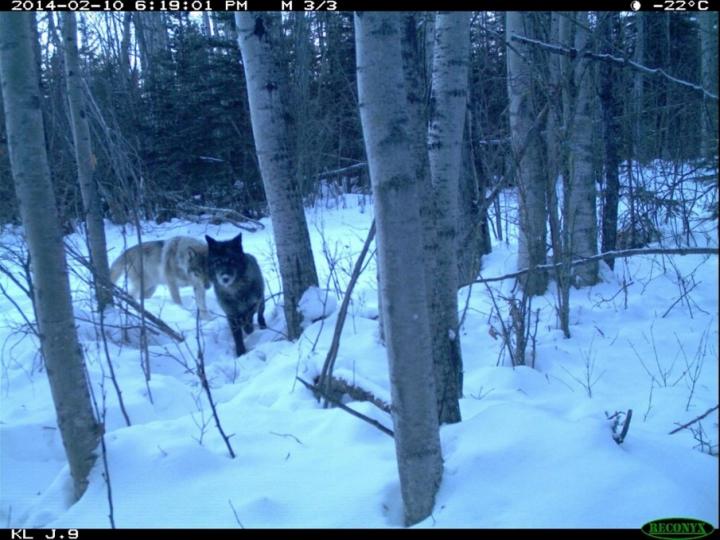 EDMONTON (Wednesday, August 30, 2017)--Wolves do not avoid areas of human disturbance when hunting moose in Alberta's oil sands region.
New UAlberta research shows that predation rates of moose have increased near areas of high human disturbance, but low human activity, such as tailings ponds and pit mines.
"Wolves are not avoiding these features," explained UAlberta PhD candidate Eric Neilson, who compared the population density of moose to the distribution of wolf-related moose deaths in the region. "In fact, they are using space near mines as they usually would, demonstrating that these spaces are not a deterrent."
If anything, Neilson says these spaces provide effective hunting ground for wolves.
Environmental changes
When habitat is cleared for mining or oil extraction, there are large changes to the landscape that create barriers around which wolves move. A similar effect, Neilson said, is shown around rivers.
"Wolves are coursing predators. This means that they like to move across the landscape to encounter their prey. It could be that the edge of the mine provides a feature similar to rivers that they can move along and around in the same way," he said.
However, the intensification of wolf activity and moose kills near the edges of these mines and tailings ponds is not shown near camps or upgrader sites, likely due to the presence of humans.
Future investigation
"There is a lot more research to be done in this area," said Neilson, adding the impact upon moose populations is not yet clear. "With any change in habitat that causes changes in animal behaviour, there are many factors to consider and much more we can learn about what is really going on here."
###
Neilson's research was conducted under the supervision of Stan Boutin, professor of biology, and in conjunction with the Wildlife Habitat Effectiveness and Connectivity working group, comprised of Alberta Environment and Parks, researchers and industry partners. The paper, "Human disturbance alters the predation rate of moose in the Athabasca oil sands," was published in Ecosphere.
The University of Alberta Faculty of Science is a research and teaching powerhouse dedicated to shaping the future by pushing the boundaries of knowledge in the classroom, laboratory, and field. Through exceptional teaching, learning, and research experiences, we competitively position our students, staff, and faculty for current and future success.
---