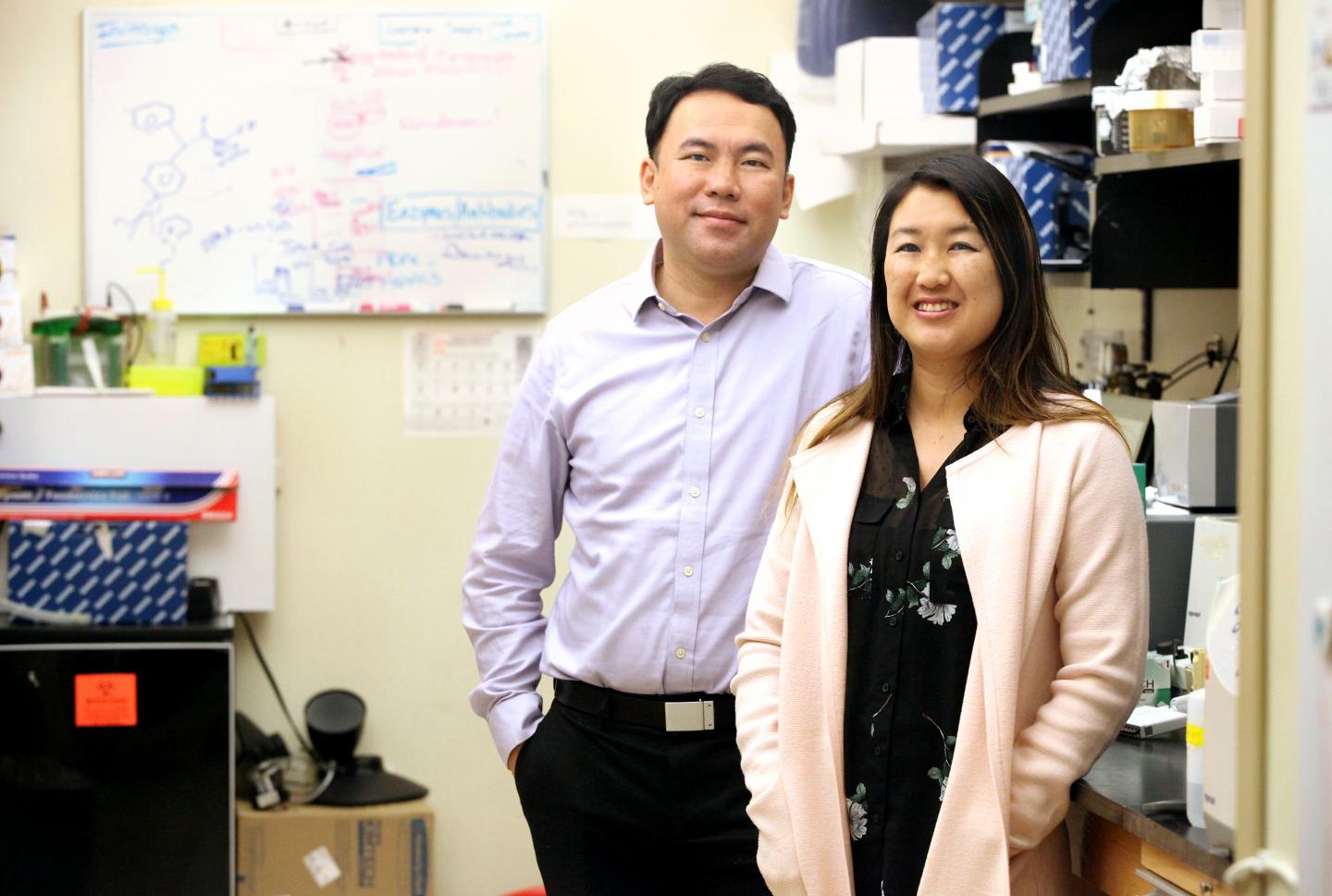 Neuroene Therapeutics, a start-up company founded by mitochondrial biologist Sherine S. L. Chan, Ph.D. and medicinal chemist C. James Chou, Ph.D. of the Medical University of South Carolina, has received a $1.5 million NIH Phase II Small Business Innovation Research grant to optimize vitamin K analogues that could improve seizure control in patients with drug-resistant epilepsy. Richard Himes, Ph.D., a chemist at the College of Charleston, serves as the company's Chief Scientific Officer.
Of the 3.4 million Americans estimated to have epilepsy, one third do not receive adequate seizure control with current medications, either because the drugs do not work for them or because they cannot tolerate the drug's side effects.
The SBIR grant will enable Neuroene Therapeutics to test the efficacy and safety of its lead compounds, which are analogues of a naturally occurring form of vitamin K that is essential for mitochondrial and neuronal health.
"Mitochondria are the powerhouses of the cell, and the brain needs a lot of energy for its function. A particular form of vitamin K protects the integrity of the mitochondria and helps them produce enough energy for brain cells," explained Chan.
The form of vitamin K needed by the brain is not the same as the vitamin K we get from foods in our diet. The vitamin K we eat must first be processed by intestinal bacteria before transport to the brain, and then within neurons must be converted into the specific form of Vitamin K that is needed for mitochondrial and neuronal health.
Because the compound developed by Neuroene Therapeutics mimics this specific form of Vitamin K that the neuron needs (not the ingested form) and because it travels directly to the brain, it bypasses the need for transport systems.
"Unlike other vitamin K analogues, which require additional processing before they are in a usable form, our compounds are a direct substitute for the active form and go directly to the brain where they are needed," said Chou.
Early testing of these vitamin K analogues by the MUSC investigators with pilot funding from the South Carolina Clinical and Translational Research Institute, a Clinical and Translational Science Awards hub funded by the National Institutes of Health, showed significantly reduced seizure activity with little toxicity in a zebrafish model. Testing in mouse seizure models at the National Institute of Neurological Disorders and Stroke Anticonvulsant Screening Program confirmed those findings.
With assistance from the MUSC Foundation for Research Development, Chan and Chou established Neuroene Therapeutics in 2015 and received a patent on their lead compounds earlier this year.
The current SBIR award will enable additional testing of the compounds' efficacy and safety at the University of Utah's Anticonvulsant Drug Development Program, directed by Karen Wilcox, Ph.D., which has robust rodent models of drug-resistant epilepsy. By the end of the two years of SBIR funding, Neuroene Therapeutics will have identified the lead compound to take forward into clinical trial.
Although Neuroene Therapeutics is focused currently on developing its lead compound for drug-resistant epilepsy, Chan and Chou are also studying whether vitamin K analogues could improve outcomes in other difficult-to-treat neurological diseases. They already have some promising preclinical data in Parkinson's disease and mitochondrial DNA depletion syndrome. In addition, they speculate that the compounds could also be relevant to Alzheimer's disease.
Apolipoprotein E4, one of the strongest genetic risk markers for late-onset Alzheimer's disease, has a role to play in vitamin K transport. It is possible, then, that mitochondrial dysfunction due to insufficient transport of vitamin K could be implicated in Alzheimer's and, if so, these brain-penetrating vitamin K analogues could bypass the transport process, thus improving mitochondrial health and disease outcome.
###
About Neuroene Therapeutics
Neuroene Therapeutics is a startup biotechnology company developing novel Vitamin K-based therapeutics for neurological disorders such as epilepsy. The company originated from collaborative research between Medical University of South Carolina investigators C. James Chou, Ph.D., and Sherine Chan, Ph.D., who cofounded and continue to lead Neuroene Therapeutics. Visit us at neuroenetherapeutics.com.
About MUSC
Founded in 1824 in Charleston, The Medical University of South Carolina is the oldest medical school in the South. Today, MUSC continues the tradition of excellence in education, research, and patient care. MUSC educates and trains more than 3,000 students and residents, and has nearly 13,000 employees, including approximately 1,500 faculty members. As the largest non-federal employer in Charleston, the university and its affiliates have collective annual budgets in excess of $2.2 billion. MUSC operates a 700-bed medical center, which includes a nationally recognized Children's Hospital, the Ashley River Tower (cardiovascular, digestive disease, and surgical oncology), Hollings Cancer Center (a National Cancer Institute-designated center) Level I Trauma Center, and Institute of Psychiatry. For more information on academic programs or clinical services, visit musc.edu. For more information on hospital patient services, visit muschealth.org.
About the South Carolina Clinical and Translational Research Institute
The South Carolina Clinical and Translational Research (SCTR) Institute is the catalyst for changing the culture of biomedical research, facilitating sharing of resources and expertise, and streamlining research-related processes to bring about large-scale, change in the clinical and translational research efforts in South Carolina. Our vision is to improve health outcomes and quality of life for the population through discoveries translated into evidence-based practice.
About MUSC Foundation for Research Development
FRD has served as MUSC's technology transfer office since 1998. During that period, FRD has filed patent applications on more than 400 technologies, resulting in over 150 U.S issued patents. Additionally, FRD has executed more than 150 licenses and spun out more than 50 startup companies. MUSC startups have had products approved by the FDA and acquired by publicly traded corporations while attracting substantial investment dollars into South Carolina. Innovations from MUSC, including medical devices, therapies and software, are positively impacting health care worldwide. Please visit us online at frd.musc.edu.
---